Routing Traffic Through New Driveway, Parking Area Should Improve Student Safety
If you've been to or driven by Como-Pickton CISD in recent weeks, you've no doubt seen the work in progress for another parking area and an additional driveway. When school resumes on Tuesday, Jan. 18, new drop off and pick up procedures will be in place using the new driveway to better improve student safety as elementary children arrive at and leave from school each day.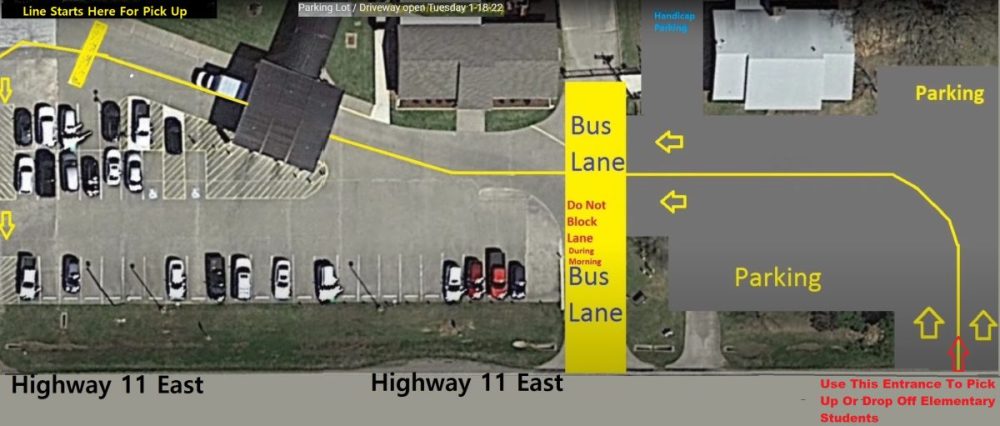 CPCISD Superintendent Greg Bower Friday posted a video he's asking individuals responsible for getting students to and from school daily to watch before arriving at the school Tuesday, Jan. 18, 2022.
In the morning, before buses arrive with children, both the old and new entrances will be used. When buses begin arriving around 7:30 a.m. weekdays, the old entrance will be closed to all vehicles except buses. Vehicles arriving at that time will use the new entrance to the east of the designated bus lane. That will allow vehicles to wait in line to drop off their students on the driveway through the new parking area on school property instead of on State Highway 11 in front of the school. Students are to be dropped off the appropriate entrance and car will exit as usual, Dr. Bower explains in the video.
In the afternoon, the old entrance gate will be closed to vehicles. The only entrance for those picking students up in the afternoon will be through the new driveway entrance to the elementary. Follow the driveway past the driveway and school to the end as designated (it'll be a little further down than normal) to wait for students. There will be staff and a police officer on site to help keep an eye out for student safety, direct the traffic flow, answer questions or receive comments that might arise regarding afternoon pickup, the CPCISD superintendent noted.
Bower asks community members to please be patient as everyone adjusts to the new drop off and pick up procedures, and as school staff work out any kinks that may arise in the plan.