Gale Roberts was honored Wednesday for her service to the City of Sulphur Springs with a retirement reception held in her honor at city hall.
Sulphur Springs Mayor John Sellers said it was appropriate the reception drew a great gathering to wish her well in retirement. The service she provided to the city, staff, officials and residents has been invaluable, he noted. Her love for the city of Sulphur Springs has shown daily in her work as city secretary, work she has performed with a servant's heart to help the community, always showing kindness and lending a helping hand where possible.
Sellers noted what a huge help she has been to him and other mayors in researching and preparing proclamations. The mayor, City Manager Marc Maxwell and Natalie Darrow (who Roberts worked with for several months before swearing her in as the new city secretary on Dec. 7, 2021) prepared a proclamation for Roberts, which Sellers read during Wednesday's celebration.
The proclamation cited Roberts' dediation to the City of Sulphur Springs, first working for Johnny Vance, in 1999, and continuing in that role until a brief move 5 years later. She was administered the oath of office as City Secretary on Dec. 7, 2004, a position she has held until her retirement.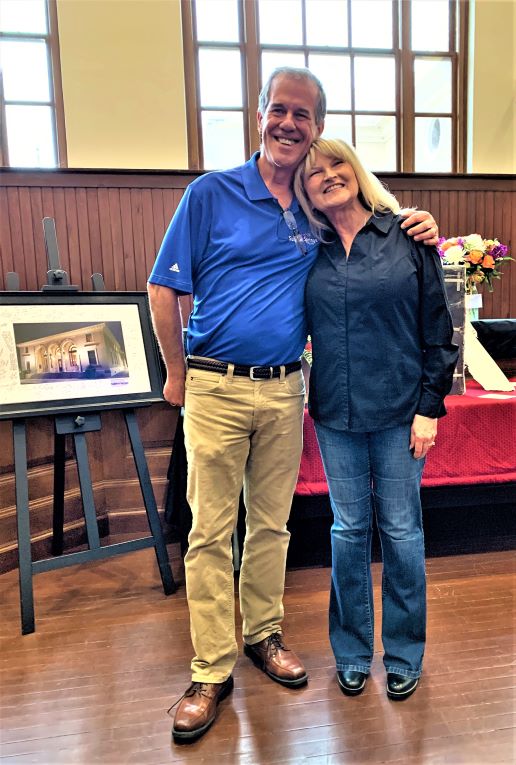 During her time with the city, Roberts worked with 11 mayors and 24 different City Council members. Her duties have included preparing agendas, proclamations, and the many exhibits and other documents that go along with them. As city secretary, Roberts too served as the city's election officer, and administered the oath of office to the new city secretary and city attorney on Dec. 7, 2021.
In addition to her regular duties, Roberts put in the 200-plus hours of schooling and attended eight 2-day seminars required to become a Texas Registered Municipal Clerk, the only university-level professional education program for city clerks and city secretaries In Texas.  Roberts was recognized in 2020 at the Annual Texas Municipal Clerks Election Law Seminar in Frisco for completing the program.
When longtime City Secretary Sharon Ricketson gave 2 year's notice of intended retirement, Maxwell said he had no doubt who he wanted to fill the position — he just had to break the new to Vance and make the official announcement. Unfortunately, Roberts moved out of town. Maxwell said he knew how good she was, so after she'd been away a brief time, he was glad to get her back, with a "lot of arm twisting."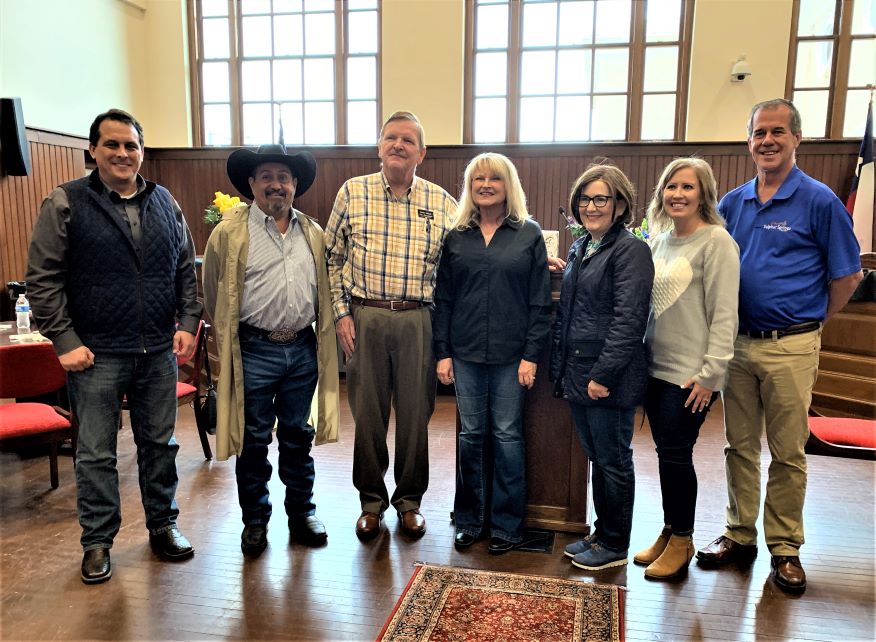 Gale Roberts, Maxwell noted, has the unique ability to tell someone no and make them like it, which has served her and the city well when communicating with the public. She is also a great judge of character. There aren't many people she does not like, but when that happens, Maxwell said, he takes notice.
"It has been a joy to help people. I try to treat each person as if they could be my boss some day, and that could happen," Gale Roberts said. "I've made many friends. I enjoy helping people."
"She's always had my back," Maxwell said, adding directly to her, "I can't thank you enough. I'm going to miss you."
Roberts, after first offering thanks to her husband and son for their continued support, noted that she has had the privilege of working with many great city council members and other city servants and leaders over the years, and expressed appreciation to all of them.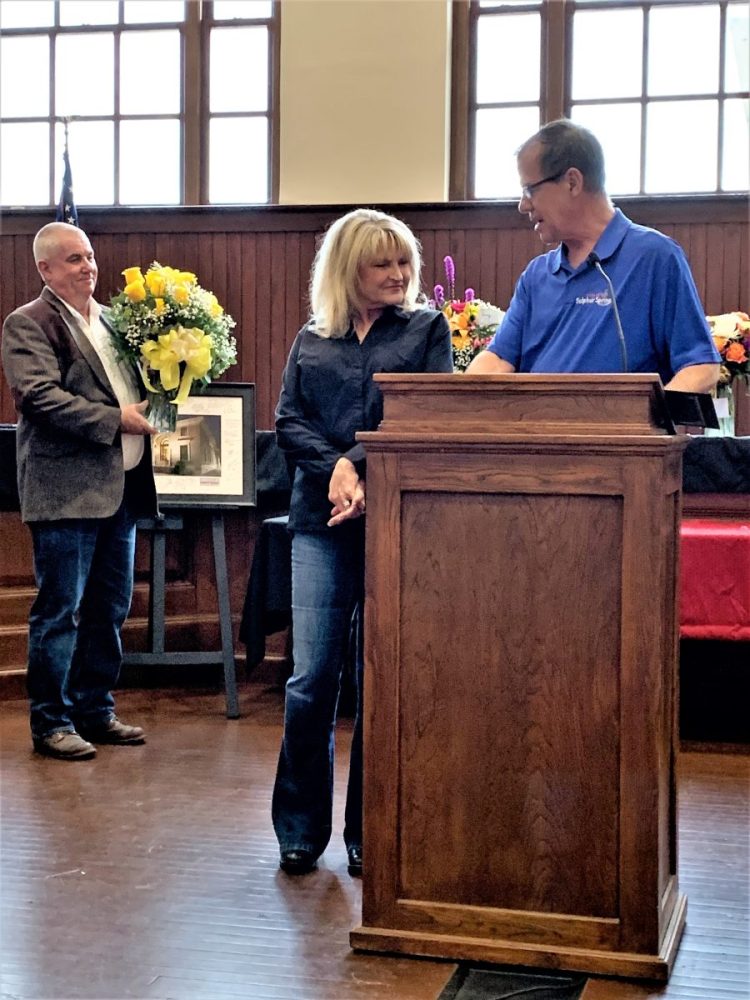 Roberts too offered special thanks to Maxwell for both putting up with her over the past 17 years and helping her along the way.
"He's a great ally. It's great to serve with someone with excellent leadership. It has totally been my pleasure to serve each of you," Roberts said.
She recalled two of the first tasks she was assigned early on when she began working for Johnny Vance at the city in 1999 – the United Way campaign and being on the Christmas Committee. She said she met a lot of people doing so, and made many fast friends.
She recalled working many long hours with Chris Brown and Brad Burgin, when they served in leadership roles with the city, to change zoning ordinances for the good of the city and later the work when Clay Walker served on the zoning board.
Roberts and Place 4 Councilman Freddie Taylor were both sworn in at the same time, making Taylor the longest tenured councilman serving and Sellers, with all of his years combined has had one of if not the longest stint as mayor. Place 3 Councilman Oscar Aguilar has been a "go-to" person for information and assistance on numerous occasions over the years.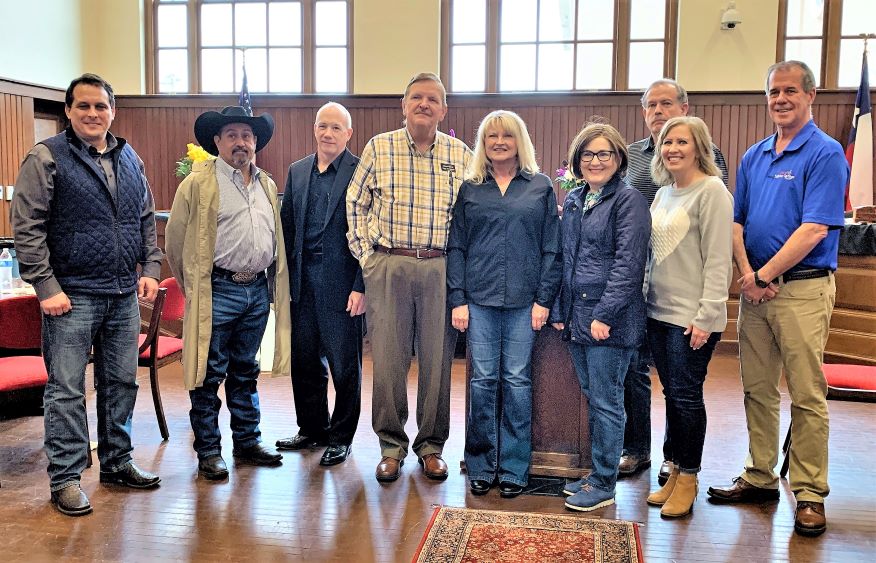 She too extended appreciation to Jim McLeroy, who retired in December after a few decades as city attorney, for his support over the years as well. When the city held the election to determine whether liquor could be sold in Sulphur Springs, more than 3,000 signatures from registered voters were required as part of the process. An attorney challenged whether each presented had been properly vetted. McLeroy jumped in, asking if she had, and when she affirmed she'd done her part, he then proceeded to strongly address the attorney on her behalf, Roberts recalled.
In addition to receiving several vases of flowers and cards, the City of Sulphur Springs presented Roberts with a gift – the specific icemaker she prefers. Maxwell said while some ogle and collect tools, Gale Roberts' passion is the icemaker.
Guests at the lunch event for the retiring secretary included past and present City Council members, city staff, county officials and community members. A fajita lunch was served for any who attended. Dessert options included multilayered Italian cream, chocolate and strawberry cakes.