PJC-Greenville Center
Public Information Service
PJC Board of Regents receives student achievement update
At their monthly meeting on Nov. 22, the Paris Junior College Board of Regents received the 2020-2021 report on 2021-2030 Student Achievement Targets.
"We've done well without targets," said Dr. Pam Anglin, PJC President. "These are the same achievement targets that we've had for the last 10 years. We've increased our percentages as an expectation, so we continue improving."
In other business, the Regents:
• Approved an additional transfer of $2.5 million from the General Operating Fund to the Renewals and Replacement Fund as of August 31.
• Cast all of PJC's votes at the Lamar County Appraisal District for nominee Ed McCraw.
• Approved the 2022-2023 Academic Calendar with the Fall 2022 semester starting Aug. 29 and ending with Commencement on Dec. 16. The Spring 2023 semester will begin on Jan. 17 and end on May 12. Spring Break 2023 will be March 13-17.
• Approved a change to the associate degree nursing curriculum initially brought before the board of regents last year. The Texas Higher Education Coordinating Board has approved the curriculum and it was scheduled to be implemented in Fall 2022. In working with consultants, it was found the current proposed curriculum would align with a statewide developed curriculum for RNs and this will be submitted to begin in the Fall 2022 semester.
• Accepted the reassignment of Gabriela Reyes as Student Success Coach/Financial Aid Advisor at the PJC – Greenville Center; the employment of Associate Degree Nursing Instructor Deborah Elmore, Adult Education Career Navigator Mike Minihan, and Student Recruiter/Academic Advisor Alford Echols III; and the retirement of Small Business Development Center Counselor James Struwe.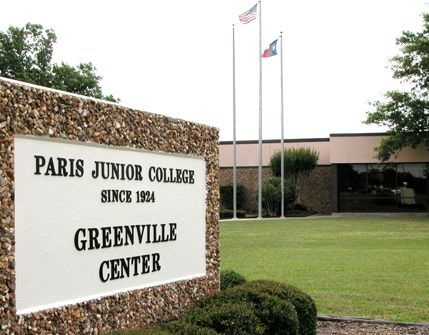 ---
Paris Junior College — located in Paris, Texas, about 100 miles northeast of Dallas — has been a part of the Lamar County community since 1924.
Paris Junior College offers Associate in Arts, Associate in Science and Associate in Applied Science degrees, as well as Certificates of Proficiency in technical/workforce fields. The college has expanded its academic curriculum through the years to encourage associate degree and university transfer candidates. Since establishing its first vocational program — jewelry and watchmaking in 1942 — the college has been aggressive in adding technical/workforce programs that will benefit students entering the workforce.
The campus of 54 tree-shaded acres includes 20 major buildings and residence halls and provides students a unique and pleasant environment for learning.
Paris Junior College also operates centers in Sulphur Springs, Texas, and in Greenville, Texas.
Vision
To be the educational provider of choice for the region.
Mission
Paris Junior College is a comprehensive community college serving the region's educational and training needs while strengthening the economic, social and cultural life of our diverse community.