Community Invited To Mathews' Retirement Reception Dec. 22 At KSST Studios
Although she was not the first to hold the job, most Hopkins County residents associate mornings with Enola Gay Mathews and KSST. For about 30 years now, many Hopkins County residents have started their day with Enola Gay on KSST Radio 1230 AM. Station manager and owner Chad Young will take over the microphone to continue to inform and entertain KSST listeners on KSST's Good Morning Show.

Last week, Mathews notified KSST 1230 owner Chad Young of her plan to hang up her microphone on Christmas Eve after one final reading of Christmas cards.
Owners Chad and Rhonda Young said, "Although we hate to see Enola retire from radio, we certainly respect her desire to quit working and spend more time with her grandchildren." Chad Young added, "As we move forward, we will continue to keep our KSST listeners informed in the way they have been accustomed."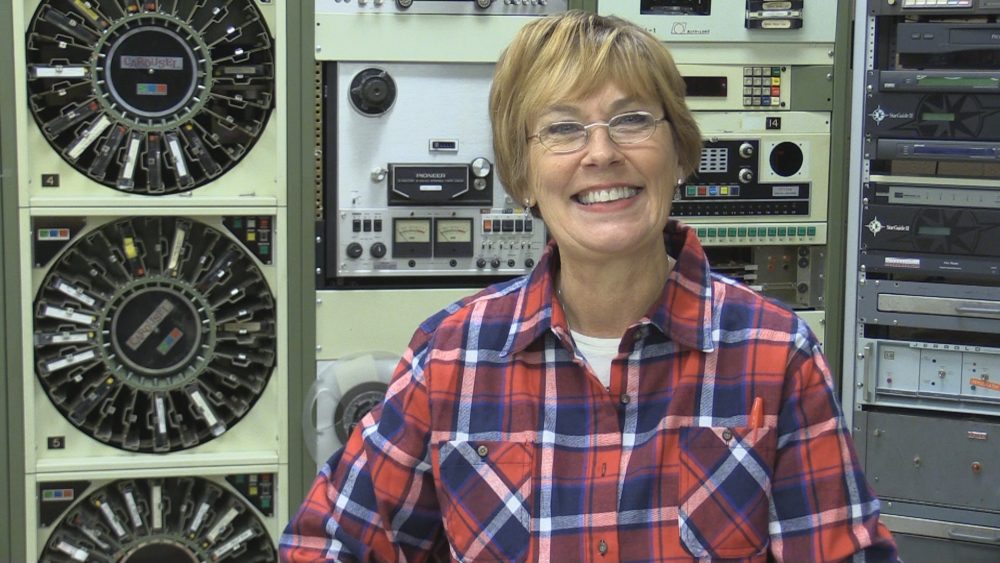 It is fitting that she retires on Christmas Eve by reading Christmas cards, something she looks forward to every year. (She invites anyone who has not already done so to send Christmas cards and holiday greetings by mail to KSST at PO Box  284, Sulphur Springs, TX 75483 or by email to [email protected].)
Mathews said the decision to retire was made after speaking with her family at Thanksgiving. In fact, when her kids asked about her plans for retirement she initially found the idea odd. But, the more she thought about it, the more she warmed up to the idea.
"It started me thinking. I've spent half my life in this building," she said during an interview at the KSST studios earlier this week.
"I can't believe I'm doing it. I never believed I would. … It has been so much more than just a job," Enola said. "KSST staff is like a family. A couple of the employees have been here 30 years also. It's been a way of life for all of us."
"Working side by side with Enola Gay this past 18 years has been a real pleasure. Learning about her life experiences has been fascinating. I'm sure there are a lot more to come. Congratulations, Enola Gay. You will be missed," said KSST Production Manager Matt Janson.
And, KSST's James Terry pointed out, "Everybody listens to her in the mornings. Not only will we miss her, but those listening to us will too.
"When you think of KSST, you think of Enola Gay. She will be sorely missed," said Karon Weatherman, Senior Citizens Center programs and marketing director.. "My seniors wake up with her. She gets them going."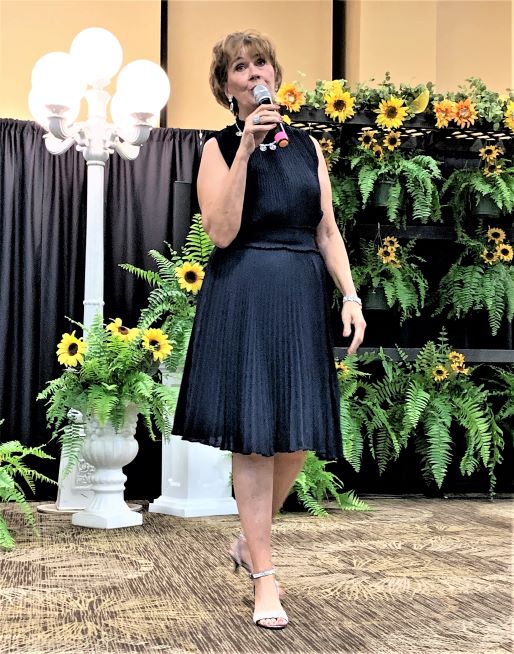 "She is one of a kind. She will be greatly missed in Hopkins County and surrounding communities. She is a local legend," said Hopkins County Judge Robert Newsom, who has not only had the opportunity to visit on her show, but to sing with her on Reilly Springs Jamboree as part of the Campfire Cowboys; he is also scheduled to be one of her final guests on the Good Morning Show. "We are old friends. She is in a position to influence people in not just Sulphur Springs and Hopkins County; others from surrounding counties listen to her too. We certainly wish her well but she's one we wish wouldn't retire so she'll still be on air."
Enola says she too will miss the many Morning Show listeners, who've become friends and family over the years of calling in to KSST.
"Through the Morning Show listenership I personally gained friends from all walks of life, with roots from Delta and all surrounding counties – communities like Gober, Birthright, North Hopkins, Old Tarrant, Mahoney, Chicken Bristle, Tira, Dike, Charleston, Gobblers Knob, Sulphur Bluff, Hagansport, Sugar Hill, Hogbed, Mount Vernon, Saltillo, Weaver, Brinker, Pine Forest, Cornersville, Black Oak, Greenpond, Como and Pickton, Reilly Springs, Arbala, Possum Trot, Miller Grove, Shirley, Greenwood, Blackjack Grove, Cumby, Midway and Campbell, and many other areas of radio fans whose listenership goes back as far as 1947, when KSST went on the air." Enola Gay said.
Enola has been with KSST since August of 1989. She still believes the novelty of her name is what landed her the job. When Bill Bradford, a former World War II pilot turned commercial pilot and radio/TV newsman, saw that name in the stack of applications, it stood out.
While most known Enola for her work as the Morning Show host, that wasn't her first or only job at KSST. She started out in sales and doing commercial production. She knew of at least two others during her time in Sulphur Springs who voiced the show before she did.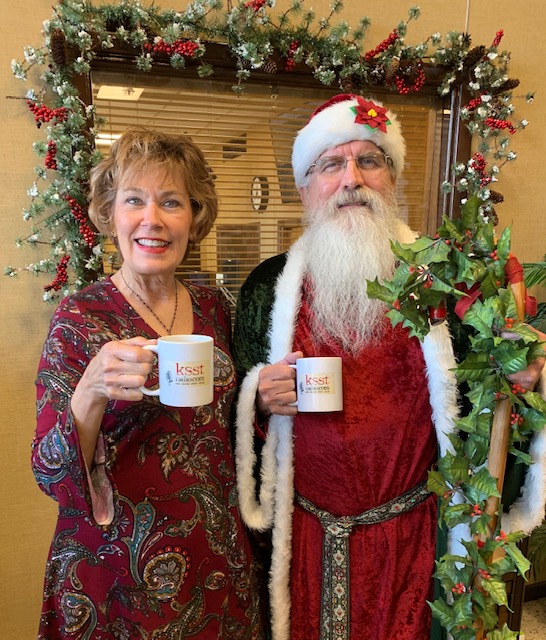 About 5 years into her employment at KSST, she took over the Morning Show. That, she said, is when she began to "meet" people in person at the station as guests as well as KSST's many dedicated listeners who invited her into their homes over the airwaves to provide news, announcements, school menus, birthday greetings, anniversary congratulations, weather and even traffic updates during the morning hours.
"Radio was, and still is, a strong place to get important local news immediately to the listeners. We'd wake up together," Enola Gay Mathews said with a smile.
Some listeners felt so close to her that they'd call to let her know their plans to accomplish that day.
"It definitely gives you a unique look into people's lives," she said, noting she's made it her goal to be the "cheerleader for everyone's day." She tries to give uplifting, positive news to encourage and help others.
Some of her listeners over the years have been truck drivers, passing through. She became acquainted with a few truck drivers who, until about 2000, would give road updates on air, which she could share with listeners during bad weather. They'd call in when they got certain places or honk as they passed KSST on I-30 to let her know they'd made it from their pick up location, perhaps a dairy in one end of the county, into town, during icy winter weather on slick roads.
She also gained friends in some of the farthest parts of the county, a network of listener-reporters across Hopkins, Franklin and Delta counties as well as Yantis and Winnsboro, who called in road and rainfall reports during or following each big storm. Some included Betty in Pine Forest, truck drivers whose CB handles were Tater Dumpling, Red Bob and the Road Master Jerry Mathews.
People too would report if there were traffic hazards, such as crashes or construction, impacting the travel of listeners. When cell phones began gaining popularity, people would call in directly from their phones on the road.
If there was a weather delay, KSST was and, still is one of, if not the, first call many school districts make, because they rely on the immediacy of the radio to get the word out to families quickly. Now, that the notifications include posting information at KSSTradio.com too, so it can go out on KSST's additional social media platforms.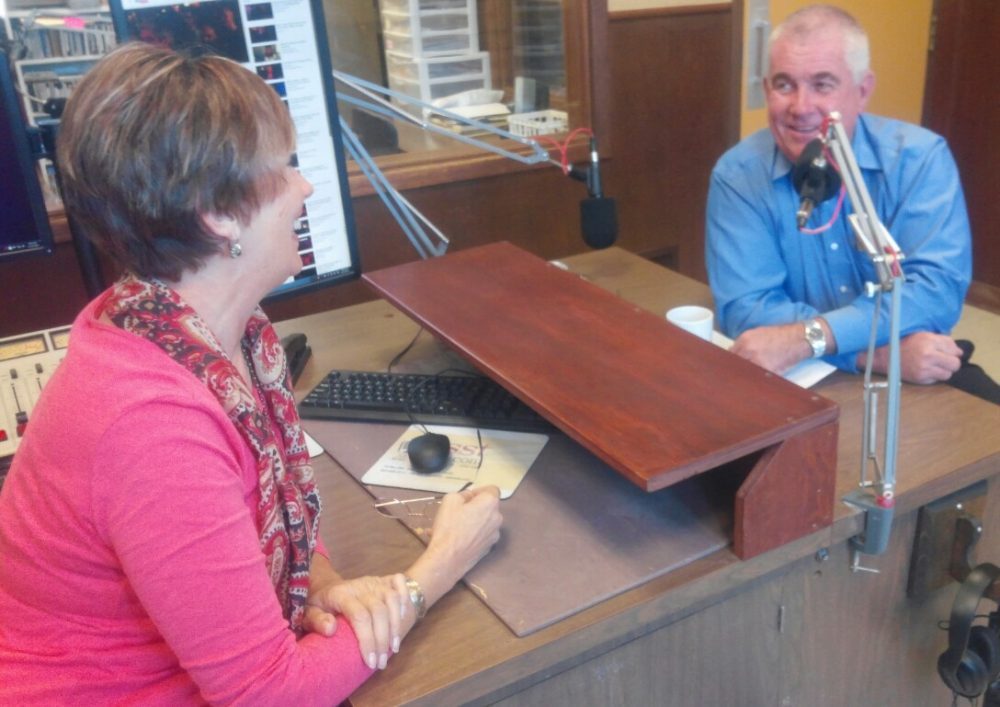 Back in Enola's early days, the Morning Show format was pretty relaxed. While guests were scheduled when possible, it was not uncommon for community members to stop by and share the latest updates for an organization, business or about their families even.
Until about 2010, guests would come into KSST and stay as long as they wanted. They might talk live, then grab a cup of coffee and, after the business of the morning was out of the way, continue their discussions live, she recalled.
Enola has talked to entertainers, musicians, writers, artists, politicians, community leaders, school children and personnel. People would call in with what interested them. A few gardeners and farmers called in regularly, back in the earlier days of KSST, to talk about what they were growing. Others would share where fishing had been good, which would be shared with listeners.
She quite enjoyed learning some of the old time sayings and things people used in daily life. For instance, she learned one could tell if it might rain by looking out in the pasture or field to see if the livestock was lying down during the day.
During at least the first half of her years on the Morning Show, listeners could call in to request music, Country Western in those days. While there were quite a few records in the control room, if the request was for one that wasn't, Enola would often put one song on, then dash to the back to grab the one they wanted, then put it on to play as the other song ended – all within a 3 minute span. She enjoyed being able to make someone's morning by playing their song.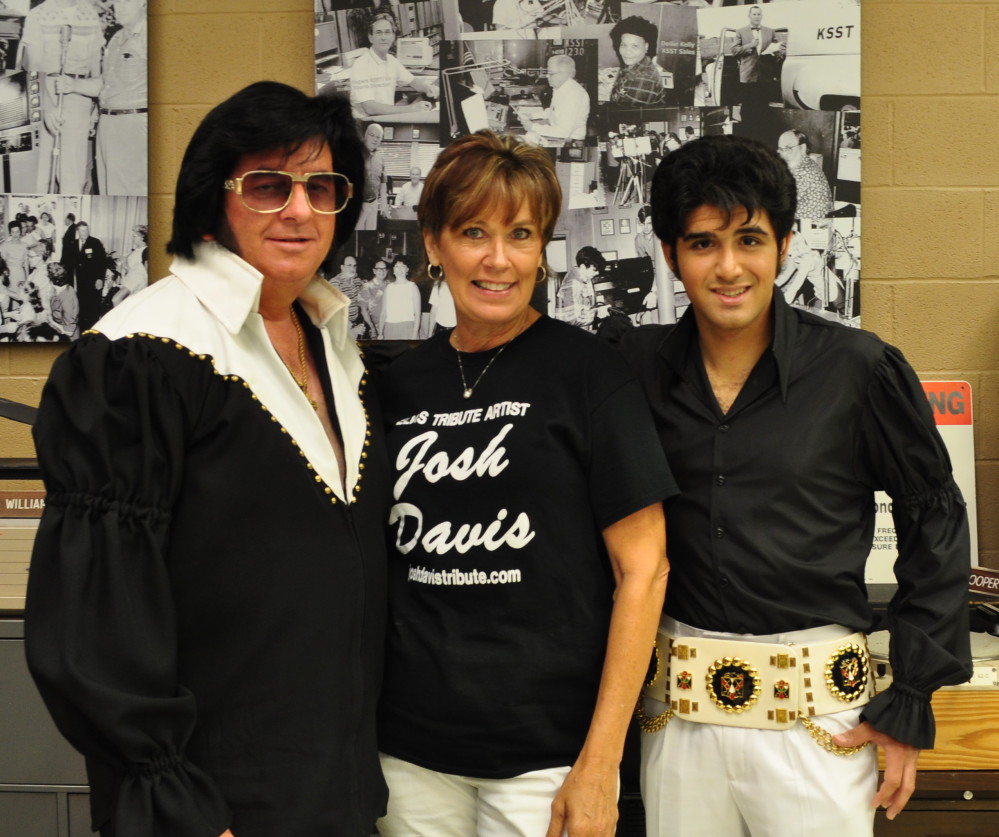 After KSST began broadcasting on Channel 18, the morning show became more structured, with Doug Haston videoing the day's interviews which could be shown on TV as well.
One particular show Doug recalls recording annually for a number of years was Elvis Day. Enola always pays tribute to Pressley on his birth and death dates.
"Yes, the Elvis anniversary days on the Morning Show were big in listenership and sponsorship, and with guests of Elvis lookalikes over several years," Enola said, shaking her head, recalling the memorable visits.
Haston noted that on occasion, she has even had children – sometimes her own – stop by to show off collectors' dolls of Elvis.
Enola has also had the opportunity to voice live broadcasts from community events such as the World Champion Hopkins County Stew Contest and the Hopkins County Dairy Festival.
Recently, she enjoyed joining KSST Sports Director Ross Labenske downtown for live coverage of the 15th Annual Lions Club Lighted Christmas Parade, describing for KSST 1230 AM listeners each float, conveyance and entry as they rolled and walked by. Haston captured the parade on video, along with their accounts of it, which can be viewed anytime on the KSST Radio YouTube page and on Channel 18 during the holidays.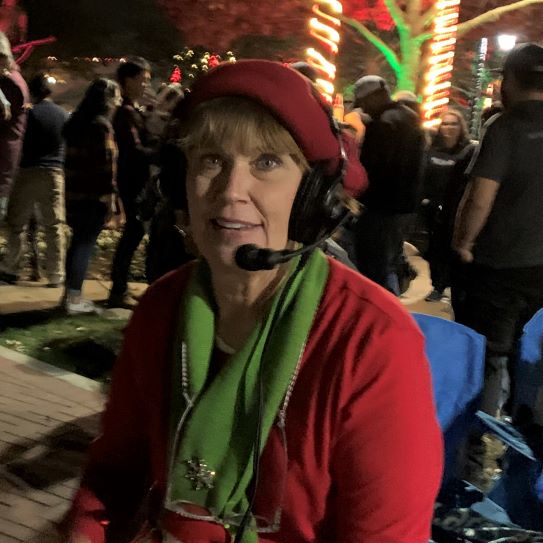 In fact, Enola Gay says music and the connection she had with KSST listeners was her favorite part of the job.
When she was married for the second time, an elderly listener brought her a special gift, a pound cake she'd made. She's received many priceless gifts, little mementoes listeners learned were among her interests. She said one gift she's still not sure who left for her in the control room, a magnet from Alaska, which still hangs on the front of her metal desk. She's received family keepsakes, treasures from their lives shared in thanks for the personal connection they feel to her thanks to the live radio.
"I've had so many invitations and opportunities because of the Morning Show. My work has opened so many doors," she said. "I have met so many people through the Good Morning Show. It's been a huge privilege in my life, a turning point for me when I got the job. It's led to opportunities I didn't know I wanted, but that fell into my lap."
She explained that in her early years at KSST, she came across photos and memorabilia of an old radio show called the Reilly Springs Jamboree. She asked the listeners about it, and received information about it over the course of a year.
"I thought about it and decided to try to revive the live stage show which KSST had carried in the 1950s. In April 1995, the Reilly Springs Jamboree Reunion was held and it was standing-room-only inside the VFW Post home. Well, the show continued and did well until COVID. Now, our stage is dark like so many other venues. It would be a thrill to get to bring it back again someday!" Enola Gay said.
Her love of music also resulted in what evolved into the 1230 West Show, played on Saturday mornings and again on Thursday evenings.
In the early 2000s, Enola explained, she began working with Benny Potter for what at that time was 1 1/2 hour of music, reaching back into its roots, telling stories of the musicians and songs they sang.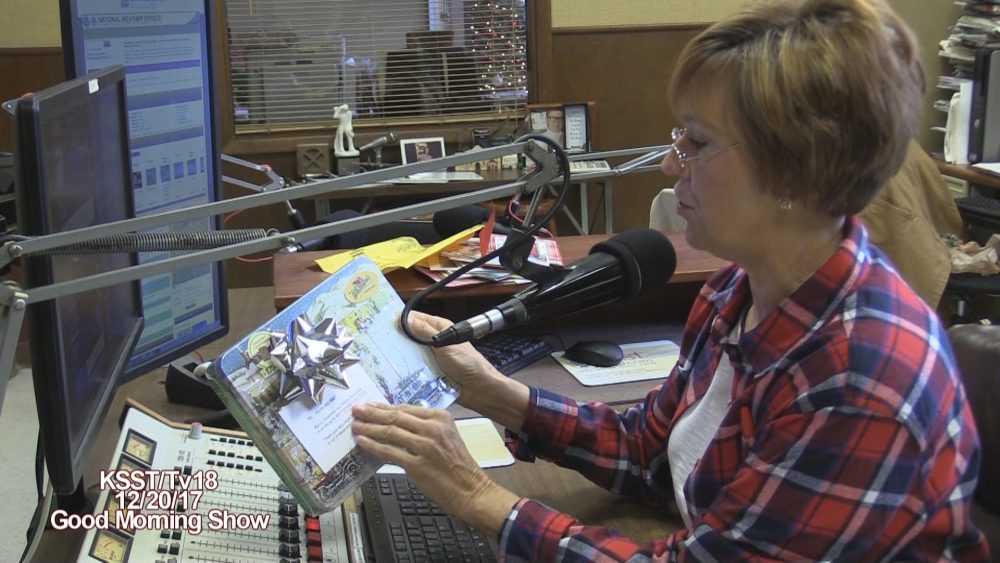 "It was easy for me. Benny was a walking encyclopedia of music and songs. You could name a song title and he'd tell information about it," Enola said.
The two hosts, live in the beginning, would meander from song to song and artist to artist, a journey into musical history, with no filter and nothing held back, just a shared love of music and sharing it.
Around 2014, the show became the 1230 West Show, a more structured hour, focusing on her loves – Country Cowboy and Western Swing music. The show allows timeless classics from eras past to be brought back to life for an hour. Life has changed so much, but that way of life which spans generations is captured in song, Enola Gay Mathews noted.
She said her work at KSST has lead to her writing online news, taking photographs, learning about people and things she never would have. It's resulted in singing engagements, the revival of the Jamboree and her singing in a band, as part of a duo, helping out as a speaker, MC, judge and other capacities at functions throughout the county.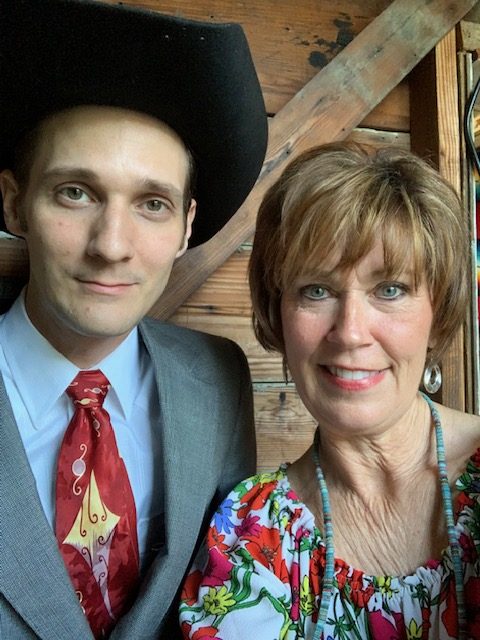 Enola Gay Matthews has received various awards over the years for her work at KSST, community involvement and championing of Western Swing and Cowboy Country music. She has received Fruit of the Spirit Awards, Yantis Masonic Lodge's Community Builder Award, Community Pride and Community Builder awards, was first runner-up for Ms. Hopkins County Senior in 2014, and more than once was recognized in the News-Telegram's Best of Hopkins County in the Radio Broadcasting category.
More impressively, Enola Gay Mathews received the DJ of the Year in 2006 from the Academy of Western Artists, was nominated DJ of the Year by Texas Music Association in 2008, a Western Swing Hero and was inducted into the Cowtown Society of Western Swing Music Hall of Fame in 2012.
In 2020, Weatherman nominated Enola Gay for the Yellow Rose of Texas, a commission bestowed to Texas women by the Texas Governor in recognition of those who have gone beyond measure in their communities and workplace. The Yellow Rose of Texas recognizes exceptional community service such as volunteerism, charitable contributions, achievements related to the preservation of the history of Texas, or achievements toward improving the present and building the future.
"She's a big supporter of the senior center and Ms. Hopkins County Pageant. She's always helping me promote anything that I have. She is a jewel. I love her to death," Weatherman said. "This is the highest honor a woman can receive in the State of Texas."
In June 2020, Weatherman presented the Yellow Rose of Texas commission to Enola during Hopkins County Commissioners Court, where the Sheriff's Posse which she has also served on, and the County Judge recognized her as well.
"She is an icon in this town, Everyone loves her," Weatherman said, adding sadly, "Our Yellow Rose is retiring."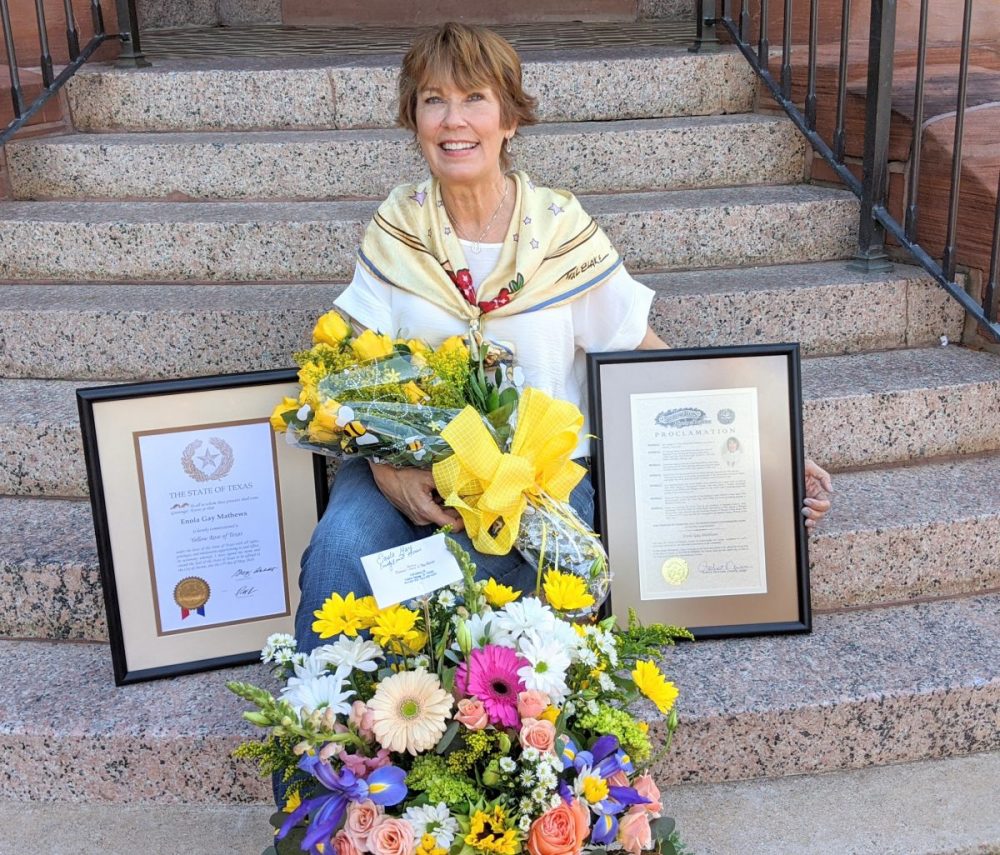 "I have appreciated Enola's warm welcome to KSST over the past 2 years, as well as her kindness to me as a media professional working elsewhere prior to that," said Faith Huffman, who joined KSST's news team in 2019. "Enola is passionate about whatever she does. I and KSST wish her the best in retirement."
"The people of Hopkins County will not truly appreciate what they've had for the last 30 years until the day after Christmas, until they no longer start their day with Enola Gay," said longtime coworker and friend Doug Haston of Enola Gay's retirement at the end of next week.
Enola says she feels blessed to have been a part of so many people's lives through her work at KSST, for over 3 decades. However, much as she will miss wishing everyone happy birthday and anniversary, and announcing community events, especially KSST's "milestone anniversary on March 1, 2022, celebrating 75 years of serving multiple generations of listeners," Enola Gay is ready to take a step back to enjoy her family on a less regimented schedule and excited to see what the next chapter of life has to offer. 
KSST welcomes the community to stop by the station from noon to 2 p.m. Wednesday, Dec. 22, for a come and go reception to celebrate Enola Gay Matthews for her 32 years with KSST and wish her well as she begins her retirement.