KSST's own Enola Gay Mathews received honors from the governor and was recognized by Hopkins County Commissioners Court for her continued support of the community. Enola Gay was honored with the Governor's Yellow Rose of Texas Commission and received a proclamation of thanks for her contributions to the community from the Commissioners Court.

The Yellow Rose of Texas commission is bestowed to Texas women by the Texas Governor in recognition of those who have gone beyond measure in their communities and workplace.
The Yellow Rose of Texas recognizes exceptional community service such as volunteerism, charitable contributions, achievements related to the preservation of the history of Texas, or achievements toward improving the present and building the future.
"This is the highest honor a woman can receive in the State of Texas," said Senior Citizens Center Program Director Karon Weatherman, who nominated Enola Gay Mathews for the honor.
Karon Weatherman presented Enola with the framed Yellow Rose of Texas commission signed by Governor Greg Abbott. Three local businesses also extended congratulations to Mathews. Sulphur Springs Floral provided a bouquet of yellow roses, Danna's sent colorful vase of flowers, and the Millennium Shopper a Texas gift pack.
"She is very deserving," the senior citizens center director told the packed room at Hopkins County Commissioners Court Monday morning. Among those in present at the courthouse were her daughter, son, three of her grandchildren and several friends, along with members of Hopkins County Sheriff's Posse, Historical Society, other community organizations.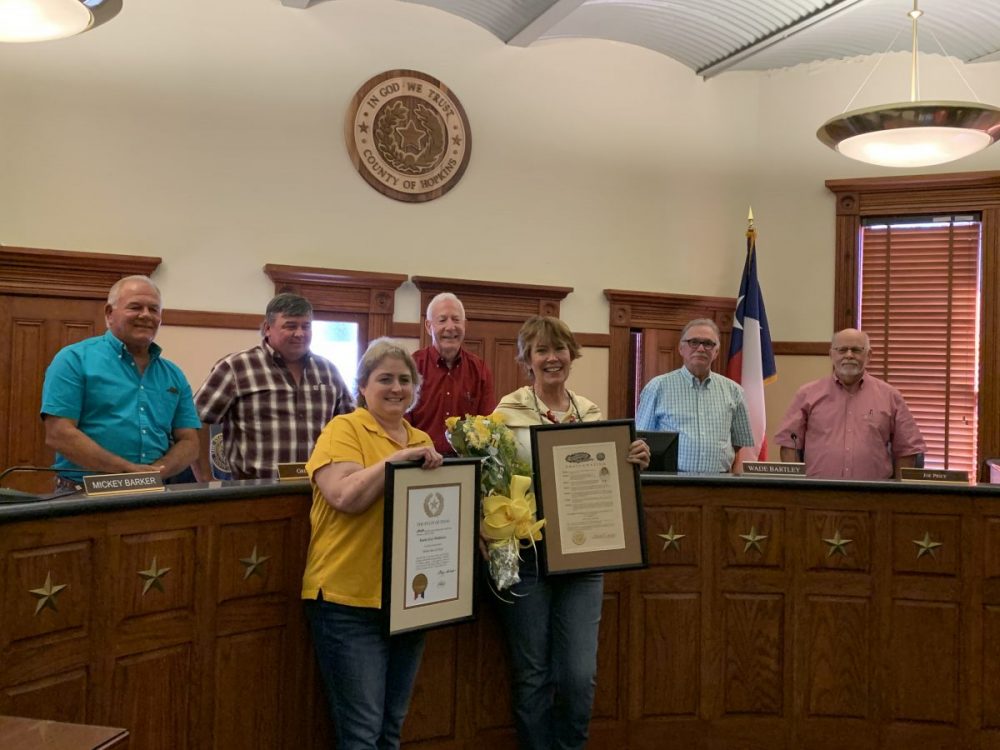 "I am undeserving of all this, but I will take it because I am a proud Texan," Enola said. "Hopkins County is a fertile place to put down roots, raise a family and get involved. Ours is a community to take pride in, discover your interests and talents and to call home. I am glad that in 1985 we decided on a chance to move to Hopkins County. I want to thank Karon Weatherman, Garland and my kids, and all my friends for your love and support."
Hopkins County Commissioners Court agreed. Judge Robert Newsom read a proclamation officially recognizing Enola Gay Mathews for her continued community support and involvement, and congratulating her on the Yellow Rose of Texas commission.
The judge recognized her for not only being "the voice of Hopkins County during her morning radio show, 'Start Your Day with Enola Gay' on KSST 1230 AM of Sulphur Springs," but for her community involvement.
Newsom noted the interest Enola has shown in memorabilia, recordings and photos of the Reilly Springs Jamboree since 1989. That interest not only lead her to help preserve the facility, but to take over production of the Jamboree in 1995 to continue " the legacy of providing entertainment to the community with great singers and bands who come from all around Northeast Texas to perform."
The county judge commended Enola for her talent as a singer and writer, performing as single artist as well as part of the duo Sentimental Journey, and featuring places and people of the community in her weekly column "At the Corral Grate" in the Millenium Shopper.
Newsom noted some industry recognition Enola has received, including being named DJ of the Year in 2006 by the Academy of Western Artists in and nominated DJ of the Year by Texas Music Association in 2008. She was named a Western Swing Hero and was inducted into the Cowtown Society of Western Swing Music Hall of Fame in 2012. In 2014, she was recognized as the Hopkins County Woman of the Year.
That's in addition to serving as a member of the Hopkins County Sheriff's Posse since 2014, honorably carrying the Texas flag while riding a horse and leading parades in Hopkins County.
"Therefore, be it resolved, that the Hopkins County Commissioners Court congratulates Enola Gay Mathews and urge all citizens of Hopkins County to acknowledge the worthy recognition to such a deserving individual for her cherished communications as well as contribution to our community," Newsom said.
"Enola, I know I can remember, and a lot of us can, when you came to Sulphur Springs, and you made a difference immediately," Newsom said. "I want to say thank you so much. I've actually performed with you. I've performed at Reilly Springs, although not anymore — that's behind me, I guess. Many of us in this room appreciate all the talents you put into Sulphur Springs and making a difference. It's a better community because we have Enola Gay in it. Thank you so much."
Newsom presented to her on behalf of Hopkins County Commissioners Court a framed copy of the proclamation.
Earl Martin, on behalf of Hopkins County Sheriff's Posse, "Whenever you joined us, a few years ago, it was our privilege to have you. On that behalf, you have enhanced the Sheriff's Posse. You kept us in the PR and kept us happy and going. From that standpoint, you were one of the ladies, members of the Posse that we were real glad to have."
"She deserves it. She is an icon in this town. She IS Hopkins County. She is involved and she doesn't get the recognition she deserves. Everyone loves her," Weatherman said.
Weatherman said Enola's willingness and enthusiastic support of many community organizations, through her work as well as personal time, are among the many reasons she feels Enola to be deserving of the award. She did this while raising her children, and continues to be a friend to many, offering kind words and encouragement during her years in Sulphur Springs.
KSST extends congratulations to our accomplished coworker and friend Enola Gay Mathews on her Yellow Rose of Texas Commission from Governor Greg Abbott and recognition received from Hopkins County Commissioners Court and the community.