Hopkins County Commissioners Court will be asked to consider taking action against Delek Logistics, the company involved in the Turkey Creek pipeline fuel spill in October of 2019.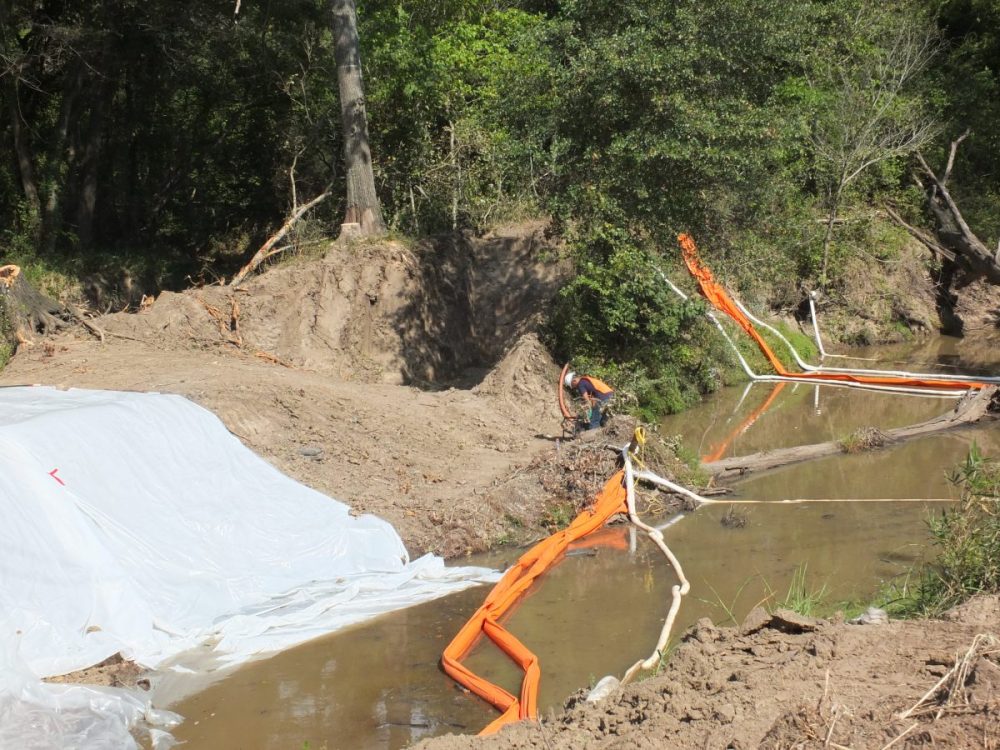 Approximately one year ago, Hopkins County Commissioners Court sought legal assistance in attempts to get Delek Logistics to pay for damages reportedly caused by heavy trucks using Precinct 1 and 4 roads while responding to the Oct. 3, 2019, fuel spill. A six-inch pipeline ruptured, after diesel was pushed through the pipeline after a two month maintenance program. Diesel ran into the nearby waterway. The pipeline was shut down and mitigation was started to contain the diesel. The creek bed was dry and the spill contained before getting into any other water way, thanks to the quick work of county and emergency responders.
A remediation company was contracted to place a boom to prevent the spill from traveling downstream. Local community volunteers under the direction of the Hopkins County Office of Emergency Management built a temporary earthen barrier in the event the boom was insufficient, emergency management officials reported Oct. 4, 2019.
The State of Texas State Operations Center on Oct. 4 reported 10,000 to 15,000 barrels of product were to have been released during the incident.
Much of the creek bed along the 1.25-mile stretch of Turkey Creek was dry, with only a few pockets of water, which helped stop the spread before it got into the drinking water. Some fish in those small pockets of water were found dead after the first day or response, officials reported.
On Monday, Oct. 7, a total of 24,186 barrels of substance had reportedly been removed from the area. However, Hopkins County emergency management officials reported not all contained product, some were mostly water. An estimated 10,048 barrels were diesel.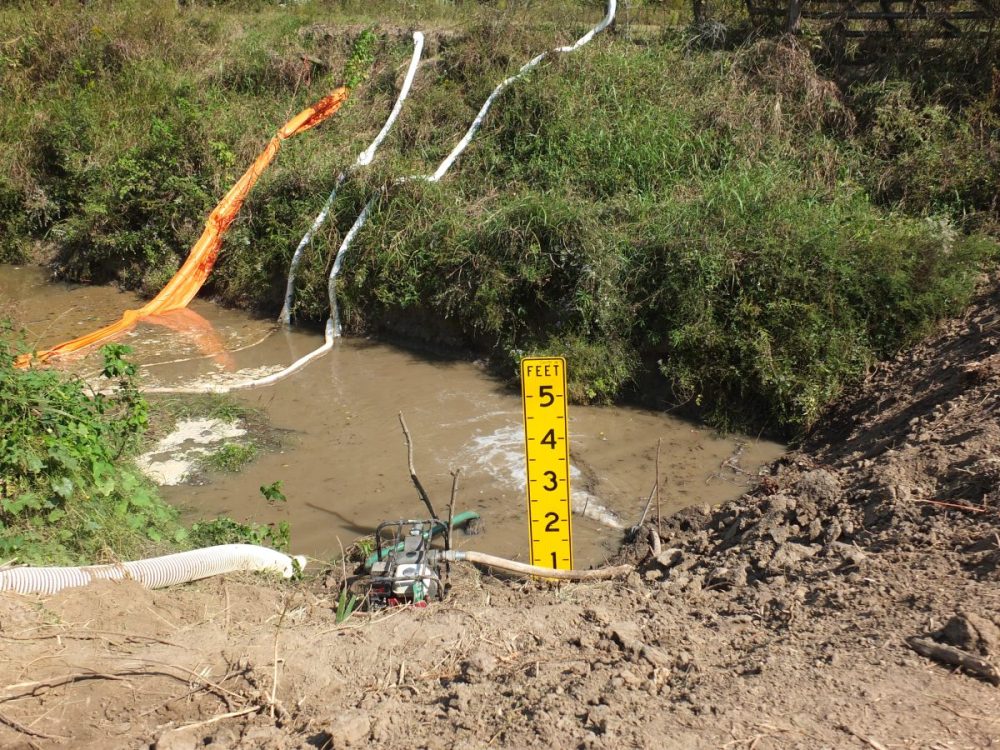 According to EPA officials at the command center on Oct. 11, the quick response to contain the spill and remove the product so quickly, was expected to result in no long term damage to the creek and surrounding environment. An area of soil around the pipeline leak would have to be replaced, but the creek itself wasn't expected to have to be remediated, according to the EPA official.
"Hopkins County employees and their equipment did a lot of work the night of that spill to keep that flow of diesel from going into Lake Fork. We provided anything they asked for and we did have a gentlemen's agreement that they would take care of our roads, which now they are not following through," Precinct 1 Commissioner Mickey Barker said during a December 2020 Commissioners Court session.
"His crew did really save the day for us out there. It was hours out before they ever got any equipment in there. His crews already had it stopped, diked and dammed. They did an outstanding job," Hopkins County Fire Marshal Andy Endsley said in 2020 as well.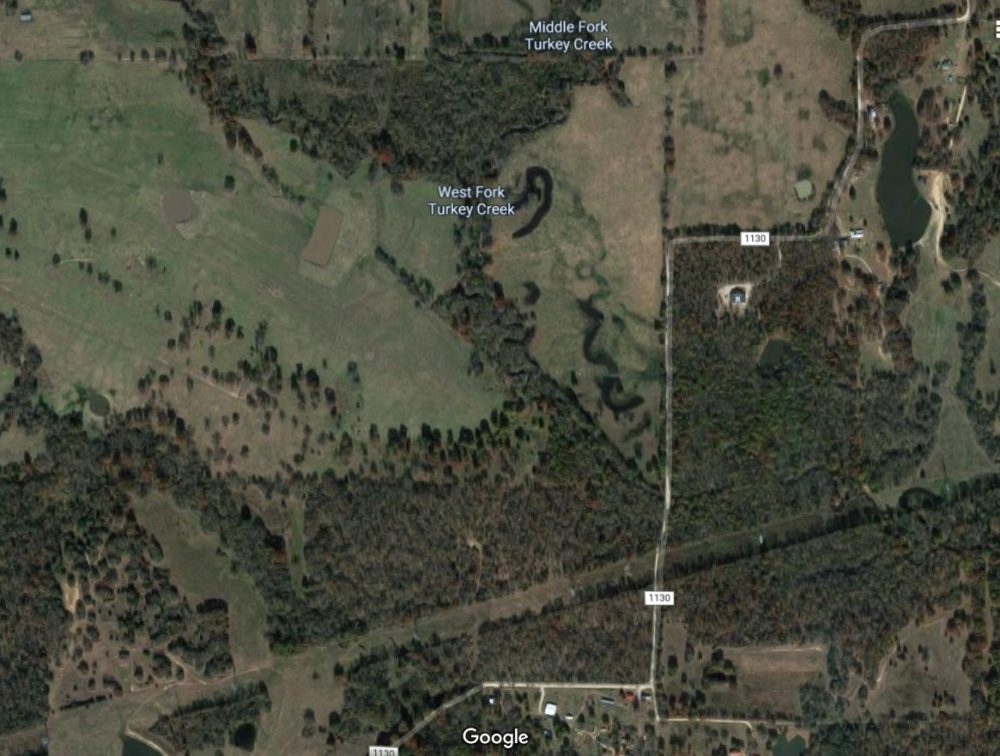 Once crews contracted by the company arrived, they began to clean up the fuel that was spilled, requiring heavy trucks to travel on county roads.
Endsley emphasized the subcontractors who performed the cleanup did a "good job on it" and "were on top of their game." He said he has no complaint with their efforts.
However, Delek Logistics has not honored the agreement to restore county roads damaged in the cleanup effort, county officials contend. In addition to the gentlemen's agreement, federal environmental regulations regarding hazardous material incidents stipulate that the company is responsible for paying 100 percent back to take care of damages, including county roads, county officials contended.
Barker and Precinct 4 Commissioner Joe Price had to spend quite a bit of money repairing roads damaged and at some places completely destroyed, and others the base beneath the the county roads were destroyed by the more than 500 overloaded trucks that traveled up and down the county roads during the clean up, Barker noted in December 2020. Price at that time also reported 4 miles or county road in Precinct 4 were heavily damaged by the heavy, overloaded trucks. The Precinct 4 Commissioner had at that time spent over $10,000 to repair one short strip of road where the trucks stopped to enter FM 275. Barker in December 2020 had spent $30,000 in materials to patch roads and crushed culverts.
In December 2020, the court approved County Fire Marshal Andy Endsley's recommendation put Allison, Bass & Magee, LLP, on retainer to try to move the legal process of getting Delek Logistics to honor their gentleman's agreement for the company to see that the roads damaged by their contractors and responders are repairs.
During the 9 a.m. meeting Monday, Dec. 27, 2021, Hopkins County Commissioners Court will be asked to consider and take action concerning pending litigation against Delek Logistics pursuit to Texas Government Code Section 551.071.