Hopkins County Commissioners Court Monday morning, Dec. 27, 2021, agreed to an undisclosed settlement with Delek Logistics for county road damages caused by heavy trucks used during the removal of diesel fuel spilled from a 2019 pipeline rupture.
A 6-inch pipeline reportedly had diesel flowing through it after a two-month maintenance program. The pipe ruptured, spilling diesel ran into the nearby waterway on Oct. 2, 2019. The pipeline was shut down and mitigation was started to contain the diesel. Luckily, the creek bed was mostly dry and the spill was contained before it could spread into any other water way, thanks to the quick work of county and emergency responders, local emergency management officials reported in 2019.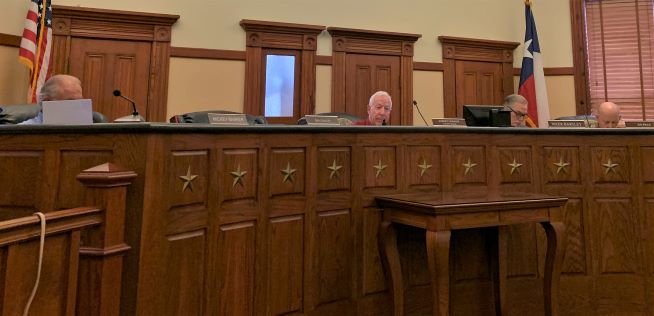 A remediation company was contracted to place a boom to prevent the spill from traveling downstream. Local community volunteers under the direction of the Hopkins County Office of Emergency Management built a temporary earthen barrier in the event the boom was insufficient, emergency management officials reported Oct. 4, 2019.
The State of Texas State Operations Center on Oct. 4 reported 10,000 to 15,000 barrels of product were to have been released during the incident.
Much of the creek bed along the 1.25-mile stretch of Turkey Creek was dry, with only a few pockets of water, which helped stop the spread before it got into the drinking water. Some fish in those small pockets of water were found dead after the first day or response, officials reported.
On Monday, Oct. 7, a total of 24,186 barrels of substance had reportedly been removed from the area. However, Hopkins County emergency management officials reported not all contained product, some were mostly water. An estimated 10,048 barrels were diesel.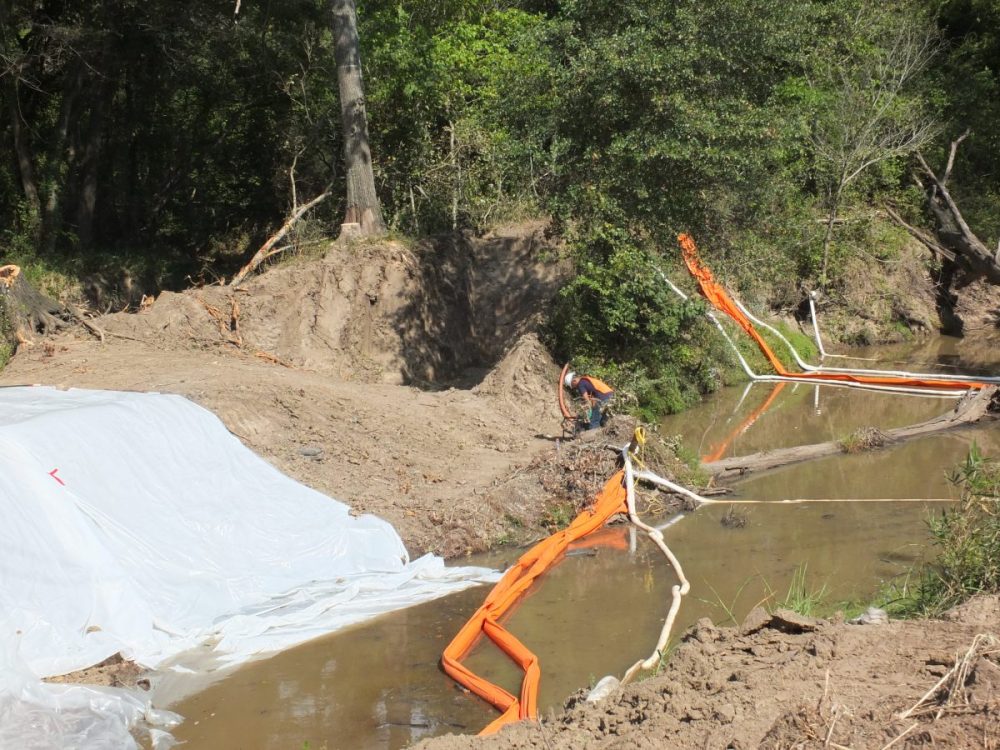 According to EPA officials at the command center on Oct. 11, the quick response to contain the spill and remove the product so quickly, was expected to result in no long term damage to the creek and surrounding environment. An area of soil around the pipeline leak would have to be replaced, but the creek itself wasn't expected to have to be remediated, according to the EPA official.
"We provided anything they asked for and we did have a gentlemen's agreement that they would take care of our roads, which now they are not following through," Precinct 1 Commissioner Mickey Barker said during a December 2020 Commissioners Court session.
However, Delek Logistics has not honored the agreement to restore county roads damaged in the cleanup effort, county officials contend. In addition to the gentlemen's agreement, federal environmental regulations regarding hazardous material incidents stipulate that the company is responsible for paying 100 percent back to take care of damages, including county roads, county officials contended.
In December 2020, the Commissioners Court put Allison, Bass & Magee, LLP, on retainer to try to move the legal process of getting Delek Logistics to honor their gentleman's agreement for the company to see that the roads damaged by their contractors and responders are repairs.
"Commissioner Price and myself have been negotiating with some Delek lawyers," Barker said Monday, Dec. 27, 2021.
"Mickey, I don't believe I have to talk to you, but there is a confidentiality agreement about the amount, and the lawyer wanted me to remind you the lawyers have an agreement not to put the amount out there," Judge Robert Newsom said.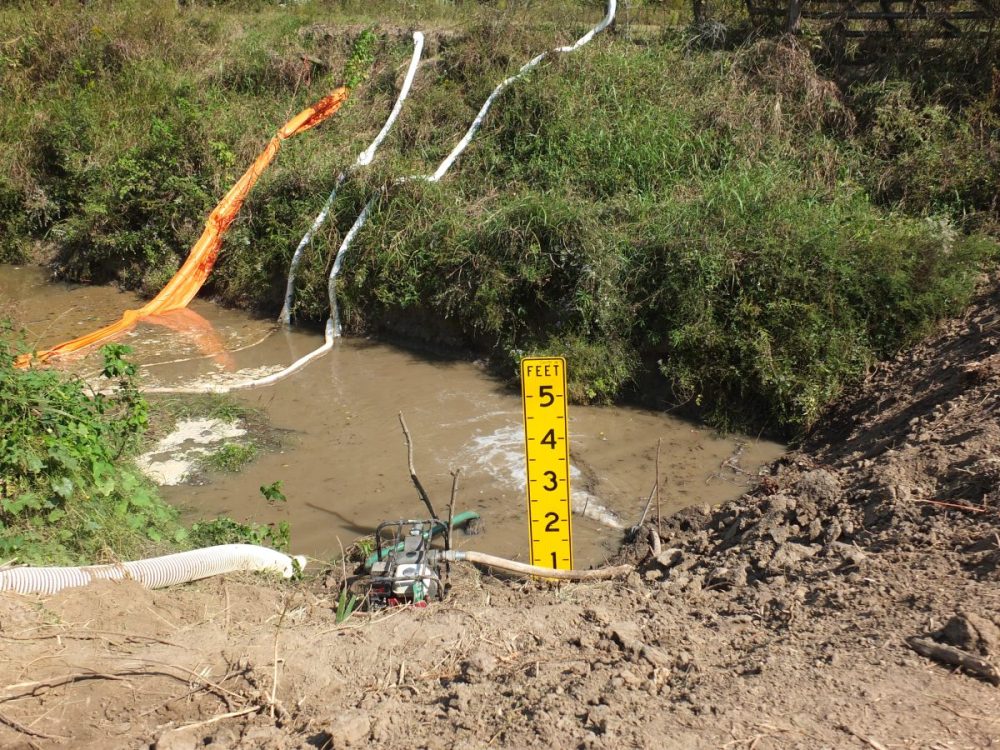 Barker said he and Price have negotiated with the Delek attorneys over the last year and have now come to a "resolution," for costs for road repairs.
"Moneys will be spent on those particular roads that were identified – 2 miles of road in Precinct 1 and then 4.6 miles in Precinct 4," Barker said.
"We are going to divide it equally according to the mileage," Price said.
"It comes out to certain dollar amount per mile, divided up between Precinct 4 and Precinct 1," Barker added.
The motion to approve the undisclosed agree upon amount per mile negotiated with Delek Logistics to go toward costs of repairs on county roads in Precincts 1 and 4 used by overloaded trucks during the 2019 cleanup efforts received unanimous approval of the 4 members of the Commissioners Court in attendance at the Dec. 27, 2021 meeting. (Precinct 2 Commissioner Greg Anglin did not attend the meeting).
Fire Marshal Andy Endsley said that would conclude Delek's financial obligations to Hopkins County. The clean up at Turkey Creek, however, is ongoing. Monitoring is expected to continue for 1-2 additional years in private wells throughout the Turkey Creek area, as well as along Turkey Creek through the point where it meets Lake Fork.
"I don't have a time line on that actually. That's between the EPA and TCEQ and us on the local level, we'll be the one to give the final approval that it's clear and cleaned up, but it will be ongoing," Endsley said at the Dec. 27, 2021 Commissioners Court meeting.
Barker pointed out that Turkey Creek is currently dry, but asked if there would be any repercussions from rainy seasons in the future.
Endsley said heavy rains and flash creek events actually help continue to flush the area out, where there is residual diesel fuel on the embankment and sides of the creek.
"This has take up quite a bit of Commissioner Price's time and funds, and also mine. So, we are glad to see that this is coming to an end," Barker said.
Price said work likely won't begin on those impacted Precinct 4 roads until June, due to current weather conditions. Barker said that's likely the case for Precinct 1 roads as well.
Newsom thanked the Commissioners and Endsley on their work to see the lawsuit settled, as well as to the emergency and other responders who worked quickly at Turkey Creek to stem the flow of fuel to keep it from spreading further along Turkey Creek, which feeds into Lake Fork on Oct. 3, 2019.