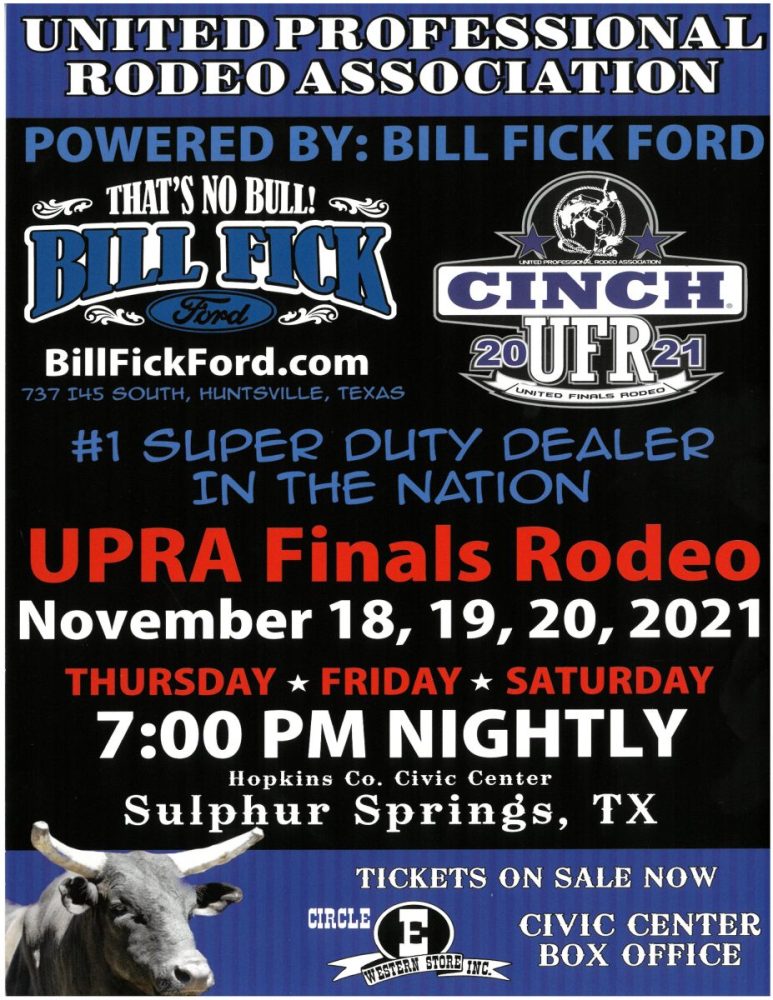 The Cinch United Finals Rodeo, staged each Fall in Sulphur Springs, Texas, represents the 147 rodeos held within the UPRA circuit across 7 states during 2021. Texas rodeo talent makes up a good portion of the Finals qualifiers, and there's a good many from the local area as well! These men and women qualified to compete in the Cinch UFR by placing well in rodeos held in their hometown or county. They and the other top qualifiers are competing for titles plus cash and prizes of more than $200,000 during the three nights of rodeo action. As a spectator, you will see bareback, steer wrestling, ranch bronc riding, breakaway roping, tie-down roping, saddle bronc, team roping, barrel racing and bull riding events.
Congratulations to the local and area talent who have qualified for the Cinch UFR. They include:
Barrel Racing – Kenzi Pogue of Emory, McKenzie Mayes of Scroggins, and Emily Taylor of Emory.
Breakaway Roping – Kerstin Freeman of Cooper.
Bull Riding – Cameron Foster of Mount Vernon.
Ranch Bronc – Canyon Conley of Ladonia.
Saddle Bronc – Andrew Harris of Commerce.
Steer Wrestling — Garrett Fields of Quitman and Chase Pope of Winnsboro.
Awards will be given out following the Saturday night performance in Sulphur Springs.
Many among top Texas talent coming to the Cinch UFR have rodeo bloodlines. That includes National Finals Rodeo qualifiers Stephenville's J.J. Hampton in Women's Breakaway Roping, and her nephew, 26-year-old Marty Yates in Calf Roping, both whom are wrapping up an incredible year.
Marty's late father, Marty Sr., was a Texas state rodeo champion in high school, and competed for Tarleton State University — which offers a scholarship in his name. Marty's mother, Angie, also compete in rodeo, as did his late uncle J.W. "Row" Yates, who won the 1994 Texas high school team roping championship with the legendary Trevor Brazile. And Marty's aunt, J.J. Hampton, has fashioned an incredible career as a 17-time Women's Professional Rodeo Association champion.
See this rodeo talent and much more this weekend at the UPRA's annual Cinch Finals Rodeo set to run Thursday-Saturday, Nov. 18-20, at the Hopkins County Regional Civic Center. The competition starts nightly at 7 p.m.
Tickets are on sale now at the Civic Center box office and Circle E Western Store.