A Bryan, Texas man was jailed on engaging in criminal activity and manufacture or delivery of a controlled substance charges Friday night, according to arrest reports.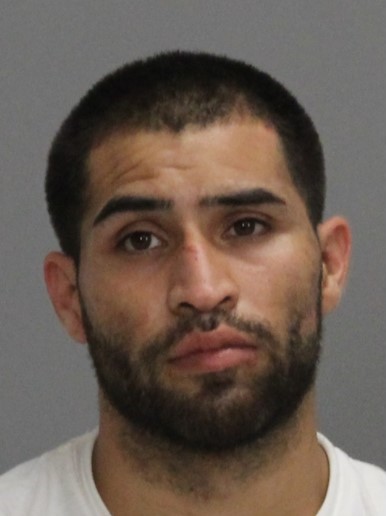 Hopkins County Sheriff's Office Deputy Josh Davis said while assisting another deputy on a traffic stop in a South Broadway Street business parking lot just before 10 p.m. Nov. 12, 2021, he noticed a man throw down a cigarette onto the parking lot from a Chevrolet SUV. Davis ordered the man to step out of the SUV to talk to him.
Davis reported as the 27-year-old Bryan, Texas man did so, he displayed several nervous indicators. So, he asked the man if there was anything illegal in the vehicle he was operating. The man, identified in arrest reports as Arturo Pina, admitted to having contraband in the console and was detained while the officer searched the vehicle.
Davis reported finding an object wrapped in electrical tape, which turned out to be a baggy of crystal-like substance the officer identified based on his law enforcement experience as methamphetamine. The deputy also noted in arrest reports he found two meth pipes. Pina allegedly admitted to being on the way to Paris, Texas to delivery the illegal substance. Pina was taken to jail, where the baggy was unwrapped and determined to actually be 2 baggies within the tape, the substance field-tested positive for meth and weighed approximately 115 grams, Davis wrote in arrest reports.
A review of Pina's criminal reportedly showed the 27-year-old Bryan man to have a prior criminal history elsewhere, including being entering into a state database for affiliation with a criminal street gang, Davis noted in arrest reports. Pina was accused of conspiring to deliver a controlled substance as a criminal street gang member; he was booked into Hopkins County jail just after midnight Nov. 13, 2021, on a delivery of 4 grams or more but less than 200 grams of a Penalty Group 1 controlled substance and engaging in organized criminal activity.
Pina, who is also known as Arturo Davila Pina Jr., remained in Hopkins County jail Monday, Nov. 15, 2021, in lieu of $150,000 in bond, $75,000 on each of the two felony charge, according to Hopkins County jail reports.
If you have an emergency, dial 9-1-1
The Hopkins County Sheriff's Office is located at 298 Rosemont Sulphur Springs, TX 75482. You can reach them for non-emergency matters at (903) 438-4040.