Annual Toy Drive Planned Nov. 30 And Dec. 1 at Walmart
After a brief glitch last week, the Hopkins County-Sulphur Springs Blue Santa program's 2021 online registration form is active to accept applications from families in need of a little extra help providing Christmas gifts for their children this year. Donations are also being accepted to help Blue Santa ensure no Hopkins County child age 1-14 goes without Christmas this year.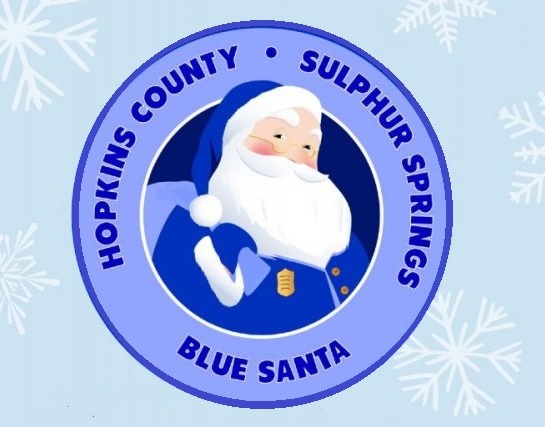 Blue Santa Applications
This toy distribution program is a partnership brought to you by Hopkins County/Sulphur Springs Law Enforcement and CANHelp, and benefits Hopkins County children ages 1 to 14. Up-to-date information regarding the Hopkins Blue Santa Toy Program can be found at www.canhelponline.org.
Registrations will continue through Friday, December 3. Applicants will receive a confirmation email with a pick-up registration number after they finish registration. Online registration requires applicants to take pictures and upload documents onto the form.
Documents needed will include:
Proof of Hopkins County residency, such as a current bill or current ID;
Birth certificate or proof of school enrollment for each child age 1-15;
Proof of income, as qualification for the program is based on families at 200% or less on federal poverty guidelines, OR proof of SNAP, Medicaid, TANF or CHIPS (state benefits);
If applicant is not the child's parent, proof of guardianship must be shown; and
Child to be assisted must be 1-14 years of age
Program organizers will be communicating with registered families through email and text reminders regarding toy pick up. Thus, applicants are asked to include a cell phone number on the form. After registering for the Blue Santa Toy Program, applicants will receive registration number by email within 24 hours. Approved will need to present that the registration number and email on the day of pick-up along with identification. Participants may not be able to pick up toys for their children distribution day if they do not have the registration number. If someone else has been designated to pick up the toys in place of the applicant, that individual will also need the participants' registration number along with their identification.
Applicants who do not receive an email with registration number should double check that the email account submitted is correct and also check their junk/spam folder for that email account. Anyone who still does not receive and email with registration number after that time may contact CANHelp at 903-885-9797, ext. 1, or send an email to [email protected].
Toy distribution for approved participants will be held on Saturday, December 11, from 1 to 3 p.m. at the First united Methodist Church, 301 Church St. in Sulphur Springs. Everyone must line up at the City National Bank drive-thru at 201 Connally Street in Sulphur Springs.
Any additional questions or to request assistance with the form, contact CANHelp at 903-885-9797, ext. 1, or visit the CANHelp office at 613 Gilmer St. in Sulphur Springs. (Note: CANHelp phones are down Monday morning, Nov. 15, 2021. To contact the office before phone service has been restored, community members may send a Facebook message or send an email to [email protected].)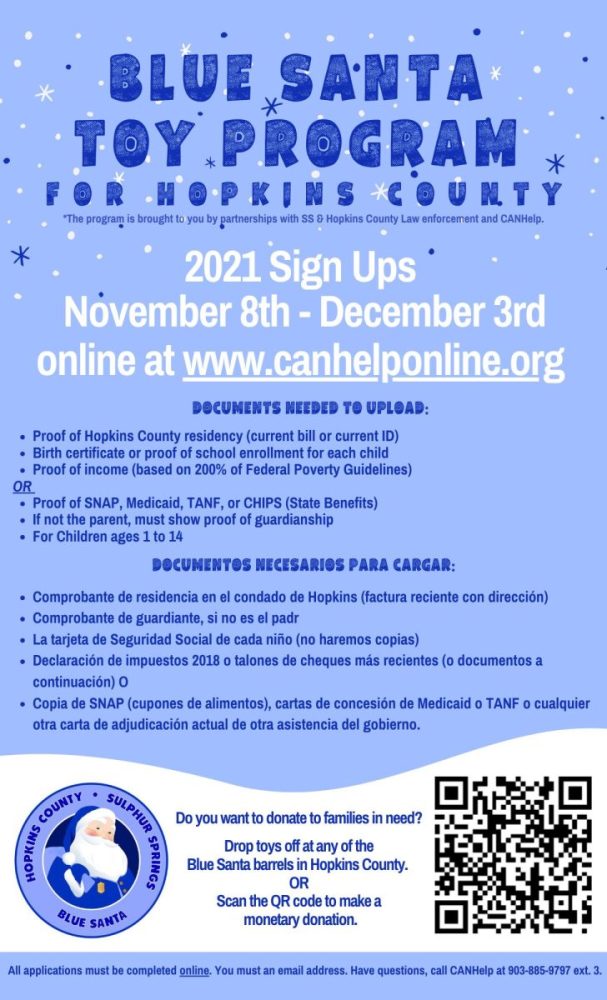 Blue Santa Donations
The Blue Santa Program depends on the generosity of local businesses, organizations and individuals to provide funding and toys to ensure no child goes without gifts this Christmas.
Toys are needed this year like never before, according to program organizers. Blue Santa anticipates helping provide toys for more than 800 kids this year. It takes approximately $60 to provide gifts for each children from a financially disadvantaged family in need of a little help this year.
This year, there are more ways than ever to support Blue Santa with donations.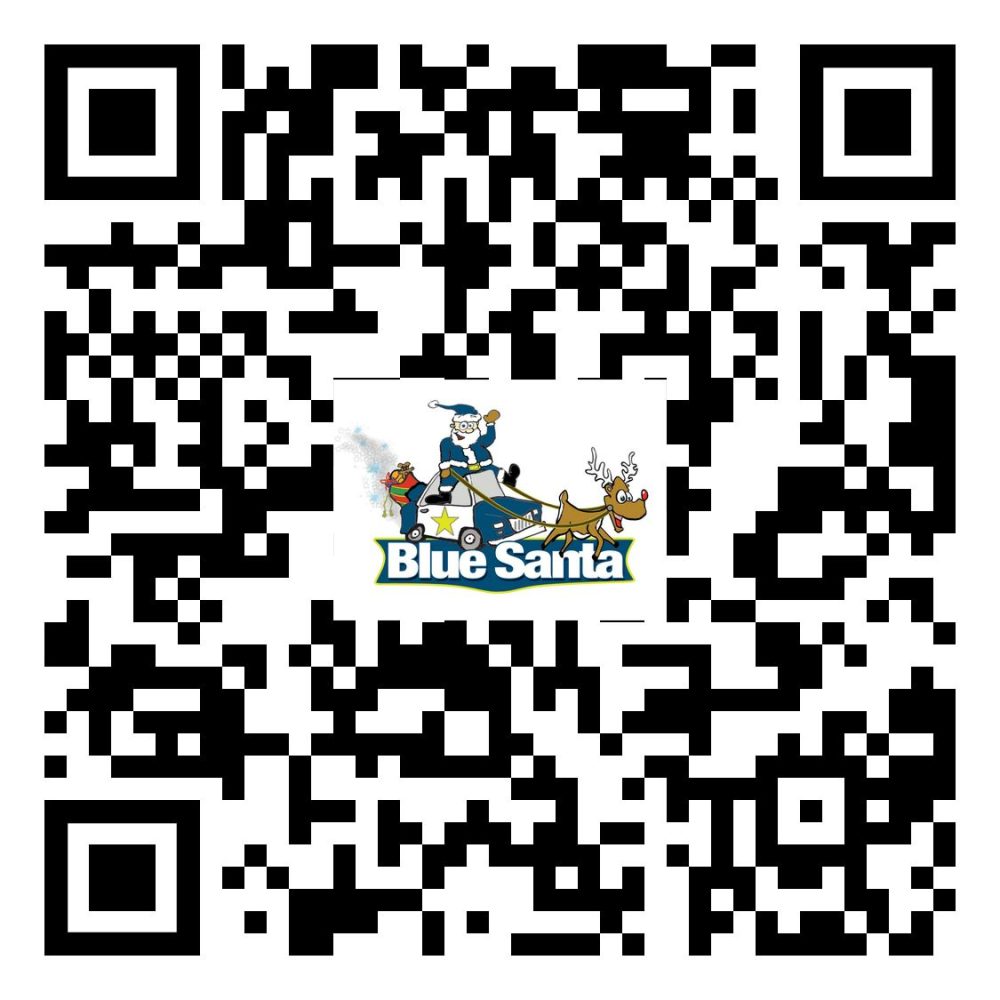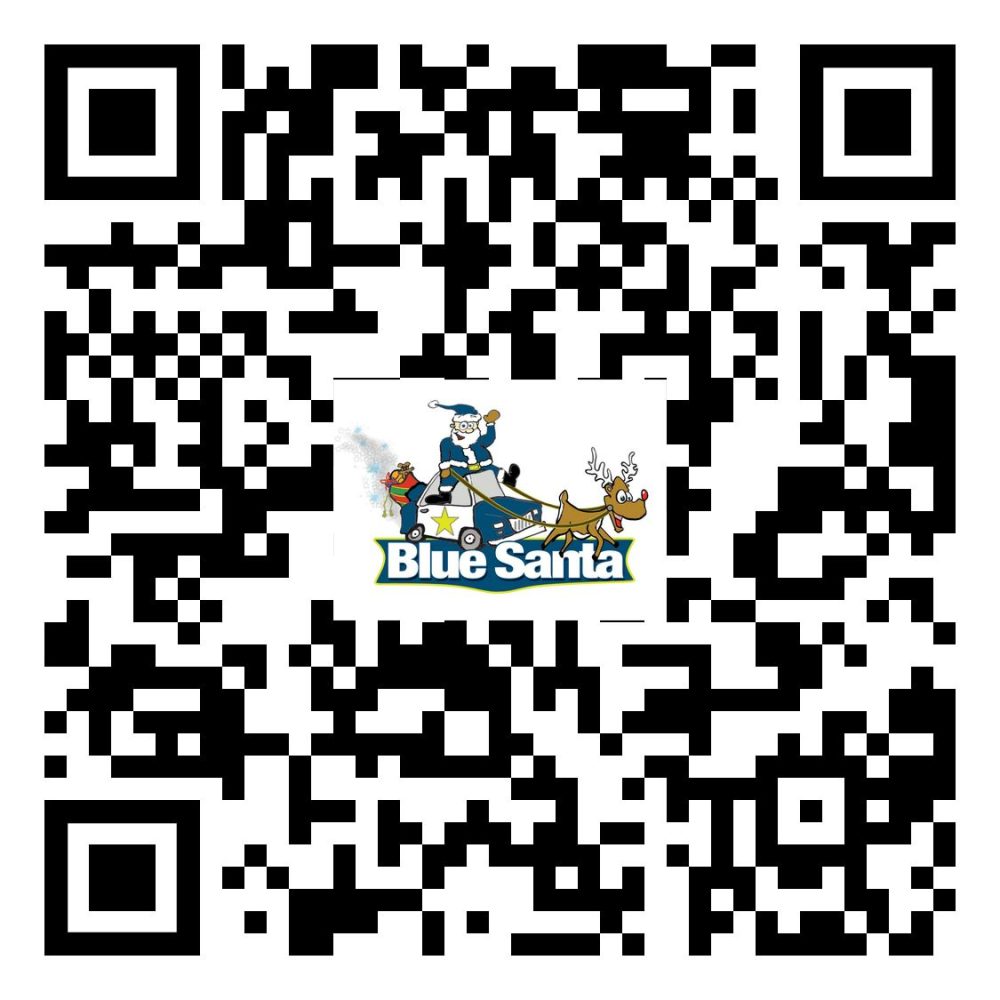 Anyone can drop toys in any of the blue barrels labeled for donations to Blue Santa program located at businesses and other locations throughout the county.
A toy drive will also be held from 7 a.m. to 7 p.m. Nov. 30 and Dec. 1 in Walmart parking lot. Toy and monetary donations may be dropped off during that time.
Those who wish to give but don't know what to get or who don't have time to shop can simply scan the Blue Santa QR code on flyers and barrels (see image at right or on flyers on this page, Facebook or the link on the CANHelp website.) to may make a monetary donation directly from their mobile devices. (Open your photo app, point it at the QR. The link should appear on your phone. Select it and complete the registration process.)
A brisket lunch will also be provided by CJ Duffey and Choice Hospice for donation of at least $5 during the toy drive, while supplies last.
Additional information about the Blue Santa program will be shared online at Blue Santa / Sulphur Springs / Hopkins County and will be shared on KSST 1230 AM and ksstradio.com and other media outlet as it is made available.