Hopkins County Residents,
A very special event is coming to our Community November 2-7, 2021 – The Vietnam Veterans Memorial traveling exhibit and Mobile Education Center, 'The Wall That Heals Hopkins County, Sulphur Springs, Texas' will be on display 24 hours per day, free of charge at the Sulphur Springs High School Track, 1210 Houston Street. Attached are a press release, event information, and a digital image for your convenience.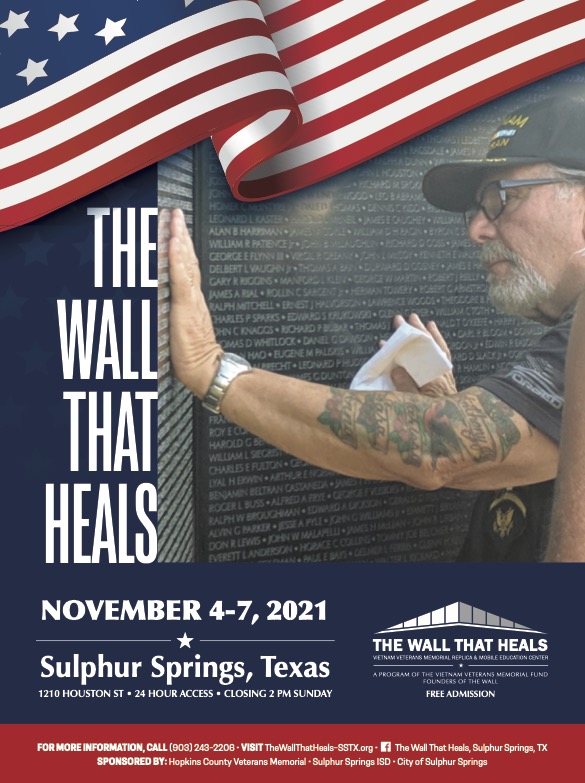 I'm forwarding this informational email along with a timeline of events, including the Opening Ceremony attachment for your convenience and in case you'd like to share by email or on social media. Our local website is below and will have all the Events for the week completed and listed on it soon.
Tues., November 2, 2021 – The Wall That Heals will arrive by Semi truck and Trailer, escorted by Patriot Guard Riders, other local Riders, Law Enforcement and Fire Department. At approximately 1:30pm, the Convoy will come Eastbound I-30, to Loop 301 East, down Jefferson St., crossing the downtown Sulphur Springs Square at approximately 1:45pm, turning right on Connally Street, out to League St. and left on Houston St. to the High School Track. All residents are encouraged to line the streets and congregate on the downtown Plaza to Welcome Home America's Vietnam Veterans! Flag waving, cheering, and clapping are encouraged!
Weds., November 3, 2021 – SSISD staff and students, City Employees, Committee Members and Volunteers will begin erecting The Wall and Mobile Education Center on the High School Track and a "soft opening" begins. Mandatory Volunteer training is 6:00-7:00 pm for all those that wish to attend or assist at The Wall or in the Command Post. To VOLUNTEER, go to www.thewallthatheals-sstx.org and use the SignUp Genius app under the VOLUNTEER tab.
Thurs., November 4th, 2021 – Opening Ceremony at TWTH site; 6:00pm. Agenda attached.
Sat., November 6, 2021 – There will also be an Antique Classic Car Show on the downtown Square, a Vietnam Veterans Parade, and the Texas Parks and Wildlife Buffalo Soldiers Program at the Hopkins County Museum & Heritage Park.
The HC Dairy Museum will be open and serving free ice cream for students and visitors all week and on Saturday.
HC Museum and Heritage Park will be open 9:00-4:30pm for tours Thursday, 4th-Saturday, 6th. The Texas Parks & Wildlife Buffalo Soldiers will be at the Park presenting their program on Friday, 5th and Saturday, 6th.
Local website information for those that would like to attend the exhibit or Volunteer: www.thewallthatheals-sstx.org
For more information on the Vietnam Veterans Memorial Foundation in Washington, D.C.: www.vvmf.org
Please don't hesitate to contact me if I can help with more information or clarify anything for you. Again, thank you all for your participation. Best regards,
Mandy Kennedy, Organizer 903-243-2066.
TWTH HOPKINS COUNTY, SULPHUR SPRINGS, TEXAS ESCORT ROUTE
TUESDAY, NOVEMBER 2, 2021
Meetup Location: Hopkins County Eastbound I-30 Rest Area, Cumby, Texas
(Eastbound I-30 Mile Marker 111)
Meetup: 12:30 p.m.
Ride Briefing: 1:15 p.m.
KSU: 1:30 p.m.
Arrive: 2:15 p.m.
From East bound I-30 take the 127 exit toward SH-301 Loop.
Turn North onto SH-301 Loop overpass and continue to the stop sign.
Turn West on Jefferson St. (Bus. 67) to the stop sign at Jackson Street.
Turn South on Jackson Street.
Turn West back onto Jefferson Street; go to the stop sign at Oak Avenue.
Continue West through the stop sign on Jefferson Street.
Turn West on Connally Street, continue to the stop sign at League Street.
Turn North onto League Street to the stop sign Houston Street.
Turn West onto Houston Street; continue to Hillcrest (red light).
Turn South onto Hillcrest and enter the Sulphur Springs High School entrance driveway to the East at Barbara Bush Primary School.
Ride Captain Name: Robert Kerr Cell Number: 903-305-4560
Opening Ceremony
Thursday, November 4, 2021; 6:00 p.m., SSHS Track

Opening Comments and Welcome, Recognize Dignitaries
John Sellers, Mayor of Sulphur Springs, Texas
Posting of the Colors – Hopkins County Civil Air Patrol

Pledge Allegiance to the Flag – Led by Mayor Sellers
National Anthem sung by Alina Tatum Sanders

Invocation – Pastor Jeff Gravens
Recognition of Carol Gunn Vernon, Underwriter of The Wall That Heals
Introduced by Mandy Kennedy
Recognition of Gold Star Widows and Family Members
Introduced by Dena Lloyd

Reading Names of Hopkins County Soldiers Killed-In-Action in Vietnam
Judge Robert Newsom

Ringing of the Bell in Honor of These Soldiers
Veterans Affairs Officer, SMSgt/E-8 Danny Davis
Sulphur Springs ISD Asst. Superintendent, Josh Williams
To Introduce Keynote Speaker

Keynote Speaker – Chuck Lawrence, Vietnam Veteran

TAPS – Played by Kelley Fletcher

SSHS Orchestra, Directed by Spencer Emmert