A multi-agency manhunt for a suspect who rammed a Cumby Police vehicle on FM 2653 during a pursuit concluded with a North Carolina man's arrest Saturday evening, according to sheriff's and police reports.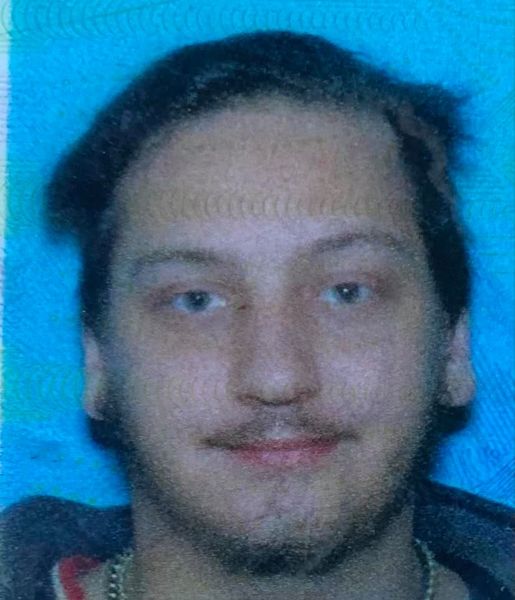 A Cumby Police officer at 2:01 p.m. Oct. 16, 2021, stopped a gray Toyota T100 pickup after observing the truck being driven on the shoulder of Interstate 30 east near mile marker 108. The driver was identified at that time by an North Carolina ID card as Skyler Shearer, Cumby Police Officer Justin Talley noted in arrest reports.
A records check reportedly showed Shearer to be wanted in Comal County on a manufacture or delivery of a controlled substance charge. When the officer asked the 21-year-old North Carolina man to exit the pickup, he instead put the truck in drive and began to flee in it.
Shearer was alleged to be driving too fast on the south service road as he approached the FM 2653 overpass and struck the guardrail. The Cumby officer reportedly placed his patrol vehicle behind the truck to block it in. Shearer, however, used the truck as a deadly weapon against the Cumby officer, by putting the pickup in reverse, quickly accelerating and striking the police vehicle, causing heavy damage.
The North Carolina man allegedly traveled about a mile on the railroad tracks in his pickup from just east of FM 2653 before ditching the vehicle and apparently heading into a wooded area nearby on foot. Cumby Police, in a 3:36 p.m. Oct. 16 Facebook post, asked anyone who saw or suspected they saw the suspect to call 911 immediately. The alert also included a photo of the suspect.
Hopkins County Sheriff's Office also posted an alert about the manhunt on the department's social media page. The suspect was described as white male with dark blonde hair wearing a black ball cap and red flannel shirt.
Upon notifying area officers of the situation, a manhunt was launched. Officers from Hopkins and Hunt County Sheriff's departments, a Texas Department of Public Safety helicopter and the Bonham prison a search dogs team responded to assist Cumby Police in a search of the Brashear area.
According to arrest reports, the man was in custody shortly before 6 p.m. Saturday. At 6:48 p.m., CPD posted a social media update, with a photo of a man on the ground by a pickup truck, with officers around him. Hopkins County Sheriff's Office too posted an update that the suspect had been caught as well as a photo dated October 16 of a man with a shirt matching the description of the suspect's shirt seated on the ground behind a truck, surrounded by what appeared to be search hounds.
Skyler James Shearer was booked into Hopkins County jail at 8:52 p.m. Saturday, Oct. 16, 2021, on the Comal County warrant, as well as two new charges for aggravated assault against a public servant because he allegedly rammed the Cumby Police vehicle and evading arrest in the vehicle.
Shearer remained in Hopkins County jail Monday night, Oct. 18, 2021. His bonds totaled $170,000 – $100,000 on the aggravated assault charge, $50,000 on the evading arrest charge and $20,000 bond on the controlled substance warrant.