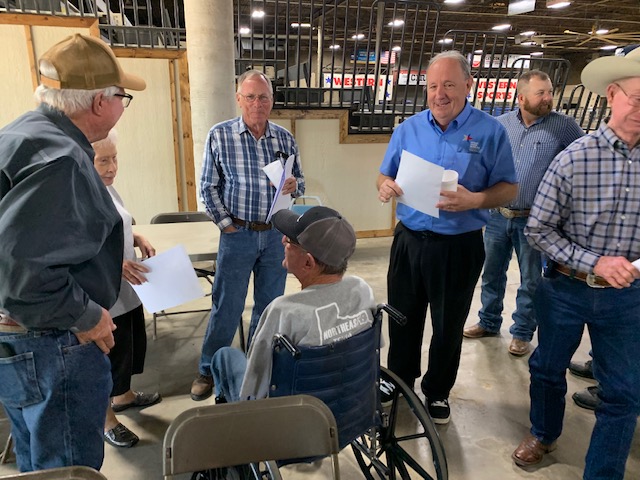 The annual Hopkins Rains County Hay Show was held on Thursday October 21, 2021 in the arena foyer at the Civic Center. Hay farmers and local banking institutions made up most of the attendance, and they enjoyed fellowship as well as a BBQ lunch catered by Wrights BBQ prior to the announcement of winners. The Hay Show is sponsored annually by Hopkins-Rains Water and Soil Conservation District office headquartered in Sulphur Springs. Another feature of the Hay Show is to direct attention to the Scholarship Program offered by H-R SWCD for high school seniors who plan to pursue a degree in Agricultural Science. Hopkins and Rains county high schools will have applications for students to pick up starting January 1. The next selection of scholarship recipients will be announced during May 2022.

There were 21 hay entries this year,with the top ten places determined by judging based on protein analysis of the samples turned in by the growers. The North East Texas Farmer's Co-op testing lab provided the analysis of the various types of hay entered, and that service is done free of charge for the growers. Andy Wright, who offers support as a board member of H-R Soil and Water Conservation and of the Hopkins Rains County Farm Bureau, is frequently the emcee of the event but this year could not attend. In his place, Kody Koon did the honors, and Wade Bartley served as Auctioneer of the winning hay samples. Forage growers in Hopkins and Rains counties can benefit from taking advantage of the annual Autumn testing opportunity, and from it can discover what practices they may do for improvement to increase protein percentages. It's a way to improve the forages they grow for their own herds, as well as hay crops which enter the local hay market.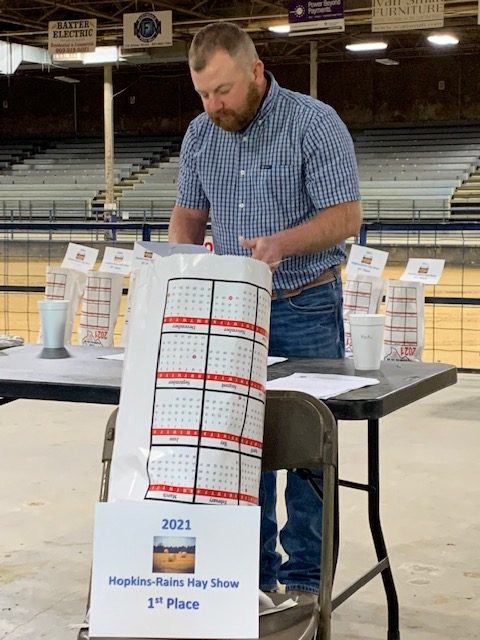 Sponsored by the Hopkins/Rains County Soil and Water Conservation District, the annual Hay Show spotlights hay growers in Hopkins and Rains counties. It also congratulates them on the meticulous methods they practice to produce the best forage despite various weather and industry challenges. Every year's challenges are different, and it's time to recognize these hardworking farmers and ranchers who contribute to our nation's food supply as well as local economies. A special thank you goes out to the auction buyers and to NE Texas Farmers Coop for the forage testing. Please check below for the list of 2021 winners.
Representing the Hopkins/Rains County Soil and Water District, Kody Koon brought in the winning top ten samples out of the 21 hay entries for 2021. Kody also stood in for Andy Wright as emcee for this year's event held in the Hopkins County Civic Center arena.
Wade Bartley auctions the hay samples to buyers in the audience

L. to R. Keith Shurtleff, President of Alliance Bank, and Doug McCool First Place Hay Show winner was Don McCool who ranches near the Shirley Community in southwest Hopkins County. His hay sample was purchased at auction by Alliance Bank for $1,800. Winners are based on the protein percentage of the hay sample. McCool's second-cutting entry was the highest, at 13.21 protein. The lab analysis of the entries was conducted by the NE Texas Farmers Co-op.

Pictured are some of the winners of the 2021 HRC SWCD Hay Show. Congratulations!

Hay Shows always have great fellowship with a delicious BBQ lunch by Wright's BBQ!

Hay Shows always have great fellowship with a delicious BBQ lunch by Wright's BBQ!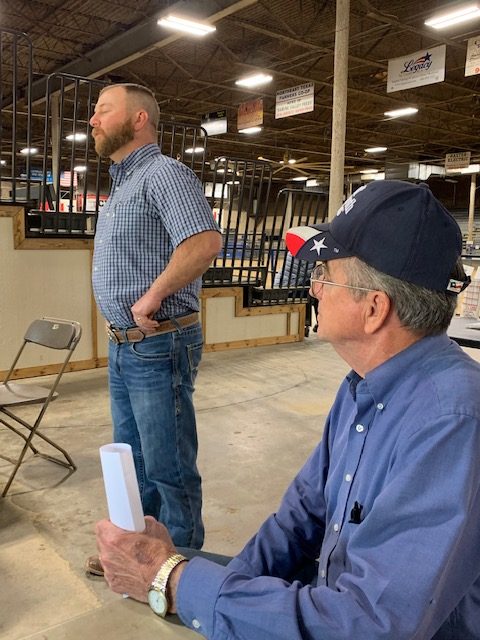 Kody Koon reminds everyone of another annual aspect of the Hay Show. That is the promotion of the HRSWCD Scholarships Program for high school seniors who will enter college to pursue a degree in an Agriculture-related field. Two applications are selected annually, one from a Hopkins County school and one from a Rains County school. Applications may be made starting in January 2022. Selection of recipients is made just prior to school graduation time in May. For an application, contact 903-885-443 or go to 530 Hillcrest Drive Suite 2 in Sulphur Springs.
Congratulations to the winners and thank you to all the growers who participated!
1. Doug McCool -13.21 Sample purchased for $1800 by Alliance Bank
2. Don, Marilyn Smith -12.6 City National Bank $1200
3. Shawn Moore -12.48 North East Tx Farmers Co-op $900
4. Henry Potts -12.45 City National Bank $1100
5. Ricky Glossup -12.36 Texas Heritage Ntl Bank $1050
6. Kyle Koon -12.12 Hopkins Rains Farm Bureau $950
7. Shawn Moore – (2nd Entry) Hopkins Rains Farm Bureau $800
8. Tom Glossup -10.62 Alliance Bank/FarmersCoop $1000
9. Diron Young- 9.5 Hopkins Rains Farm Bureau $950
10. Scott Young -9.67 Potts Feed, Emory $900
Kody Koon
Tommy Long
Leon Gunn
Tim Loper