Joseph Stephen St. Miklossy, 86, of Winnsboro, Texas, took hold of his Savior's hand and entered into eternal life on August 20, 2021.
Mr. St. Miklossy was born on February 16, 1935, in New York City, NY to the late Joseph and Alice St. Miklossy. He along with his wife Pat moved to Lake Winnsboro in 2000, coming from Plano. Joseph was an independent insurance salesman who enjoyed being his own boss. Mr. St. Miklossy graduated from West Virginia Weslyn with a bachelor's degree in Accounting. Joseph served in the US Naval Intelligence for 3 years with honor and distinction. Mr. St. Miklossy was a Shriner when he lived in Plano and was currently a member of the Gus Garrison Masonic Lodge in Winnsboro.
He and his wife Pat were members of the First United Methodist Church in Winnsboro. Joseph when he was a bit younger enjoyed tennis and biking with his wife Pat. When she would win against him in tennis, Joseph like to say I let you win by playing left handed. The thing about that was Joseph was left handed. He gave up tennis and biking as he grew older and picked up the golf clubs instead. Everyone would tell you that Joseph had a wonderful sense of humor and he will be deeply missed.
Mr. St. Mikossy was preceded in death by his parents and a step-son Jeff Tallman. He is survived by his wife of 33 years Pat (Cox) St. Miklossy; step-sons, Greg Tallman, Greg Petty and wife Tammy, Tom Petty and wife Michele; brother Ray Saint and wife Marie; 10 grandchildren and 10 great-grandchildren. A celebration of Joseph's life will be held at the First United Methodist Church in Winnsboro on Saturday, August 28, 2021 at 1:00 p.m. with Pastor Debbie Lyons officiating. In lieu of flowers, the family requests donations be made in Joseph's name to the First United Methodist Church of Winnsboro or to Meals on Wheels.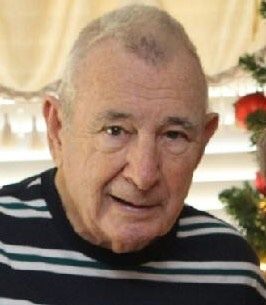 ---