Texas Department of State Health Services on Wednesday announced the 120th COVID-19 fatality for Hopkins County, along with 35 new cases, 270 active cases and 6 recoveries on Wednesday, Aug. 18, 2021.
COVID-19 Fatalties
Wednesday marked consecutive two consecutive days this week and the fourth time in 10 days that DSHS has reported another Hopkins County resident has died as a result of COVID-19. That makes six coronavirus deaths so far this month, 30 so far in 2021, an 120 cumulatively since March of 2020 when the virus began spreading across the world. The latest Hopkins County COVID-19 death occurred on Aug. 13; two Hopkisn County residents on Aug. 6 and Aug. 10, and one on Aug. 11, 2021 as well.
Across the state, 174 new fatalities were reported Aug. 18, 2021, which is 78 more than on Tuesday.
COVID Case Counts
Prior to August 2021, Hopkins County seemed to be on a better track, with less than 100 lab-confirmed COVID cases reported in each of the last 2 months and no deaths since May. The latest on Aug. 13, two each on Aug. 6 and Aug. 10, and one on Aug. 11.
| COVID-19 Category | New Aug. 18 | 17 Month Total |
| --- | --- | --- |
| Confirmed Cases | 23 | 2,239 |
| Probable Cases | 12 | 1,832 |
| Active Cases | 270 | – |
| Fatalities | 1 | 120 |
| Recoveries | 6 | 3,682 |
| Cumulative Cases | 25 | 4,071 |
As has been the case across the state and country, COVID-19 cases have soared this month. As of Wednesday, August of 2021 is officially worse than February in terms of deaths and new COVID cases. For the entire month of February, 269 new COVID-19 cases (135 lab-confirmed and 134 probable) and five fatalities were reported for Hopkins County. A total of 296 new COVID cases (218 lab-confirmed and 78 probable cases) and five coronavirus deaths had been reported for Hopkins County through Aug. 18, 2021.
Since the first COVID-19 positive case was reported 17 months ago, only three other months had more confirmed COVID-19 cases:
323 in October, a month with 29 fatalities, 257 recoveries, and in which the most active cases on any day was 236 on the 28th;
290 in December, the month the state began daily reporting probable cases (from Dec. 11-Dec. 31, a total of 193 probable cases were reported), pushing the overall COVID-19 case count to 483, and during which 26 Hpokins county residents were confirmed by death certificate to have died from COVID-19; and, finally,
247 confirmed cases in January, along with 153 probable cases, 363 recoveries, 15 COVID deaths and the active case count peaked at 261 on the 23rd.
During the first week of August, 76 Hopkins County residents received positive molecular test results, 22 new proable cases, 162 active cases, two COVID deaths and 33 recoveries were recorded. The second week of August 2021, 94 new confirmed cases, 44 probable cases and 4 COVID deaths were reported for Hopkins County.
On Wednesday, 23 county residents received positive molecular COVID results (twop more than on Tuesday), 12 others were listed as probable cases (8 more than on Tuesday). The cumulative total for the fisrt four days of this week is 48 new confirmed COVID-19 cases, 19 new probable cases and 270 active cases, and 43 county residents also recovered from the virus (including 6 on Wednesday). That brings the total number of new COVID-19 cases reported in August to 296 (218 confirmed and 78 probable) cases, 6 deaths and 138 recoveries, with 13 days yet to go.
Overall, that's 1,117 new confirmed cases reported in 2021 and 2,239 cumulative cases since March of 2020. Cumulatively, there have been 1,832 probable cases reported for Hopkisn County by DSHS, including 715 reported so far this year. That's a total of 4,071 COVID cases since spring break of 2020, including 1,629 in 2021.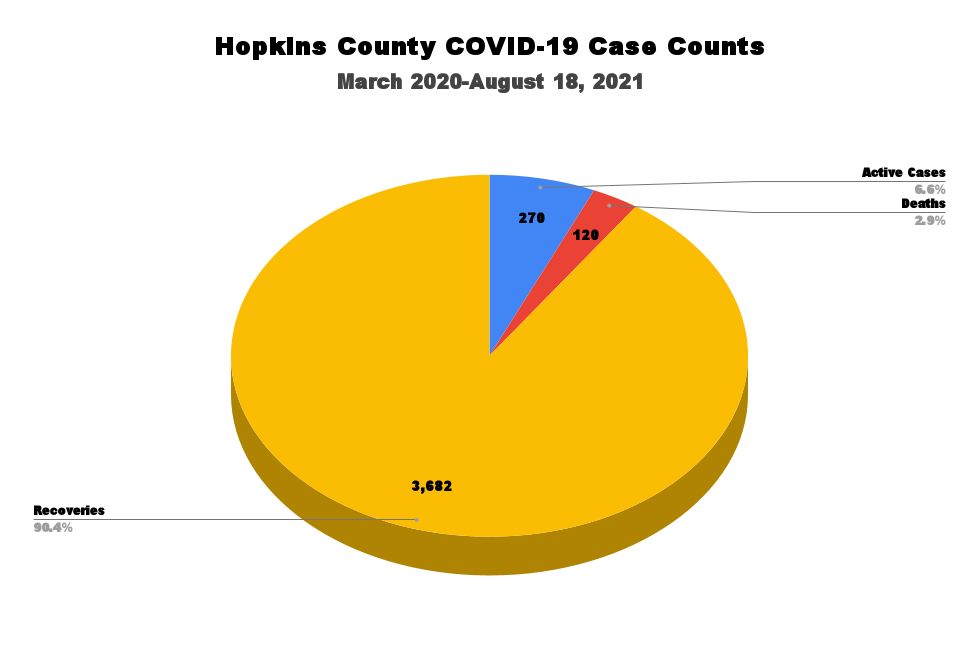 Hospital Reports
Across the state 12,402 lab confirmed COVID-19 patients were in hospitals Tuesday, including 174 in Trauma Service Area F, 19 of which were in the COVID Unit at CHRISTUS Mother Frances Hospital-Sulphur Springs on Wednesday.
While many areas across Texas are reporting overtaxed hospitals due to COVID-19, Hopkins County and Region F Trauma Service Area Hospitals had fewer COVID patients on Wednesday than on Tuesday. TSA F hospitals had 5 fewer COVID patients on Tuesday and CMFHSS had 2 less COVID patients on Aug. 17.
| Hospital Location | Aug. 16 | Aug. 17 |
| --- | --- | --- |
| Texas Hospitals | 12,227 | 12,402 |
| Trauma Service Area F | 179 | 174 |
| CHRISTUS Mother Frances Hospital Sulphur Springs | 21 | 19 |
Lab-Confirmed COVID-19 patients in hospitals locally and across the state