DSHS Resumes Filling Medical Staffing Requests
It's no secret that COVID-19 cases have continued to rising once again in Texas – including Hopkins County. The 7-day state average of new confirmed cases of COVID-19 was 10,332, contributing to the 10,463 in Texas hospitals on Aug. 10. That is nearly 3,000 new confirmed COVID-19 hospitalizations reported in the last week, according to Texas Department of State Health Services.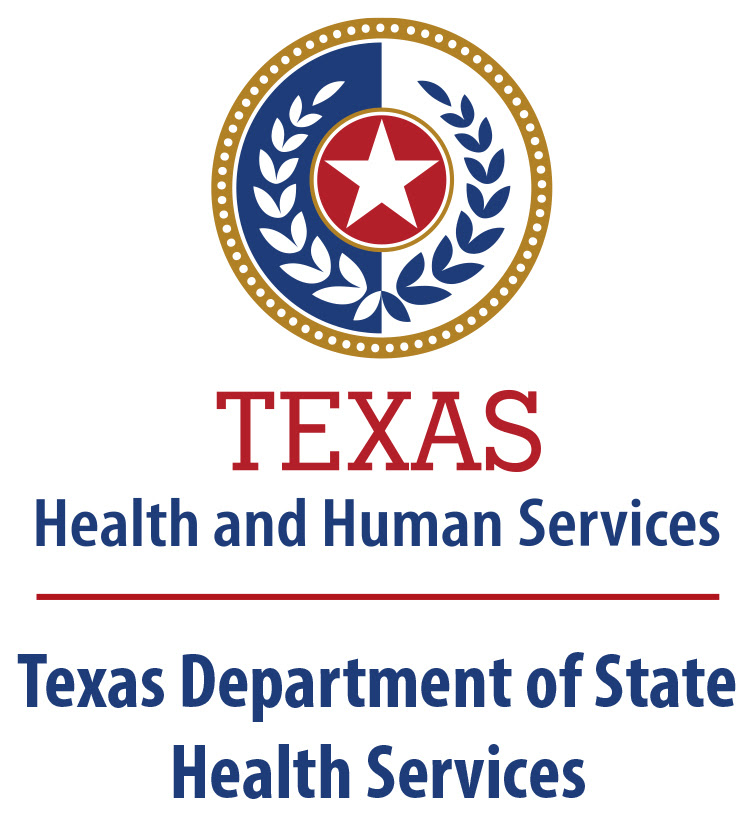 COVID-19 patients occupied 10,463 of the 59,886 staffed inpatient beds and 64,005 total beds in Texas hospital on Tuesday, Aug. 10, 2021. That left only 7,772 hospital beds in the state of Texas, and only 368 ICU beds. Some hospitals in larger cities are so full due to COVID-19 cases and limited staff that some are having to divert incoming patients to other facilities because of lack of available beds and medical professionals to care for them.
Across Trauma Service Area F, in which Hopkins and most counties in northeastern Texas are located, COVID-19 hospitalizations have increased from 11.8 percent on Aug. 4 to 15.86 percent of the total hospital capacity on Aug. 10, 2021. CHRISTUS Mother Frances Hospital-Sulphur Springs still has space that can be opened for COVID-19 patients. The hospital has averaged 14-15 patients daily this month., with as few as 13 in the COVID unit on Tuesday and as many as 16 last Wednesday, when 34 new cases were reported for Hopkins County (17 confirmed molecular and 17 new probable cases).
"Here at Christus Mother Frances -Sulphur Springs we are taking care of the COVID patients that are entering our doors. This morning we had 13 COVID patients here," CMFH-SS CEO Paul Harvey said March 10.
Hunt Regional Emergency Medical Center at Commerce has been "temporarily closed" since Aug. 6, due to a "critical COVID surge." Hunt Regional, in the announcement of the Commerce ER closing, noted that the Commerce staff is being redirected to Greenville due to the number of inpatients and urgent need for surge staffing.
HRHC's goal is to reopen the Commerce facility at the end of August, provided the surge has lessened and staff is available to return
"We are experiencing a public health crisis and need your help. If you have not been vaccinated, please do so as soon as possible. Wear a mask when indoors and avoid non-essential gatherings," the HRHC notice stated.
Another ER hospital in Rockwall that is part of the Texas Health Resource System has closed as well for the same reasons as the Commerce ER, Harvey said.
Harvey, during an Aug. 10 interview with Enola Gay Mathews on KSST's Morning Show, said that Commerce patients needing medical care are welcome at Sulphur Springs hospital as well as Hunt County facilities. While there has been an increase in COVID cases in Hopkins County as well as in the COVID unit at the hospital over the last month, Harvey notes, CMFH-SS staff are "holding our own" even with an increase in COVID-19 cases

"We are still able to take patients here if they come into the emergency room or if they walk in. We are still doing outpatient procedures that help our patients get better. We do not want to go to a stage that we're not able to do elective procedures. That, in our opinion, deters people from getting their timely health care, regardless of whether COVID is going on or not. Our goal is to continue to provide a safe environment for our associates and the patients, especially if you have COVID. We've been doing this now for 15 months," Harvey said. "I'm very proud of our team, our physicians, our clinicians in what we're doing in taking care of our patients."
Harvey said the other hospitals in the Northeast Texas region are open, but all do have an influx of COVID patients right now.
"One of the difficult things right now is for people needing high level care, there has been some delays, not just in CHRISTUS, but in all of our health systems because of the influx, making sure we have enough staff to take care of those patients and to ensure that there's a bed when they do go to another facility that a patient can properly receive the care in a safe environment," Harvey said.
The longer the number of COVID-19 patients continues to surge, the more medical surge staff will be needed. To assist the exhausted health care facilities where staff have been treating COVID patients in addition to their other patients since March 2020.
DSHS Wednesday afternoon, Aug. 11, 2021, informed cities, counties and health care facilities that the state will resume filling requests for medical surge staff that cannot be met locally. DSHS is working with staffing agencies that are recruiting more than 2,500 medical personnel to assist hospitals and other health care facilities reaching capacity due to the current increase in COVID-19 cases. The priority, DSHS reports, is to recruit staff from out-of-state, and DSHS has directed the agencies not to utilize staff from other Texas health care facilities.
Facilities are to continue working with their counties, cities and other partners to meet needs locally whenever possible. They may, however, submit a State of Texas Assistance Request if additional resources are required. Facilities and local governments are asked to be judicious with their requests because there is a limited supply of staff available, and all regions of the state need assistance.
DSHS has funds available to support immediate staffing costs. However, extended staff deployments may require cost-sharing by local governments or individual facilities.
Thus, health officials are urging those who have yet to be vaccinated do so as soon as possible. Many healthcare officials are reporting that more than 90 percent of hospital COVID-19 patients consist of the unvaccinated.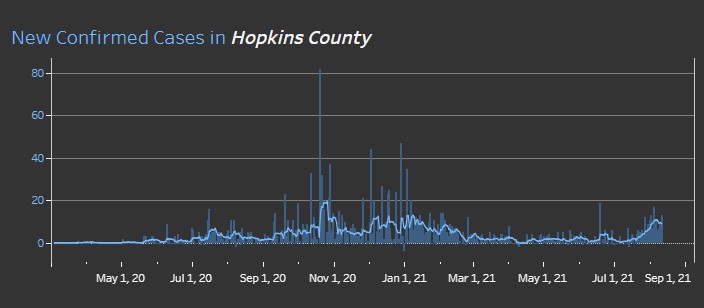 DSHS also reports a seven day average of 64 fatalities for Texas, which increases the total number of Texans who have died from COVID-19 to 52,667. DSHS on Aug. 11 announced another Hopkins County COVID-19 fatality, increasing the total number of Hopkins County residents whose deaths have been attributed on each's death certificate since July of 2020 to be a direct result of coronavirus.
The latest Hopkins County COVID death, according to the DHS COVID-19 County Trends dashboard, occurred on Aug. 6, a day in which 11 new confirmed cases, three new probable cases and11 recoveries were reported. Prior to last Friday, 68 days had passed since the last COVID-19 fatality was reported.
At one point, COVID numbers in Hopkins County had dwindled to the point CHRISTUS was able to report on July 7 that there were no COVID-19 patients in CMFH-SS – the first time since the unit was opened in March of 2020. The cases had continued to grow, to the point that the hospital had not only dedicated a larger part of the ICU for COVID-19 patients, but had also opened a whole section on the second floor to accommodate the influx not only for Hopkins County but cases brought in from surrounding counties served by Hopkins County EMS that do not have hospital facilities. The highest COVID-19 patient count in the local COVID-19 unit was 32 in January 2021.
The combined total of Hopkins County COVID cases dropped to the pandemic low of 56 cases (32 confirmed and 24 probable COVID cases), for the entire month of April 2021, when a total of 56 Hopkins County residents were also reported to have recovered from the virus. Unfortunately, the new COVID-19 case count for Hopkins County has been slowly edging up since then, with 89 new cases (53 confirmed and 36 new probable cases) reported in May, 80 in May (63 confirmed and 27 probable) in June, and 133 in July 2021 (83 confirmed and 50 probable cases).
Not quite 2 weeks into August, Hopkins County has already exceeded the monthly total for July. As of Aug. 11, a total of 158 new COVID cases were reported in people with Hopkins County addresses. That's 113 lab-confirmed molecular COVID cases, 45 additional probable cases and only 59 recoveries so far. That means there were 203 active COVID-19 cases in Hopkins County on Aug. 11, 2021,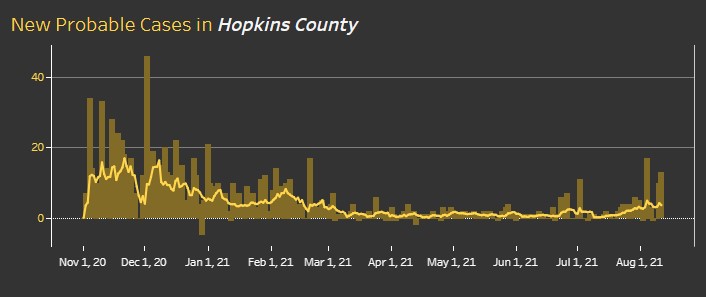 The last time more than 200 active COVID-19 cases were reported for Hopkins County was in February. Hopkins County's active case count climbed to 203 on Feb. 10, then peaked for the month at 220 on Feb. 15, a day in which only one probable case was recorded.
The 19 new molecular cases recorded Monday, 11 on Tuesday and 13 on Wednesday pushed the cumulative total since March 2020 for Hopkins County to 2,132. At total of 1,788 probable cases have also been recorded since the state started tracking the data last fall, including three new probable cases on Aug. 9, six on Aug. 10 and 13 on Aug. 11. That's 3,920 total Hopkins County residents who have had COVID since March 2020, including 3,603 who had recovered as of Wednesday afternoon, Aug. 11, 2021. Of the 59 recoveries this month, 26 were reported this week — 23 were reported Monday, two Tuesday and one on Wednesday.
Harvey said CMFH-SS while the hospital has scaled back visitation again, restricting it due to the rise in COVID 19 in the community and hospital, the hospital has continued to take safety precautions the entire 15 months of the COVID pandemic, to enable patients to safely receive the medical care needed including regular appointments at the Sulphur Springs CHRISTUS facilities
"We just want to ensure our community and our service area that we will continue to provide that safe environment for that," Harvey said. "That does require, since we've had a rise in COVID, that we are having to limit visitation like we did. But, for the most part, people have been very understanding. We are back to full masking in the hospital, but that is only for our associates' protection and our patients."
The hospital CEO said one trend CMFHSS is seeing in patients hospitalized with COVID is that they are younger than the patients hospitalized when COVID peaked last year, and most of the people being hospitalized are not vaccinated.
"It's kind of interesting to see that — that the vaccine can make a difference," Harvey said.
CHRISTUS MFH-SS currently and will continue indefinitely to offer a COVID vaccine clinic every Friday. Anyone age 12 and up who has not had a dose of any of the different COVID shots can visit the hospital lobby between 9 and 11 a.m. any Friday to get a COVID vaccine. The hospital currently has all three of the COVID-19 vaccines: the 2-dose Pfizer, 2-dose Moderna and 1-dose Johnson & Johnson. The patient must be 18 or older to receive the Moderna and J&J vaccines, and 12 or older for the Pfizer-BioNTech vaccine.
"Seeing a little rise in numbers wanting vaccine. That's a good thing. It's one way to help keep the COVID rise down, if people do get the vaccinations, but that is a personal choice," Harvey said, noting that on Aug. 6, a total of 71 people received doses of COVID vaccine.
COVID vaccines are also available at Walgreens, CVS, Cody Drug, Brookshire's and Walmart pharmacies in Sulphur Springs. Information on which COVID vaccine each provider has and how to the facility may be found online at https://www.vaccines.gov/ by clicking the blue Find COVID-19 Vaccines button.