A.P. "Pat" Young Jr.
(October 2, 1937 – July 14, 2021)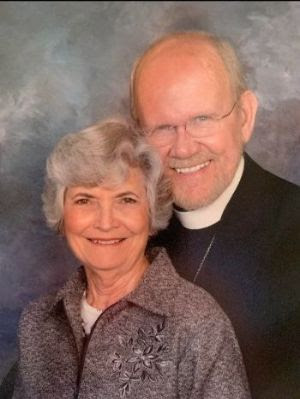 Fr. Pat Young passed away peacefully July 14, 2021, surrounded by his loving family.
A memorial service will be held at St. Philip's on Wednesday, July 21, at 2 p.m. A reception will follow.
In lieu of flowers, please send donations to Alzheimer's Arkansas at alzark.org / 201 Markham Center Drive Little Rock, AR 72205; or the Alzheimer's Association Dallas and Northeast Texas Chapter Office 3001 Knox Street Suite 200 Dallas Tx 75205. 
Pat graduated in 1955 from Grand Prairie High School in Grand Prairie, Texas, where he met Janet Dotson, the love of his life. They married in 1958. Pat went to school at Arlington State College (now UT Arlington) and proudly joined the Texas Air National Guard where he served for eight years. Pat soon after began his first career in Architecture and building as a construction manager for the 11-state Southwest territory of Sears and Roebuck. 
Before retiring from Sears in 1979, Pat answered God's call to ordained ministry and enrolled part-time in seminary through the Episcopal Diocese of Dallas. He was ordained to the diaconate in June 1977 and then so humbly and proudly to the priesthood on March 18, 1979.

His life in ministry spanned the next 30-odd years all over the Diocese of Dallas. Pat served at St. Philip's in Sulphur Springs for ten years, where he was happiest until his health forced his last retirement in 2007. He and Janet found their next church home in the loving congregation of St. Dunstan's, Mineola, where he served part-time for nearly ten years until Alzheimer's precipitated Janet and Pat's move to Conway, Arkansas, in 2018 to be near their daughter Monica and her family.  

Pat was preceded in death by his parents and his sister or "Chich," Carolyn Comstock. He is survived by his adoring wife of 62 years, Janet Young; son, Paul (Tina) Young of Westcliffe, CO; daughter, Monica (Craig) Dunn of Conway, AR; six grandchildren, Coleman Young, Brianne Young, Chad Stovall, Hannah Ruckle, Isabel Ruckle, and Angela Dunn; brothers, Jim (Kay) Young of Plano, Texas, and Tom (Linda) Young of Mesquite, Texas; along with his nieces, nephews, and so many others who loved and will miss Fr. Pat or Mr. Pat.