The Northeast Texas Walk Like MADD received another boost Monday from a local business to help underwrite the costs of hosting the 2021 event.
Last month, Jay Hodge Chevrolet became the premiere sponsor for the 9th annual Walk Like MADD in Sulphur Springs, donating not only $3,500 but also hosting a fundraiser inside the business, donating $25 for every test drive at the dealership on April 24 and, hosting a hot dog and hamburger lunch to raise additional funds for and awareness about MADD East Texas.
Monday, White & Roper joined Jay Hodge in their support for the organization. The attorneys office made a $1,000 donation to the local walk committee to help with costs associated with putting on "the event.
People can register a team or as individuals and raise funds to help provide victims services for victims of drunk and impaired driving, and to walk a designated path in support of MADD's mission to end drunk and impaired driving.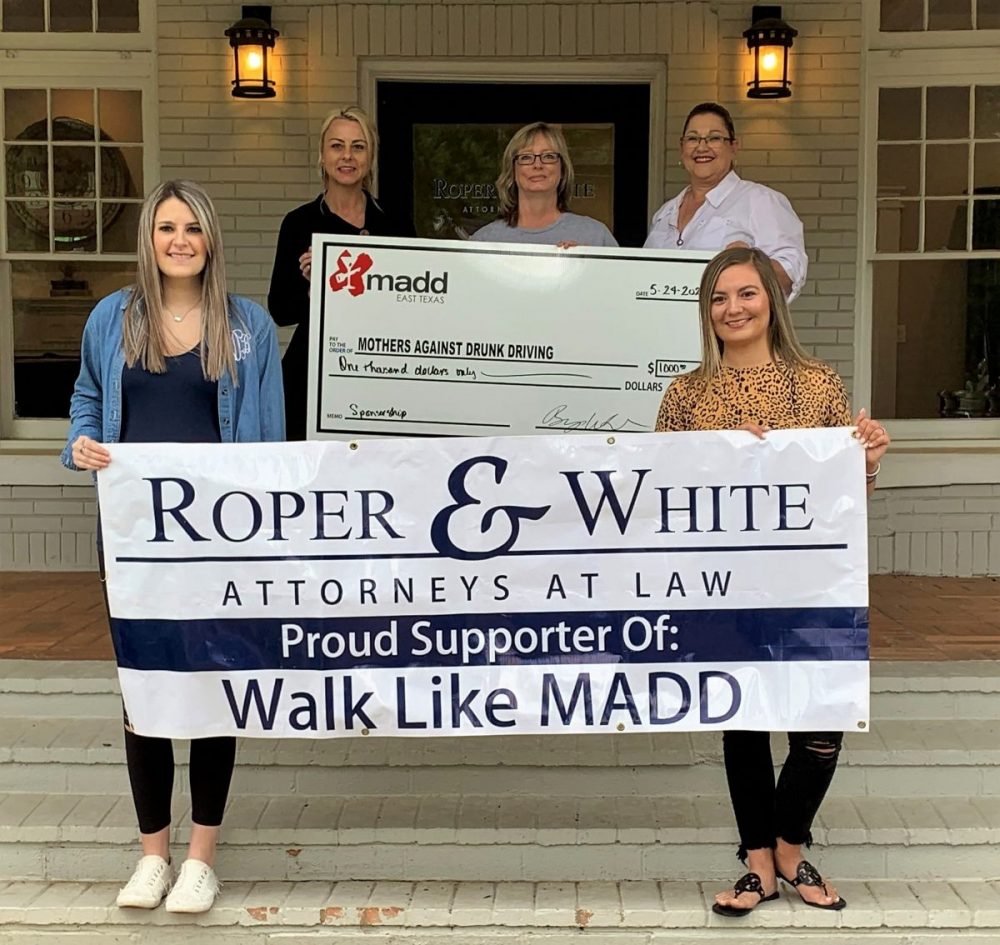 "We take the funds to help fund our victim's services. It stays within our region, which is 25 counties right now," said Tammi Branch, MADD East Texas victim services specialist. "It helps us go to court with victims. It helps us to be able to send them free literature, free books – anything that will help them get through to the next day."
Funds raised through Walk Like MADD events allow MADD staff and volunteers in our community to provide emotional support and assistance with medical and legal struggles that follow a drunk and or drugged driving crash; conduct awareness and research-based prevention programs to end drunk driving, fight drugged driving and prevent underage drinking; and support law enforcement who work to keep the roads safe.
While the atmosphere is one of hope, MADD East Texas and Walk Like MADD are serious in their intent to make people aware of the potential life-changing and life-ending consequences of impaired and drunk driving.
Many who participate have a common bond, they know someone who has been injured or killed in a drunk driving crash, or they feel strongly about creating a future of "No More Victims ® ."
The 2021 Northeast Texas Walk Like MADD will be held Saturday evening, Sept. 25, on the grounds at Shannon Oaks Church, located on East Shannon Road. Event organizers will begin setting up around 4 p.m. Kids Zone activities will being at 5 p.m. Sept. 25. Community members will gather at 7 p.m. or an organized walk to show solidarity in the stand against drunk and impaired driving.
Branch said MADD hopes to raise $12,000 through the Sulphur Springs walk, but would love not only to meet that, but to exceed the goal. The more funds raised the more services MADD is able to offer at not cost to victims and families of people who have been killed or injured by drunk or impaired driving.
As of 9 p.m. Monday, May 24, a total of 34 participants on 4 teams had raised a total of $9,199.
Those planning to attend the walk can register online at www.walklikemadd.org/northeasttexas, then will be given a link to accept donations. People can also search www.walklikemadd.org to search by location and state for more information.
Anyone interested in becoming a sponsor for the Walk Like MADD 5K Walk in Sulphur Springs can contact either Branch at 903-534-6000, ext. 4801, or [email protected] or local walk coordinator Becky Hicks.
Victims who need immediate assistance may contact Branch at the office or call 877-MAD-Help (1-877-623-4357). Help for victims is also available through the Texas MADD Facebook page as well.