MADD (Mothers Against Drunk Driving) East Texas got a big boost Saturday for the annual fundraiser from Jay Hodge Chevrolet. The dealership is not only the premier sponsor for the 9th annual Walk Like MADD in Sulphur Springs, with a $3,500 donation, but also hosted a fundraiser at the dealership to benefit the organization Saturday.
Jay Hodge Chevrolet is donating $25 for every vehicle test driven Saturday during the event to help "raise critical funds to end drunk driving and fight drugged driving."
Jay Hodge has stepped up for three years running, not counting 2020 when COVID-19 halted all spring activities.
Grilled hamburgers and hot dogs with fixings, chips and a drink were also offered free of charge to any who visits Saturday to show support for MADD East Texas and the local Walk Like MADD event.
A bake sale inside the business offered all kinds of sweet treats donated by the local Walk Like MADD committee and generous friends, the dealership and community members. All items are by donation to benefit the cause. Among the baked goods are cherry sopapilla cake, cupcakes, lemon bars, brownie pizza, cookies, banana bread with nuts, pineapple upside down cake, chocolate dipped goodies, pretzels, peach pie, each cobbler, heath bar brownies and vanilla tea cakes. For those not interested in sweets, they also are offering for donations canned jars of pinto beans and bags of cornbread. The bake sale, cook out and fundraiser at Jay Hodge Chevrolet will continue until 2 p.m. Saturday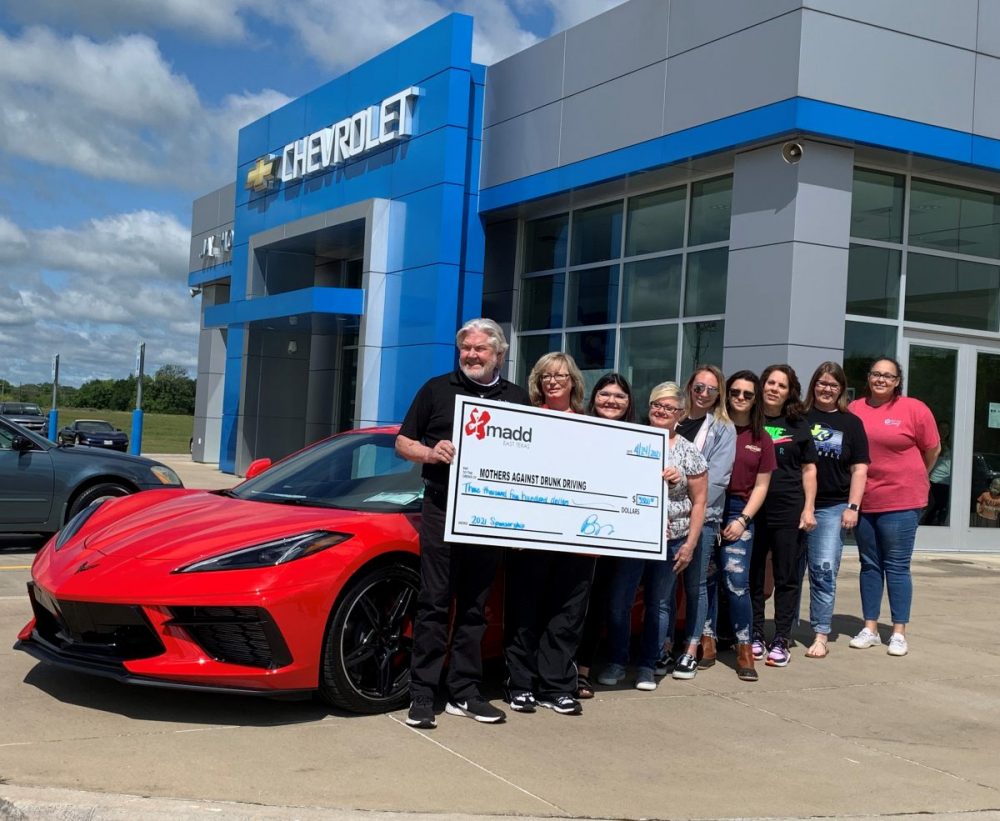 "The walk is our biggest fundraiser, dedicated to helping victims of drunk and impaired driving. We take the funds to help fund our victim's services. It stays within our region, which is 25 counties right now," said Tammi Branch, MADD East Texas victim services specialist. "It helps us go to court with victims. It helps us to be able to send them free literature, free books – anything that will help them get through to the next day."
Funds raised through Walk Like MADD events allow MADD staff and volunteers in our community to provide emotional support and assistance with medical and legal struggles that follow a drunk and or drugged driving crash; conduct awareness and research-based prevention programs to end drunk driving, fight drugged driving and prevent underage drinking; and support law enforcement who work to keep the roads safe.
While the atmosphere is one of hope, MADD East Texas and Walk Like MADD are serious in their intent to make people aware of the potential life-changing and life-ending consequences of impaired and drunk driving.
Many who participate have a common bond, they know someone who has been injured or killed in a drunk driving crash, or they feel strongly about creating a future of "No More Victims ® ."
Several of the walk committee members know intimately the cost, as victims and family members of drunk and impaired driving victims. Others are community members who share their drive to end drunk and impaired driving so that there are no more victims.
To illustrate the seriousness of drunk and impaired driving, a board featuring six local victims of drunk or impaired driving were displayed, along with their story. While most died as a result of impaired driving, others survived and work to spread the message of prevention and to encourage others to not get behind the wheel wile driving.
In 2019, Sulphur Springs was one of more than 90 cities across the nation where Walk Like MADD events were held. Every step taken and each dollar raised supports MADD's lifesaving mission to keep families and communities safe.
The annual Walk Like MADD will be held Sept. 25, 2021, in Sulphur Springs at Shannon Oaks Church, located on East Shannon Road. Event organizers will begin setting up around 4 p.m. Kids Zone activities will being at 5 p.m. Sept. 25. Community members will gather at 7 p.m. or an organized walk to show solidarity in the stand against drunk and impaired driving.
Sponsor and victim booths will be on display during the walk. There will be a children's area for kids to enjoy. Texas Department of Transportation's rollover simulator will be on site so people can experience in a safe environment what it's like to drive drunk, buzzed or otherwise impaired, schedule permitting. Not sure what it feels like to walk impaired? A pair of Buzzed Goggles are also expected to be available for people to experience, while sober, what it's like walking impaired.
Branch said MADD hopes to raise $12,000 through the Sulphur Springs walk, but would love not only to meet that, but to exceed the goal. The more funds raised the more services MADD is able to offer at not cost to victims and families of people who have been killed or injured by drunk or impaired driving. As of 1 p.m. Saturday, $6,920 had already been raised.
Those planning to attend the walk can register online at www.walklikemadd.org/northeasttexas, then will be given a link to accept donations. People can also search www.walklikemadd.org to search by location and state for more information.
Anyone interested in becoming a sponsor for the Walk Like MADD 5K Walk in Sulphur Springs can contact either Branch at 903-534-6000, ext. 4801, or [email protected] or local walk coordinator Becky Hicks.
Victims who need immediate assistance may contact Branch at the office or call 877-MAD-Help (1-877-623-4357). Help for victims is also available through the Texas MADD Facebook page as well.