6 Seniors Have Earned Receive Associates Degrees, 5 Educational Aide and 2 OSHA Certifications; And 2 Are Enlisting In The Navy
The Cumby High School seniors have had a productive years. Collectively, the CHS Class of 2021 has earned six associate degrees, five educational aide and two OSHA certifications, and amassed over $130,750 in scholarships. Two class members are also enlisting in the Navy. These seniors were recognized during the annual awards program Monday night, along with this year's honor graduates and CHS students receiving academic honors.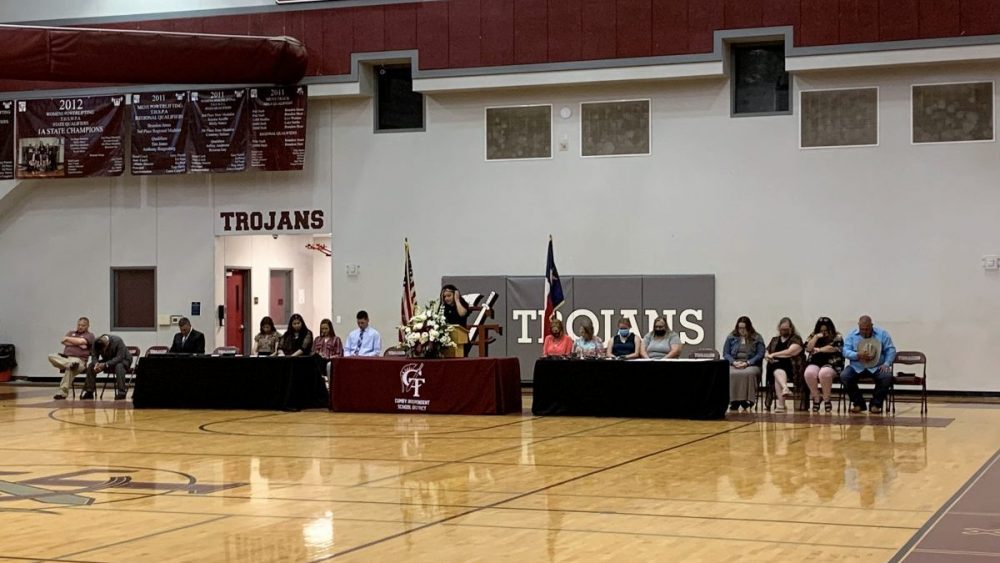 Recognized as the CHS Senior Class of 2021 valedictorian was Lucero Osornio; she graduates with a 4.18 GPA. Rylee Jo Krotky was named salutatorian and graduates with a 4.17 GPA. Brooke Petty also completed the graduates honored for ranking in the top 10 percent of their class.
Osornio, Krotky, Petty, Jacob Groves, Rachael Dotson and Grayson Whitehead received their associate's degree prior to high school graduation. Cumby ISD honored them during the May 17 awards program for completing the 60 ours of college credit. Each graduated Friday with their associate's degree from PJC earlier this week.
Seven students will graduate in a few weeks with an industry-based certification. Brooke Petty, Jordan Cheney, Bailey Bloyed, Zoey Strickland and Jaci Woodall will graduate in three weeks with an at any school in Texas as educational aides. Lauren Carson and Haden Ramirez earned the Occupational Safety and Health Association (OSHA) 30 Hour training certificate.
Cumby High School seniors enlisting in the US Navy are Grayson Whitehead and Caleb Duvall.
More than a dozen members of the Cumby High School Senior Class if 2021 received scholarships to continue their education and/or training.
Receiving an Academic Honors Scholarship from Savannah College of Art and Design was Skyler McJohnston.
Jacelyn Thornton was awarded a $48,000 Baylor University Academic Scholarship.
Awarded University of North Texas Academic Excellence Scholarships in the amount of $20,000 was Brooke Petty and in the amount of $16,000 was Jacob Groves, who also received a $500 Athletic Booster Club Scholarship.
Rylee Krotky received the second $500 Athletic Booster Club Scholarship; she and Lucero Osornio received each received a $16,000 Presidential Scholarship from Texas A&M University-Commerce too.
Texas A&M University-Commerce also awarded Blue and Gold Scholarships in the amount of $4,000 to Jaci Wood and $8,000 to Rachael Dotson.
Receiving a Masonic Lodge Scholarship in the amount of $1,000 was Kaci Hockett. The Lodge also presented two Mirabeau B. Lamar awards, one for this year and one for last year since COVID-19 closures prevented members from presenting the honors in spring 2020.
Cumby High School seniors awarded $250 PTO Scholarships Monday evening included Kati Farris, Charlie Butler and Laci Steward.
Among the 12th graders recognized for being on the AB Honor Roll were Lauren Carson, Rachael Dotson, Caleb Duvall, Tre Hines, Kaci Hockett, Skyler McJohnston, Brooke Petty and Grayson Whitehead.
Steward, Osornio and Krotky were also each recognized for being on the A Honor Roll all year.
Laci Steward also went home with awards for highest average in senior English during the fall semester and in career prep while Zoey Strickland received the highest points awarded in senior English during the spring semester. Recognized with the dual credit English IV award was Lucero Osornio. The practicum in education award went to Jaci Wood and the instructional practices award went to Jordan Cheney. Kati Farris received an art award and Jakob Moles an economics award.
Seniors weren't the only Cumby High School students recognized during Monday's awards program. Students who participated in Beta Club activities, including a national competitor, were recognized, as were UIL achievements as well.
Freshmen recognized for being on the A Honor Roll included Lilly Campbell, Kendall Dobson, April STailey, Kate Taylor and Mallory Wheat. Sophomores making the all A Honor Roll included Erin Morgan, Shelby Saragosa and Tatum White. Juniors recognized for being on the all A Honor Roll included Analyse Drake and Logan Krodle,
Ninth grades recognized for being on the AB Honor Roll included Aiden Jarvis, Lane McCraw and Caleb Morgan. Receiving AB Honor Roll recognition at the 10th grade level were Madison Carson, DJ Cota, Kelcie Fite, Neely Hammond, Ryen Hockett, Ashlyn Hudson, Clay Krotky, Kate Massey, Maryann Monse and Armando Osornio. Eleventh graders recognized for being on the AB Honor Roll included Jimena Enriquez, Savannah Kurn, Logan Miller, Kathryn Sells and Collin Welch.
Recognized for Perfect Attendance were sophomore Kate Massey, a virtual student, and junior Emily McJohnston.
Caleb Morgan received the 9th grade Algebra 1 Excellence Award while Kate Taylor was the district UIL science winner; she also received awards for BIM 1, biology and English I Honors. Additional 9th graders receiving awards included: Lilly Campbell 9th grade Algebra 1 Growth Award; Jailyn Dixon world geography; Kendall Dobson BIM 1; Alyssa Gathright art; Lane McCraw English I; and April Stailey Spanish I, Biology and English I Honors.
Sophomores recognized with awards included: Madison Carson Spanish II, Human Growth & Development and 2nd Semester Chemistry; Jackson Evans pre-calculus and first semester chemistry; Kelcie Fite, BIM 2; Neely Hammond principles of education, human growth and development and first semester chemistry; Ashlyn Hudson, Honors English II; Erin Morgan, first semester chemistry; Armando Osornio second semester chemistry; Shelby Saragosa art, Algebra II, second semester chemistry and highest GPA in world history; Matthew Skaggs art; Areli Torres 10th grade Algebra 1 Growth Award.
Finally, CHS juniors receiving additional awards included: Annalyse Drake art, Jimena Enriquez human growth and development, art and junior English most impressive improvement; Clayton Jensen art; Logan Krodle physics and dual language English III; Savannah Kurn instructional practices; Dakota Morgan Money Matters top investor; Collin Welch highest GPA in US history; and Matthew Wheat, highest average in fall and spring semester junior English, and Money Matters.