Police Sunday afternoon arrested a 31-year-old Sulphur Springs resident accused of choking the man with whom he had been in a dating relationship, according to arrest reports.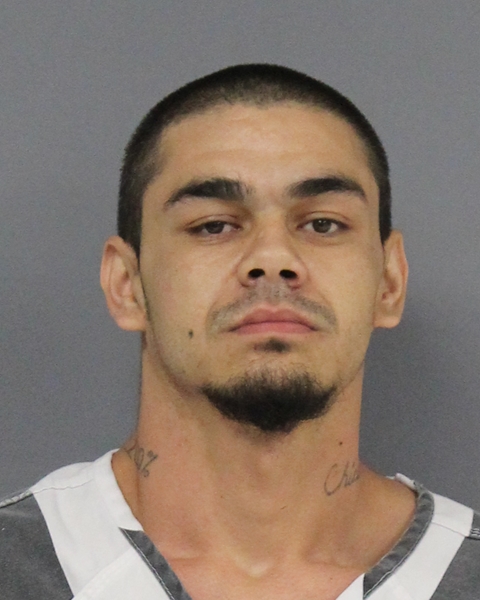 Sulphur Springs Police Officer Cameron Robinson responded around 12:15 p.m. April 11, 2021, to a Jonas Street address, where an assault was reported to have taken place. Police contacted two males residents, who were reported to have been involved in a dating relationship.
The 31-year-old allegedly assaulted the 28-year-old man. The younger man had apparent injuries to his head an neck, reportedly from being struck with a stick. A records check showed the older man, identified in arrest reports as Jose Ismael Cuevas, to be wanted for bond forfeiture on forgery of a financial instrument and possession of less than 1 gram of a Penalty Group 1 controlled substance in a drug-free zone charges, as well as for assault.
Cuevas also later was accused of twice choking the man he had dated during the April 11 altercation, causing the younger man's breathing to be restricted. As a result, Cuevas was charged with family violence assault-impeding breathing or circulation, a third-degree felony.
Cuevas remained in Hopkins County jail Monday morning, April 12, 2021. His bond was set $15,000 on the felony assault charge. His new bond on the controlled substance and forgery charges was set at $10,000 each.
Sunday was the third time in the last 10 months that Cuevas has been jailed locally. He was arrested June 28, 2020, on the controlled substance charge, then released two days later on a $5,000 bond on the charge. He was arrested a second time on July 7, 2020 on a forgery warrant. He remained in jail again for two days and was released on a $5,000 bond. Prior to that, he'd been arrested on Feb. 11, 2020, on five traffic warrants, then released later that day.
Cuevas was indicted during the November 2020 grand jury session for forgery of a financial instrument.
KSSTRadio.com publishes Sulphur Springs Police Department reports and news. The Police Department is located at 125 Davis St., Sulphur Springs, Texas. Non-emergency calls can be made to (903) 885-7602.
If you have an emergency dial 9-1-1.
The Sulphur Springs Police Department continues to serve its citizens with pride in its overall mission and will strive to provide the best possible police force in the 21st century.
If you have an emergency, dial 9-1-1
The Hopkins County Sheriff's Office is located at 298 Rosemont Sulphur Springs, TX 75482. You can reach them for non-emergency matters at (903) 438-4040.