Three members of Christina Davis' interior design class at Sulphur Springs High School won the state FCCLA championship. Sophomores Mykylie Meador, Kaylee Schumacher and Jillian Jumper advanced from regional competition to the state interior design contest, both contests conducted virtually due to COVID-19 this year.
"They won first place in state. One of the judges gave them a perfect score. I'm really proud of the work. It's the first time we've entered the interior design competition and these ladies have done an outstanding job," Davis said. "It's really hard to place at state and to get first place at state is pretty impressive.
The first place finish qualifies the SSHS interior design team to compete in the national FCCLA interior design contest later this month, and will be notified in June how they were ranked.
For the interior design contest, each team is assigned a client for whom they will be tasked with designing or redesigning certain designated spaces, according to specification, including a set budget.
"We're designing it for a family with a child," Meador explained.
"We had to look at what their style was, what their idea was, what they wanted in their house. We looked at their floorplans and took in mind what they needed in the house. We could only move interior walls. So, we did that to the kitchen, bathroom and some closets and the living room," Jillian Jumper said.
Schumacher explained that they worked together, bouncing ideas off each other, each putting her own ideas into each room, and truly functioning as a team to compose the best possible design they could come up with for the family.
"We all collaborated. We would share little ideas and put them all together to create a specific designs," Schumacher said.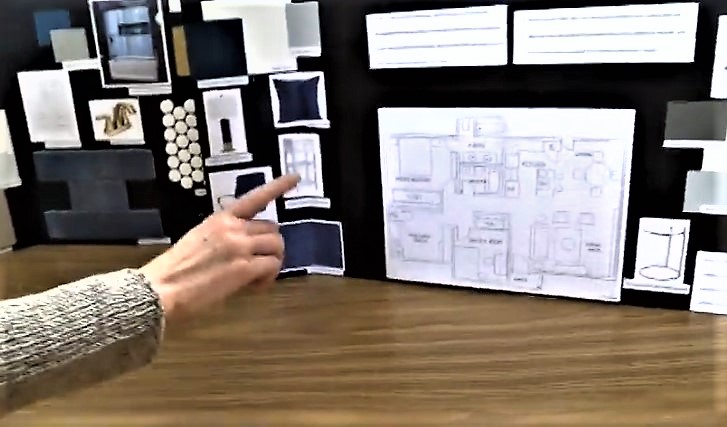 "We wanted a midcentury modern feel in the house because of the artwork that they gave us, so we felt the need to incorporate that into our whole design," Jumper noted.
Jumper said because the contest was converted to a virtual competition due to COVID-19 they weren't exactly sure what was expected, but worked hard to put together a home for the "Smith" family, complete with floorplans and illustrations.
Davis explained students were able to utilize the skill of reading and drawing to scale in their competition designs. They took an existing floorplan that was part of the project, drew it scale and made modifications for the redesign. They used a new computer program to input the information to compose a 3D rendering of the room, then added coloring, flooring, lighting, fixtures and accessories to come up with elevations for their boards.
"It takes skill to do that and these girls really took that program and ran with it. I'm very proud of their work," Davis said. "They have a lot of great skills, just really polished and the first time to enter this competition – a great job."
The SSHS FCCLA students then designed three trifold boards, featuring all of their ideas as well as samples, drawings and details for each room in the home, from bedrooms, to kitchen bathrooms, living room and a home office.
Designing the boards, according to Jumper, was probably the more challenging part of the project to her, as it had to provide all of the needed information, including the appropriate backgrounds, which were then glued on. Getting everything to stick and hold just right, especially finding the appropriate glue to hold tiles, was an interesting endeavor.
However, since it was their first time competing, that also meant the students did not have to speak and present at an event in front of a panel of judges asking questions. So, Jumper said, the team didn't feel as nervous competing virtually as they might have during a live contest. While Schumacher is both excited and nervous about the upcoming national event, Jumper is more excited than nervous because the competition is virtual rather than live and in person.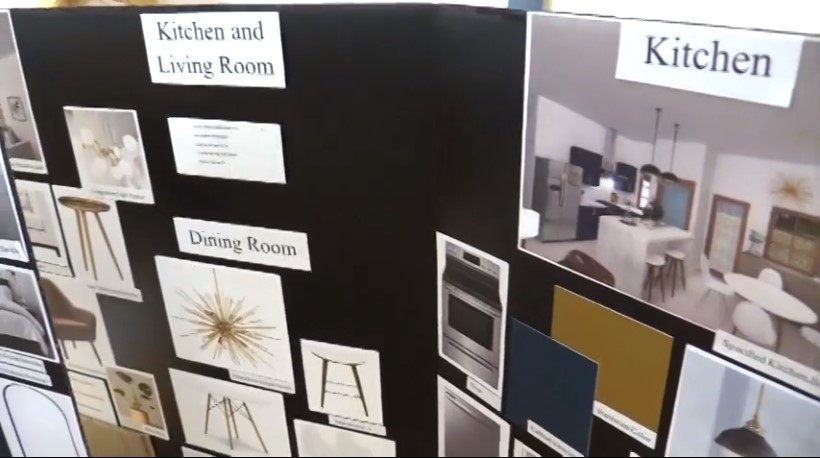 Meador said she enjoyed the competition and class because she enjoys the challenge of finding ways to make things look better. Seeing a project progress is fun, she noted.
They credited and expressed appreciation to their teacher for their expanding their knowledge.
Jumper too found the competition to be fun, and recommends others interested in the field get involved and compete in FCCLA competition and take the class. She said she's learned a lot through the process.
All three members of the first place FCCLA interior design team said one huge thing they've learned is essential for interior design is communication. They feel the skills learned in their interior design class, from competing and projects will lend themselves to their future as each is interested in a career in the field.
Students in the interior design class also had the opportunity to utilize their skills last fall. They planned and decorated for the annual Heart of Hope Banquet. The 2020 celebration featured a fiesta theme, so the students incorporated bright colors and elements from the Mexican culture in their design. On Armed Forces Day, their designs will again be on display during the Hopkins County Freedom Ball, and Davis said, the interior design class also will have one more big project they will be involved in before the end of the school year as well.