Authorities arrested a 19-year-old Sulphur Springs resident found in the county in a truck stolen using keys taken during a North Jackson Street burglary about an hour before.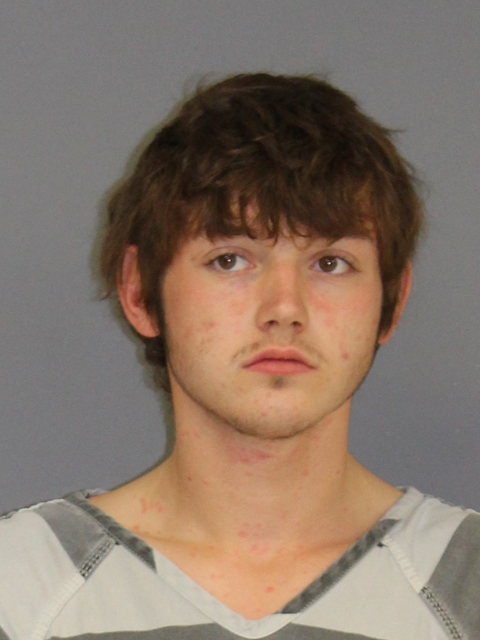 The North Jackson Street resident reportedly received information Monday that Brayden Lynn Brown had stolen a vehicle from their home. Brown phoned someone to indicate he was in the pickup and wanted to become involved in a pursuit with police. The resident was notified. After confirming a Dodge Ram pickup was indeed missing, the resident contacted police around 4:40 p.m. to report it, according to police reports.
Brown allegedly climbed through a front window at the North Jackson Street residence and stolen the keys to the Dodge Ram pickup. It appeared, Sulphur Springs Police Officer Nick Floyd alleged in arrest reports, that the residents' dog then attacked the teen, who then exited the home through a back window
Floyd relayed that information to county deputies, who also began looking for the stolen pickup. Officials received information about a location where the teen had been seen. Deputies responded to the area and located the teen in the truck on County Road 4714, a dead end road.
Brown was taken into custody at 5:39 p.m. by Sgt. Tanner Steward and Floyd for unauthorized use of a vehicle. Brown was reported to have an injury to appendage likely from the dog bite. An offense report for burglary of a habitation is being filed at large by police against Brown for the North Jackson Street home burglary in which the teen allegedly stolen the keys and was got bit by the dog. The 19-year-old Sulphur Springs resident remained in custody Tuesday morning, March 30, 2021, in lieu of a $20,000 bond on the unauthorized use of a vehicle charge.
According to jail records, Monday was the second time this month and sixth time in the last 2 years that Brown has been booked into Hopkins County jail.
He most recently was spent the night in jail March 4, 2021, on a disorderly conduct charge. After being transported to the hospital, Brown allegedly refused to comply with nurses and doctors' requests. After attempting to leave his room multiple times, the teen then allegedly struck windows multiple times. Deputy Bobby Osornio reported seeing the teen striking a door window with a small desk in the room around 1:40 p.m. March 4. Brown was Tased, taken into custody and jailed for his disorderly conduct, according to the March 4 arrest report.
Brown was taken into custody Feb. 25, 2020, on an aggravated assault of a date, family or household member with a weapon charge and a warrant for violating probation on a March 8, 2019 evading arrest charge. The teen allegedly attempted to gain entry to the house, kicking, punching and stabbing the front door of the residence on just after 7 p.m. Feb. 25, 2020. Brown reportedly went to the Tira Cemetery, before returning and walking into the residence. Family members reported attempts to calm the teen failed, with his errant behavior escalating. He allegedly began destroying the residence and got into a physical alteration, threatening to harm his family with a knife, which he attempted to unsheathe. After being disarmed by family, the teen ran from the residence. He was spotted and deputies took him into custody just after 8:40 p.m. that night, deputies alleged in the February 2020 arrest reports. He remained in custody on that charge until May 11, 2020, according to jail reports.
The teen was first booked into Hopkins County jail on March 8, 2019, and remained in jail until March 11, 2019 on an evading arrest or detention charge; spent Sept. 9-13, 2019, in custody on a family violence assault resulting in bodily injury charge; and Dec. 2-3, 2019 on a warrant for bond forfeiture on the evading arrest or detention charge, according to jail reports.
KSSTRadio.com publishes Sulphur Springs Police Department reports and news. The Police Department is located at 125 Davis St., Sulphur Springs, Texas. Non-emergency calls can be made to (903) 885-7602.
If you have an emergency dial 9-1-1.
The Sulphur Springs Police Department continues to serve its citizens with pride in its overall mission and will strive to provide the best possible police force in the 21st century.
---
The Hopkins County Sheriff's Office is located at 298 Rosemont St., Sulphur Springs, TX 75482. Non-emergency calls can be made to (903) 438-4040.