A Hopkins County teen allegedly threatened his family with a knife and ended up in jail on an aggravated assault with a deadly weapon charge, according to sheriff's reports.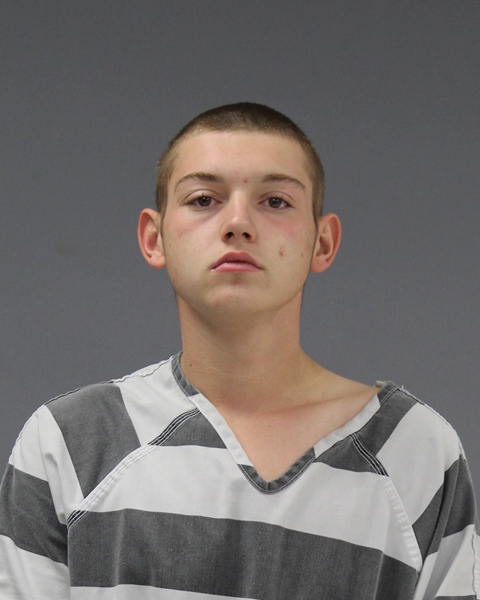 Hopkins County sheriff's dispatchers received a 911 call at 7:07 p.m. Feb. 25 in which a FM 1536 resident's 18-year-old son was reported to be suicidal and to have run away. The 18-year-old was reported to have a knife while threatening to kill himself and his family. Sheriff's Deputies Bobby Osornio, Zach Horne and Sgt. Scott Davis responded, according to sheriff's and arrest reports.
Upon arrival at the FM 1536 residence, family members advised deputies Brayden Brown had attempted to gain entry to the house, kicking, punching and stabbing the front door of the residence. Brown reportedly went to the Tira Cemetery, before returning and walking into the residence.
Family members reportedly attempted to calm the teen down, but alleged he got out of hand. Then, the teen began destroying the residence and got into a physical altercation, threatening to kill his family with a knife. Family members alleged while Brayden Lynn Brown was trying to unsheath the knife, they disarmed him of the knife and took him outside the residence.
The teen then reportedly ran away from the residence. Deputies attempted to locate Brown in the area near the residence. A neighbor reportedly found him and deputies took him into custody at 8:41 p.m. Feb. 25. He was booked into the county jail, where he remained Wednesday morning, on an aggravated assault with a deadly weapon, according to arrest reports.
The arrest marks the fourth time in less than a year that Brown has been booked into the county jail, and second time he's been charged with assault. He was first arrested on March 8, 2019 for evading arrest or detention. He was jailed again Sept. 9, 2019 for family violence assault causing injury. Brown was jailed Dec. 2, 2019 for bond forfeiture on the evading arrest or detention charge, according to Hopkins County jail reports.
---
The Hopkins County Sheriff's Office is located at 298 Rosemont St., Sulphur Springs, TX 75482.
Non-emergency calls can be made to (903) 438-4040.