Cross County Cowboy Church is the COMMUNITY PARTNER
It's ST. PATRICK'S DAY So we are having an IRISH MENU!!!
MENU
Corned Beef and Cabbage with Potatoes, Carrots and Parsnips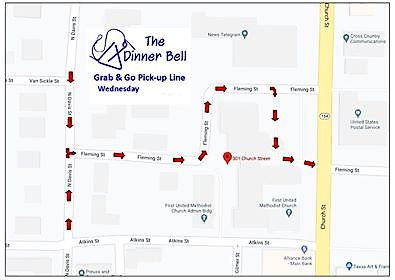 Garden Salad
Irish Soda Bread
Green Sugared Cookies
CONTINUE TO KEEP DISTANCES; WASH HAND OFTEN; AND WEAR MASKS.
DINNER BELL CARES ABOUT YOUR HEALTH!!!
Dinner Bell remains a Grab and Go distribution system for meals. Meals may be secured by driving under the covered driveway on the Northeast Corner of The First United Methodist Church Campus after 11:00 a.m. on Wednesdays.