Deadline For Community Members To Complete Online Pacific Park Improvements Survey Is March 19
The City of Sulphur Springs is seeing input regarding improvements at Pacific Park. City Community Development Director Tory Niewiadomski invites residents are invited to complete an online survey regarding their preferences of options for improvements, including top uses for a pavilion, type of new playground equipment, additional desired amenities, and any other feedback community members wish to relay.

The Pacific Park improvements are part of the Parks, Recreation & Open Space Master Plan adopted by the city in 2019. An emphasis of the plan was to design and develop a Pacific Park Site Specific Master Plan, created based on input from community members during a design charrette.
Voters in November 2019 approved a proposition allowing up to $200,000 of EDC sales and use tax funding to be used annually for up to 20 years by the city's parks department to repay $3 million worth of bonds which will fund qualified 4B projects, including a new Grays Building in Pacific Park and a new Senior Citizens Center. In August 2020, the city was approved for a $750,000 Texas Parks and Wildlife Department grant for improvements to the grounds at Pacific Park.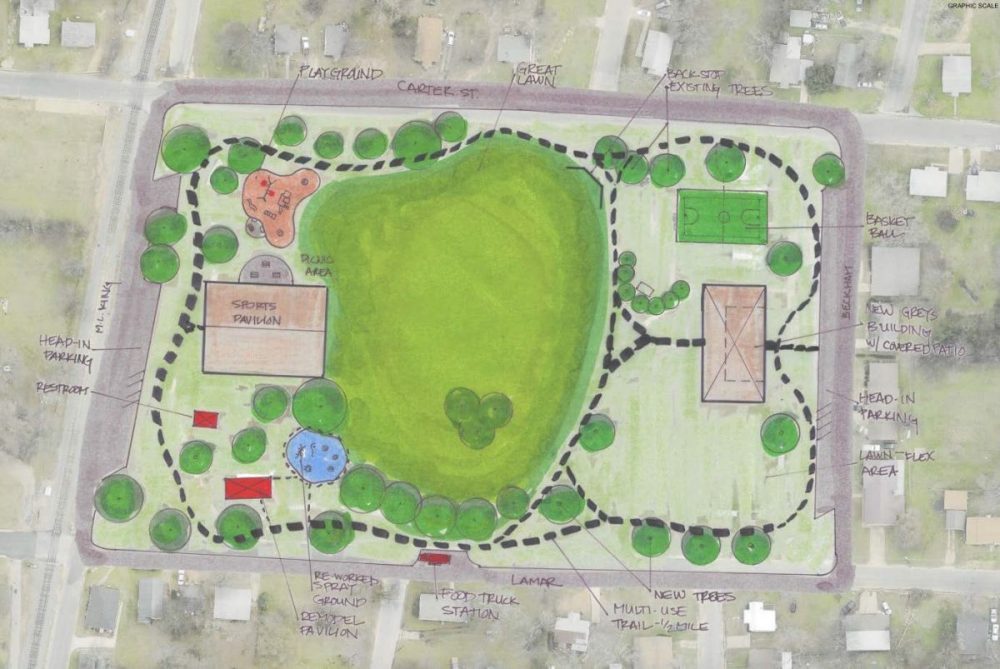 Areas of focus in the Pacific Park Specific Master Plan include: construction and relocation of large playground for children ages 2-5 and 5-12 years of age; contraction of a large pavilion with multipurpose sports courts, such as basketball and volleyball courts; renovation and expansion of the existing splash pad, renovation of the existing pavilion, development of a large great lawn areas for sports practice and general play; redesign and construction of the Grays Building, construction of a new looped trail in the park, with additional recommendations outlined in a concept drawing for the park.
The Grays Building is already in progress, and focus now is turning toward the redesign and upgrade of the rest of Pacific Park.
"We are delighted to report that we can accomplish the goals for the plan and need further input on some of the finishing touches for the park. Specifically, we would love to hear your input on the playground and functionality of the covered sports pavilion. This information will be reviewed by City Staff and will ultimately lead to a decision on which elements to incorporate into the park," the prompt on the survey page states.
The survey can be accessed on the City Facebook Page and on the home page of City website, http://www.sulphurspringstx.org/, under the "Latest News" heading or by clicking here
Those who wish to weigh in by completing the Pacific Park Improvement Survey will be able to do so online through Friday, March 19, and a Zoom meeting will be held at 5:30 p.m. Monday, March 29, to discuss the results and presentation on the next steps moving forward, Niewiadomski noted.