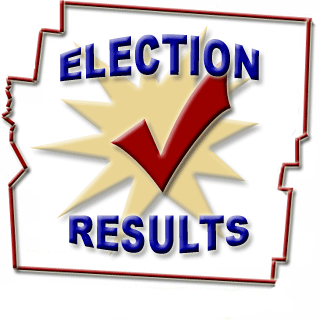 Hopkins County voters have had their say, and were in favor of one local proposition, against another, decided school trustees in North Hopkins ISD, their choice for mayor in Cumby, preferences for a utility versus water district for Lake Fork and weighed in on proposed Constitutional Amendments as well.
Results of the Nov. 5 elections in Hopkins County are listed below. Elections that include more than 1 district and state-wide election results will be reported as they become available. All elections are unofficial until canvassed.
City of Cumby Mayor
Cumby residents who cast early ballots were nearly 62 percent in favor of Ryan Horne. However, when Election Day tallies were in, Simmerman pushed ahead for a narrow victory, taking 50.08 percent of the vote.
Doug Simmerman — 8 early; 71 total
Ryan Horne — 13 early; 68 total.
Cumby ISD Bond
In the early ballots, 60 percent of voters were in favor of the bond for school improvements and 40 percent voted against it. However, once Election Day totals were in, the bond was defeated 202 to 192 votes.
For — 30 early, Hopkins County; 183 Hopkins County, 9 Hunt County Election Day.
Against — 20 early, 192 Election Day Hopkins County, 10 Hunt County Election Day
Lake Fork Special Utility District
Hopkins County voting in the Lake Fork Special Utility District was light, with less than a dozen ballots cast, with more for than against the change from a water supply to a utility district.
District Change
Director, 1 year term
Mickey Delamar –5
Quin H Martson Jr. — 3
Ken Stribley — 2
Director, 2 year term
Gary Watson — 5
Jerry McCord — 2
Director, 3 year term
Keith Gilbreath — 4
Robert Fisher — 4
North Hopkins ISD
In early voting Vicki Hillis Ferrell lead, with Charlie Vaughn and Sherry Smiddy following in second and third. Election Day tallies had Vaughn, Smiddy and Ferrell receiving the most votes in the North Hopkins ISD board of Trustees election for the three at-large seats on the school board.
Charlie Vaughn — 31 early; 120 total
O. Ellis Dicus — 20 early; 78 total
Robert McPherson — 24 early; 99 total
Justin Holland — 25 early; 76 total
Sherry Smiddy — 28 early; 110 total
Vicki Hillis Ferrell — 41 early; 108 total
Andy Kendall — 8 early; 47 total
Sulphur Springs Proposition A
More than 76 percent of absentee and early voters were in favor of the Proposition which would help fund costs improvements for Pacific Park and a new Senior Citizens Center. Election Day tallies were almost 78 percent for and 22 percent against. Overall, the proposition passed 77.49 percent to 22.51 percent to allow up to $200,000 per year in Economic Development funds collected to be used to cover costs of improvements at Pacific Park and to build a new activity center for senior citizens.
For — 257 early, 652 Election Day; 909 total
Against — 80 early, 184 Election Day; 264 total
Constitutional Amendments
While most counties had reported by late Tuesday night, results from a few counties were still coming in from counties across the state into the wee hours Wednesday morning in the Texas Constitutional Amendments election. As of 6:45 a.m. Nov. 6, election results for 253 of the 254 counties in Texas had been reported, according to the Secretary of State's office.
Proposition 1
(Allows an individual to serve in more than one office as municipal judge)
For — 1,486 Hopkins County; 615,774 Texas (99% of counties reporting)
Against — 2,055 Hopkins County; 1,140,466 Texas (99% reporting)
Proposition 2
(Allows issuance of up to $200 million additional bonds to provide financial assistance for development of projects in economically distressed areas)
For — 2,164 Hopkins County; 1,135,825 Texas total (99% reporting)
Against — 1,316 Hopkins County; 610,170 Texas (99% reporting)
Proposition 3
(exempts from ad valorem tax a portion of the appraised value of certain property damaged by a disaster)
For — 3,027 Hopkins County; 1,483,378 Texas (99% reporting)
Against — 466 Hopkins County; 263,302 Texas (99% reporting)
Proposition 4
(prevents individual income tax from being imposed in Texas)
For — 3,091 Hopkins County; 1,318,373 Texas (99% reporting)
Against — 463 Hopkins County; 440,341 Texas (99% reporting)
Proposition 5
(dedicates existing sales and use tax on sporting good to Texas Parks and Wildlife Department and Texas Historical Commission, without having to raise taxes)
For — 3,209 Hopkins County; 1,545,482 Texas (99% reporting)
Against — 337 Hopkins County; 210,615 (99% reporting)
Proposition 6
(allows up to a $3 billion bond increase for the Cancer Prevention and Research Institute of Texas)
For — 2,160 Hopkins County; 1,104,303 Texas (99% reporting)
Against — 636, Hopkins County; 737,735 Texas (99% reporting)
Proposition 7
(allows increased distributions to the available school fund)
For — 2,635 Hopkins County; 1,282,818 Texas (99% reporting)
Against — 862 Hopkins County; 461,314 Texas (99% reporting)
Proposition 8
(allows creation of a flood infrastructure fund to help finance drainage, flood mitigation and flood control projects)
For — 2,492 Hopkins County; 1,343,689 Texas (99% reporting)
Against — 960 Hopkins County; 404,973 Texas (99% reporting)
Proposition 9
(exempts from ad valorem tax precious metal held in a precious metal depository in the state)
For — 1,961 Hopkins County; 874,369 Texas (99% reporting)
Against — 1,383 Hopkins County; 816,511 Texas (99% reporting)
Proposition 10
(allows transfer of law enforcement animal to a qualified caretaker in certain circumstances)
For — 3,312 Hopkins County; 1,650,834 Texas (99% reporting)
Against — 179 Hopkins County; 104,717 Texas (99% reporting)