Texas Department of State Health Services Jan. 27 COVID-19 Case Counts dashboards showed one additional fatality, 15 new cases, 24 recoveries and 31 additional vaccine doses administered.
COVID-19 Fatalities, Nursing Facility Updates
The dashboard showed 92 COVID-19 fatalities at 5 p.m. Jan. 27, which means 1 additional Hopkins County resident has died from COVID-19. The latest death, according to the DSHS Fatalities over Time by County report, occurred on Dec. 28. That makes two deaths on that date, increasing the cumulative number of fatalities in December to 25.
Texas Health and Human Services' Jan. 27 COVID-19 nursing facilities report showed two additional COVID-19 resident deaths at Rock Creek Health & Rehabilitation as of Jan. 13, the most recent data available from the state for nursing home. The COVID-19 Case Counts dashboard and Fatalities over Time by County show one death occurred on Jan. 14 but none on Jan. 13, so the cumulative COVID-19 fatality count for Hopkins County likely will increase to reflect those deaths. COVID-19 fatalities are reflected on the Case Counts dashboard when death certificates are received by the state stating COVID-19 as the cause of death.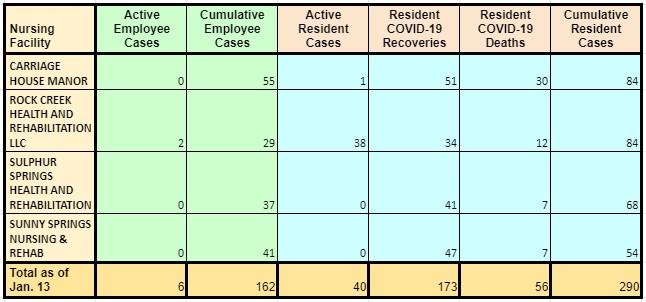 That makes 12 resident COVID-19 deaths at Rock Creek and 56 at local nursing facilities as of Jan. 13, according to the Jan. 27 HHS report. Rock Creek still had 38 active resident cases and two active staff cases on Jan. 13; one active resident COVID-19 case was also reported at Carriage House on Jan. 13.
Jan. 27 COVID-19 Case Counts
Fifteen new COVID-19 cases, four confirmed and 11 probable cases, were also reported for Hopkins County in the DSHS dashboard at 6:50 p.m. Wednesday, Jan. 27.
So far this week, 16 Hopkins County residents have received lab confirmed positive molecular COVID-19 test results and 15 additional residents had either tested positive or had a combination of symptoms and a known exposure to someone with COVID-19 without a more likely diagnosis.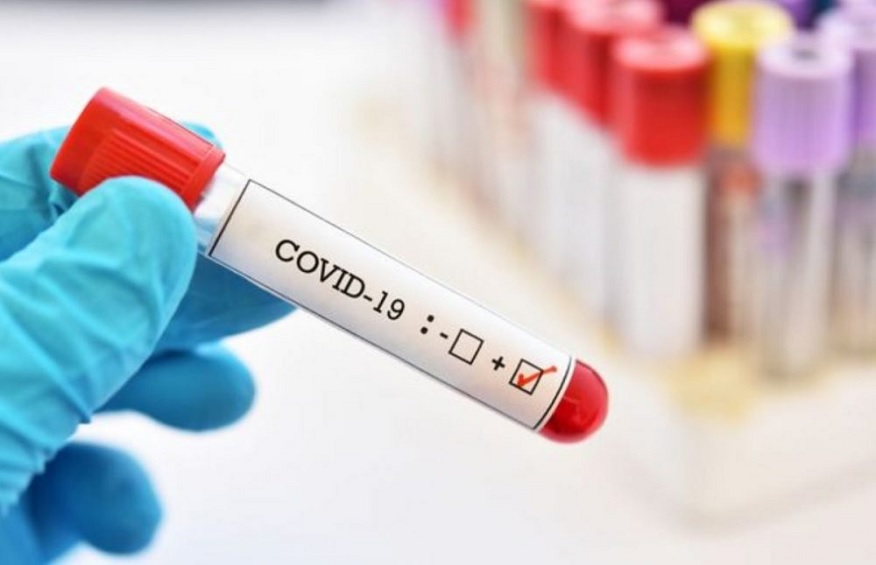 That makes 232 new confirmed COVID-19 cases and 137 additional probable cases reported during the first 27 days of January. Cumulatively, since March, 1,354 Hopkins County residents have been confirmed by molecular test to have COVID-19. Since the state began tracking probable cases, 1,254 Hopkins County probable cases have been recorded as well.
Twenty-four Hopkins County residents had recovered from COVID-19 as of 6:50 p.m. Jan. 27, increasing the total so far this week to 44 and so far this month to 334. That makes 2,387 of the 2,608 Hopkins County residents who have had COVID-19 who have recovered from the virus.
That left 129 Hopkins County resident who actively still had COVID-19 on Wednesday, 10 less than on Tuesday, according to the Dec. 27 COVID-19 Case Counts dashboard.
COVID-19 Testing in Hopkins County
An additional 82 COVID-19 tests were performed at the free testing center at 128-A Jefferson Street on Tuesday, increasing the total so far this week to 148 tests. Since the free testing center opened on Sept. 25, 8,737 oral swab tests have been performed, according to Hopkins County/Sulphur Springs Emergency Management's Jan. 27 COVID-19 update.
DSHS's dashboard shows a total of 13,768 COVID-19 viral (molecular) tests have been conducted in Hopkins County.


Free oral swab COVID-19 testing will continue to be offered from 9 a.m. to 6 p.m. Monday-Friday and from 9 a.m. to 5 p.m. Saturdays in January inside the Red Cross (old Fidelity Express Building) in Sulphur Springs. Free testing is open to anyone regardless of age or address. Registration is required online at www.GoGetTested.com in order to be tested at 128-A Jefferson Street in Sulphur Springs.
Hospital Data
HC/SSEM's Jan. 27 COVID-19 update also showed the patient count in the CHRISTUS Mother Frances Hospital-Sulphur Springs COVID-19 Unit dipped Wednesday to 18, one less than one Jan. 25, the only other day so far this month that the patient count has been less than 20 in the COVID unit.
According to the DSHS Jan. 27 COVID-19 Test and Hospital Data dashboard there continued to be 167 COVID-19 patients in Trauma Service Area F on Jan. 25 and Jan. 26.
However, the total hospital capacity was reduced from 1,096 staffed beds to 1,068 staffed beds in TSA-F. There were 976 staffed inpatient beds, 28 less than on Monday. However there were 630 COVID-19 hospitalizations on Tuesday, 18 more than on Monday.
Because of the capacity was smaller, COVID-19 hospitalizations made up a slightly larger percent of the total capacity, rising from 15.24 percent on Monday to 15.64 percent on Tuesday, Jan. 26. That means TSA-F is considered to have "high hospitalizations" and is still subject to GA-32 COVID-19 restrictions.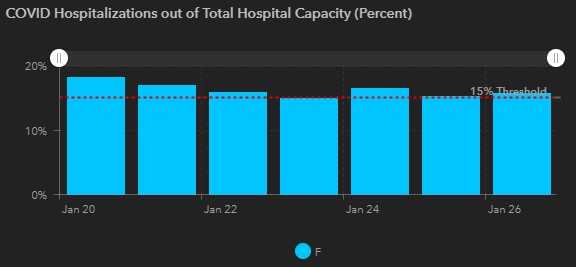 COVID-19 Vaccine Data
A total of 1,993 people in Hopkins County had received at least one dose of the COVID-19 vaccine, including 262 who had been fully vaccinated with both doses and 1,732 who had only received the first dose of the virus as 11:59 p.m. Jan. 26.
The only doses of the COVID-19 vaccine allocated to Hopkins County this week are 100 second doses for those who had their first dose of the Moderna shot about three weeks ago at CHRISTUS Trinity Frances Clinic or CMFH-SS, according to the DSHS.

People can find more information on COVID-19 vaccine at dshs.texas.gov/coronavirus/immunize/vaccine.aspx.

Click here for vaccination hub providers, with contact information across the state as well as the DSHS/TDEM map of vaccine providers
A full list of vaccine allocations by week, click here.
---