After 2 weeks with no first-dose allocations at all designated to Hopkins County, two Sulphur Springs providers are among to 563 providers in 230 counties across Texas the federal government allocated to receive a portion of the 591,920 first-doses of COVID-19 vaccines scheduled to be shipped during the week of Feb. 22.
Texas Department of State Health Services has allocated the Centers for Disease Control to ship 100 first-doses of the Moderna COVID-19 vaccine to Brookshire's Pharmacy at 809 Gilmer Road in Sulphur Springs and 200 first-doses of the Moderna COVID-19 vaccine to Christus Trinity Clinic – Sulphur Springs, located at 105 Medical Plaza, Building 1.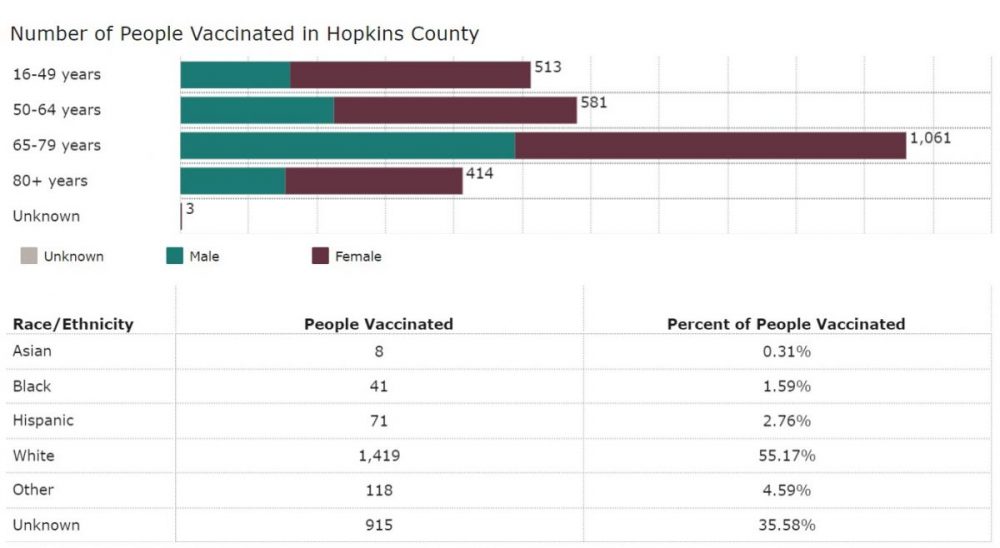 The last time any local provider was allocated first-doses of COVID-19 vaccines was Week 9 of distribution, the week of Feb. 8. Brookshire's Pharmacy and Walgreens Pharmacy each were among the "additional providers" allocated 100 doses of the Moderna vaccine during the Week of Feb. 8. Walmart Pharmacy in Sulphur Springs was allocated 200 doses of COVID-19 vaccine, as part of the direct federal allocations issued Feb. 8.
The last time CHRISTUS Trinity Clinic received first-doses of COVID-19 vaccines was Week 6, the Week of Jan. 18; the clinic was allocated 700 first-doses of the vaccine at that time and reported distributing them all within a week of receiving them. The Sulphur Springs CHRISTUS hospital and clinic have petitioned DSHS to be a rural hub provider, but even with support of elected state officials, have not been awarded the status as a hub for a minimum of residents in the 4 counties served by the Sulphur Springs facilities, as well as anyone within an hour's driving distance.
According to DSHS, the federal vaccine tracking system shows more than 100,000 first doses and 300,000 second doses intended for delivery the week of Feb. 15 still awaiting shipment due to weather conditions around out-of-state warehouses and across the country. Those doses are expected to be delivered in the first half of next week, followed by the vaccine allocated for the week of Feb. 22.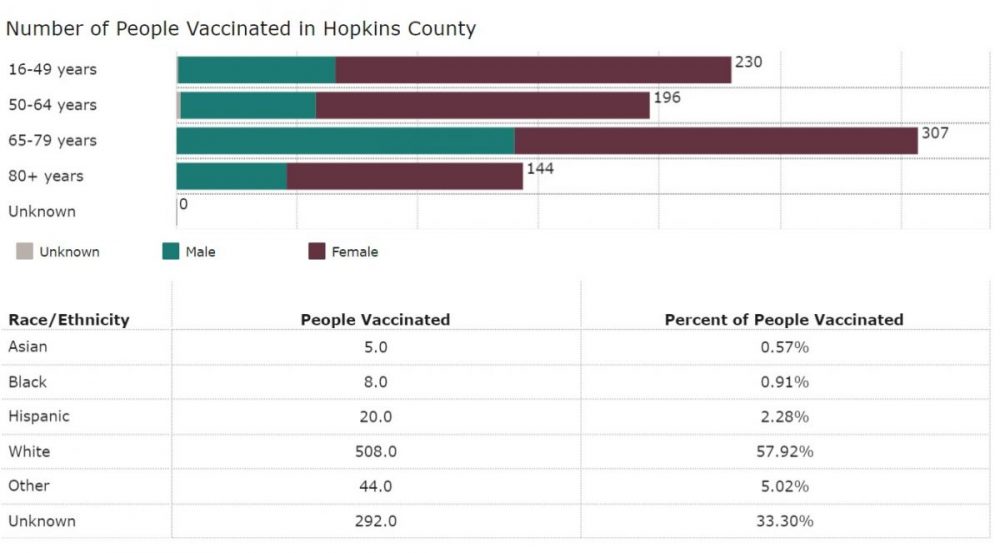 These first-doses of COVID-19 vaccines are in addition to the 364,830 doses the state has ordered as the second dose for people first vaccinated a few weeks ago. DSHS in a press release this weekend stated, "People who had second dose appointments delayed by winter weather should rest assured knowing that vaccine will be available, and their appointments will be rescheduled. Even if they receive the second dose outside of the recommended six-week time frame, they will get the full protection of the second dose and will not need an additional booster shot."
Texas providers have administered more than 4.3 million doses of vaccine. More than 3 million people have received at least one dose, and almost 1.3 million have been fully vaccinated. In Hopkins County 2,572 people have received the first dose of the vaccine and another 877 have been fully vaccinated for COVID-19 as of Thursday, according to the DSHS Texas Vaccine Data dashboard.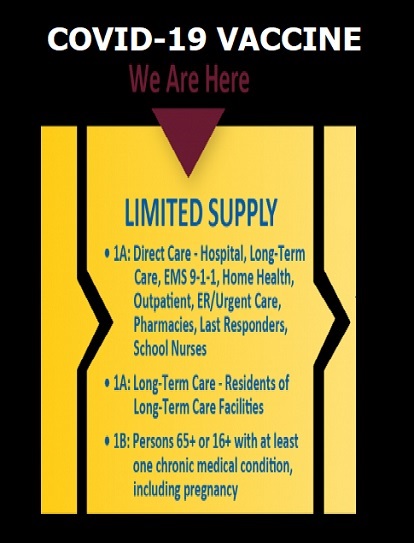 Texas continues to vaccinate (1A) health care workers and residents of long-term care facilities, and (1B) people 65 and older and those with medical conditions that put them at greater risk of hospitalization and death from COVID-19. Vaccine remains limited based on the capacity of the manufacturers to produce it, so it is expect to take a while for Texas to receive enough vaccine for all the people in the priority populations who want to be vaccinated. Currently, there is not enough vaccine to supply every provider with vaccine every week, DSHS reported Friday.
Additional COVID-19 Vaccine information is available by clicking the following links: