Limited Number Of Vaccines Currently Only Available
While the COVID-19 vaccine distribution is still in the first stages, with only a limited supply of the first dose of the vaccine available for specific people at limited locations across the state, the state Thursday announced that the vaccination distribution process will be changing the way vaccines are distributed in Texas, by doing more distribution through designated large vaccination hubs.
Hopkins County Vaccine Allocations
Hopkins County did not receive any of the limited doses of Pfizer vaccine allocated in the first week of distribution. Hospital officials were told frontline healthcare workers could schedule to have the vaccine at one of the Tyler hospitals to get their first dose of the Pfizer vaccine, then return to that site in 21 days to get the second dose.

After the Moderna vaccine was approved, two sites Brookshire's Pharmacy and Christus Trinity Clinic- Sulphur Springs at 105 Medical Plaza, Building 1 were approved during the Week 2 vaccine allocations to receive limited amounts of the vaccine. Brookshire's Pharmacy received 100 doses and the clinic was allocated 200 doses. Brookshire's received a shipment of Moderna first and began offering it to individuals in group 1A and 1B. The hospital had initially been approved that week to receive 300 doses of the Moderna vaccine, but after a couple of days, the state changed the allocations list and the hospital was not on it.

In the Week 4 vaccine allocation list, Brookshire's Pharmacy was again listed to receive 100 doses, Christus Mother Frances Hospital – Sulphur Springs to receive 200 doses and Walgreens Pharmacy 100 doses of Moderna. CHRISTUS Mother Frances Hospital-Sulphur Springs and CHRISTUS Trinity Clinic had received doses of the Moderna vaccine on Monday, the hospital CEO reported.
That put the CHRISTUS facilities and Hopkins County 2 weeks behind many other areas of the state in getting the first dose of vaccine to people in group 1A: front-line healthcare workers and residents at long-term care facilities. The clinic offered by appointment Wednesday and will again offer on Saturday vaccines to people in Group 2A: people 65 years of age and older and people 16 years of age and older with at least one chronic medical condition that puts them at increased risk for severe illness from the virus that causes COVID-19. Those chronic conditions can include: cancer, chronic kidney disease, COPD (chronic obstructive pulmonary disease), heart conditions (including heart failure, coronary artery disease or cardiomyopathies), solid organ transplantation, obesity and severe obesity (body mass index of 30 kg/m2 or higher), pregnancy, Sickle cell disease and Type 2 diabetes mellitus.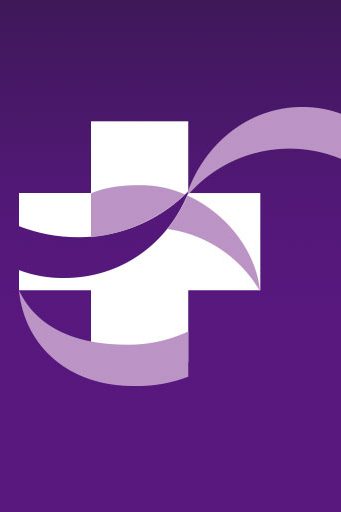 This week, CMFH-SS has been working to get the first dose of the vaccine to as many frontline healthcare workers in Hopkins County and the other counties the hospital serves vaccinated as possible. Moderna COVID-19 vaccine vials contain 10 doses each, which must be used within 6 hours of opening, so appointment scheduling is an important part of vaccine distribution — to ensure every possible dose is used.
"We will be done with our allotted vaccines this Saturday afternoon as we move into category 1B," CMFH-SS CEO Paul Harvey said Thursday afternoon.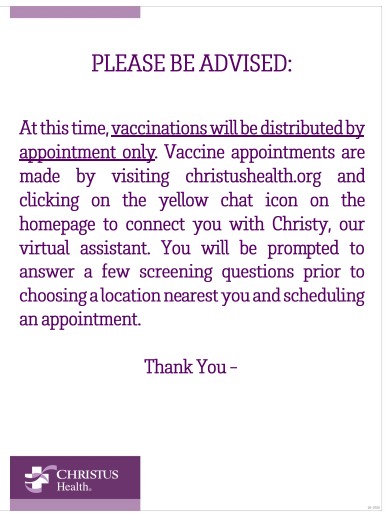 Appointments for community members in 1A and 1B to receive a COVID-19 vaccine at CHRISTUS Clinic are conducted online only at christushealth.org, by clicking the yellow chat icon on the homepage to connect with the "virtual assistant Christy. After answering screening questions to regarding 1A and 1B status, community members can then select the nearest CHRISTUS location and if any appointments are available, schedule at that time.
"Currently, CHRISTUS Trinity Clinic are working with a very limited supply. As they receive more vaccines, they will add slots to the schedule, and eventually be able to schedule by phone," Holly Ragan, Senior Market Development for CHRISTUS® Mother Frances Hospital – Winnsboro and CHRISTUS® Mother Frances Hospital – Sulphur Springs reported.
Some pharmacies, including Cody Drug, have applied to receive the vaccine and have a waiting list of 1B individuals who they will contact if and when they are allocated doses of the vaccine, but don't know if that will occur.

Currently, the UT Health of East Texas also scheduling appointments online for high-risk 1B individuals to receive the first dose of the two-dose vaccination at their North Tyler campus. Appointments fill quickly. People hoping to get the shot are recommended to keep checking back frequently as they are listed as they become available. Click here, or type in https://www.signupgenius.com/go/ut, to register to drive to Tyler to receive the first dose of the vaccine at UT Health North Tyler campus.
Changes in Vaccine Allocation & Distribution
The Texas COVID‑19 Vaccine Provider Locations map on the DHS website shows locations allocated doses of the vaccine, but because supplies are limited, 1A and 1b individuals will need to check with each to see if appointments are available for doses of the vaccine.
Those in the 1A and 1B categories who don't make it onto those lists may have to drive quite a distance to receive the vaccine as the state plans next week to transition to allocation of vaccines to large hubs, that is large providers that can vaccinate a total of more than 100,000 people at a time. Texas Department of State Health Services Thursday reported some additional vaccine will be distributed to smaller providers in other parts of the state, but the focus will be on the large hubs beginning next week.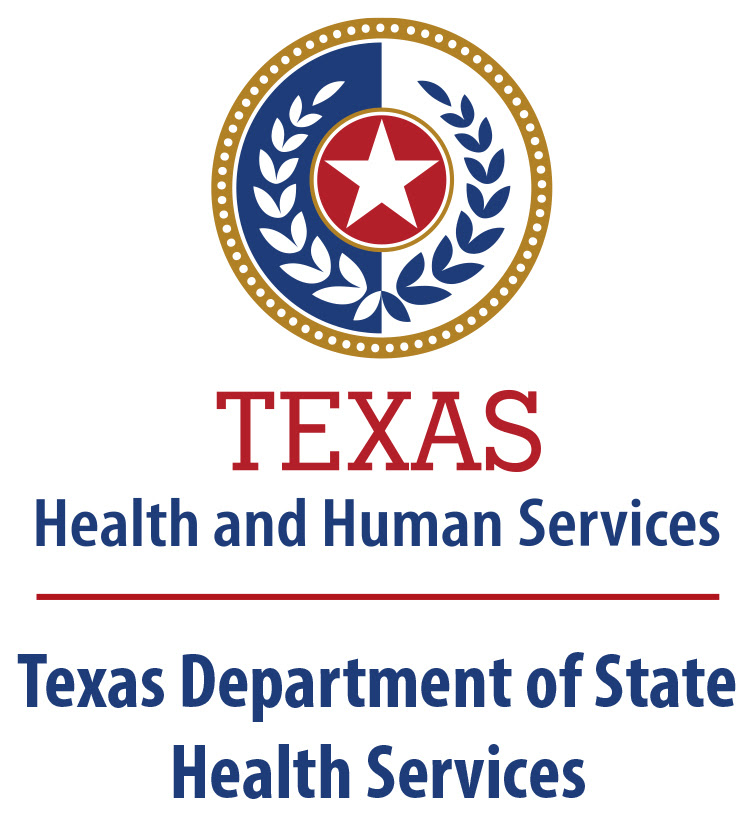 Harvey said while the state is looking at super sites to do mass vaccinations, CMFH-SS hopes to be able among the smaller areas to receive additional doses of the vaccine.
"We will continue to uphold we have five counties to serve and feel justified we need vaccines here for our patient populations," Harvey said Thursday.
Providers that receive the larger amounts of vaccine will vaccinate health care workers, people who are 65 and older, and those who have a medical condition that increases their risk of severe disease or death. They also agree to provide a registration phone number and website and "focus on areas and populations hardest hit by COVID-19 while vaccinating people from surrounding areas," according to DSHS.
The Texas Department of State Health Services said vaccine providers were surveyed regarding their capacity to operate large, community vaccination sites the week of Jan. 11. A list of vaccine hub providers is expectded to be published by DSHS once vaccine allocation is finalized.
Large and small sites around Texas will receive a total of about 200,000 doses of vaccine next week, the last week the state is required to reserve doses to vaccinate residents and staff of long-term care facilities under the federal pharmacy-LTC partnership. That should free up more vaccine for use in other settings in the future, DSHS noted.
However, allocations and distributions of the vaccine remains limited based on the capacity of the manufacturers to produce it. That means it will take time for Texas to receive enough vaccine for the people in the priority populations who want to be vaccinated. Supplies are expected to increase in the coming months, and additional vaccines are in clinical trials and may could be authorized soon by the Food and Drug Administration.
All doses received are to be allocated. No shots are to be reserve. A matching number of second doses should arrive at providers by the required 21 days for the Prizer shot and 28 days for Moderna.
More information on the COVID-19 vaccine and its availability throughout the state can be found at at dshs.texas.gov/coronavirus/immunize/vaccine.aspx or by clicking the COVID-19 Vaccine Information link on COVID-19 main page on the DSHS website: https://www.dshs.texas.gov/coronavirus/
COVID-19 UK Variant In Texas
DSHS also in a news release Thursday reported the first known case of the COVID-19 B.1.1.7 variant, the kind first identified in the United Kingdom in the fall, in Texas. Genetic sequencing in an adult male resident of Harris County, recently diagnosed with COVID-19 this week showed that the infection was caused by the variant. The case is being investigated by Harris County Public Health and the Texas Department of State Health Services.
"The fact that this person had no travel history suggests this variant is already circulating in Texas," Dr. John Hellerstedt, DSHS commissioner, was quoted in the release. "Genetic variations are the norm among viruses, and it's not surprising that it arrived here given how rapidly it spreads. This should make us all redouble our commitment to the infection prevention practices that we know work: masks any time you're around people you don't live with, social distancing, and personal and environmental hygiene."
The B.1.1.7 variant appears to spread much more easily from person to person than most strains of the coronavirus, according to DSHS. The current scientific evidence is that the variant does not cause more severe disease and that vaccines are expected to be effective against it. It is thought to be responsible for only a small proportion of the current COVID-19 cases in Texas and the United States, the news release stated.
Additional information about COVID-19 in Texas, including vaccines, testing sites and counts, and daily case counts, can be found at dshs.texas.gov/coronavirus,