The Sulphur Springs Planning and Zoning Commission unanimously approved a request from BGE, Inc. of Fort Worth, to combine two lots in Z. Jewell Subdivision, located northwest of the League and Bell Street intersection into one plat 5.488 acres plat for pair of three-story apartments. The Zoning Board of Adjustments also gave approval this week to Sergio Mendez's request for a variance to setback requirements to construct a single-family home at 222 Craig Street.
League Street Plat Request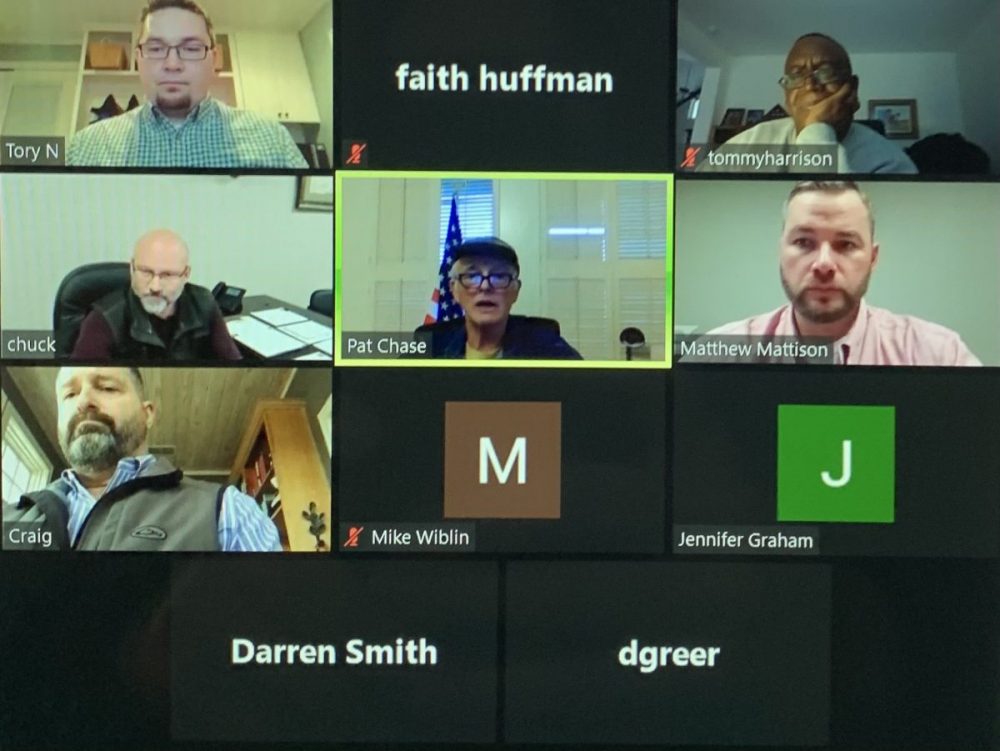 The developer plans to construct 2 three-story apartment buildings on the combined Z. Jewell plat, which would contain 72 units for low-income senior adults. Located on the west side of League Street about 800 feet south of Camp Street, the property was approved by Sulphur Springs City Council last year as a low-income housing tax credit projects. Darren Smith with developer MVAH Partners said the units would be age restricted to senior adults age 55 and older, and would be funded with low income tax credits from the State of Texas.
City staff members have been working with BGE, Inc.'s engineers for several months "to ensure adequacy of utilities can support the development." The proposed plans for the pair of three-story apartments and property have been reviewed by the city engineer and found to be "substantially acceptable," Sulphur Springs Community Development Director Tory Niewiadomski told the Planning and Zoning Commission during their Jan. 19 meeting, conducted via Zoom.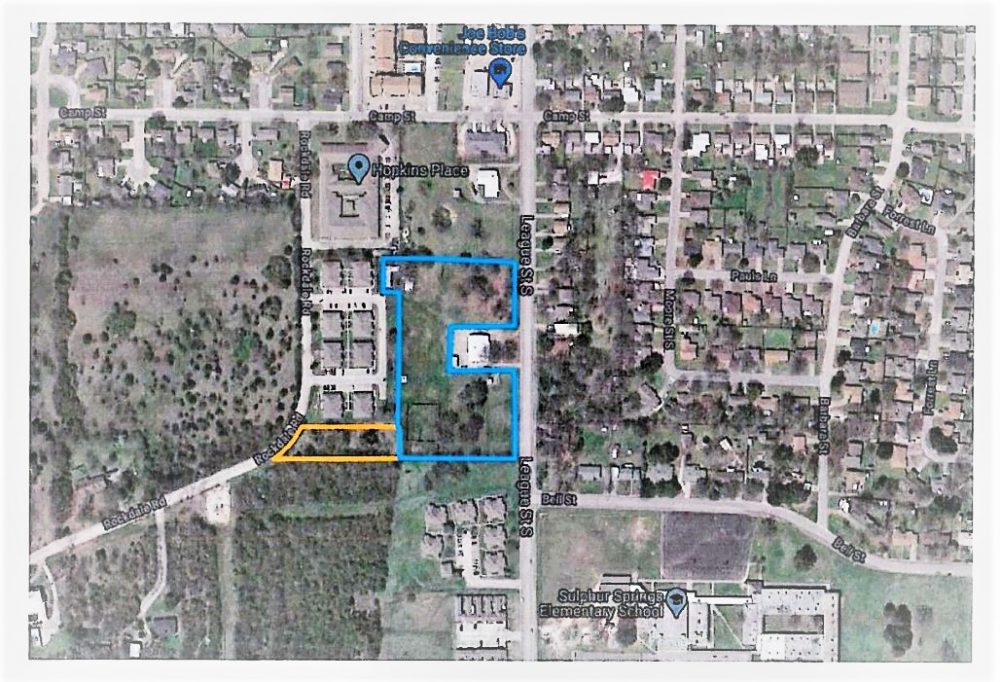 The overall site plan for The Reserve At Sulphur Springs will include a detention pond on the southwest corner of the property to handle storm water runoff from the development. Most of the year, the pond area is expected to be dry, except following a "rain event." It would have underground piping and be privately maintained, according to Niewiadomski.
A 6-inch public water line is to be installed, running through the site from League Street through the service drive and looping on itself to League Street as well as through to Rockdale Road, which has a 12-inch water line.
"There were some concerns about the pressure along League Street to serve this development. So, in order to help kind of boost that, It's trying to loop the waterline from Rockdale over to League Street," Niewiadomski said.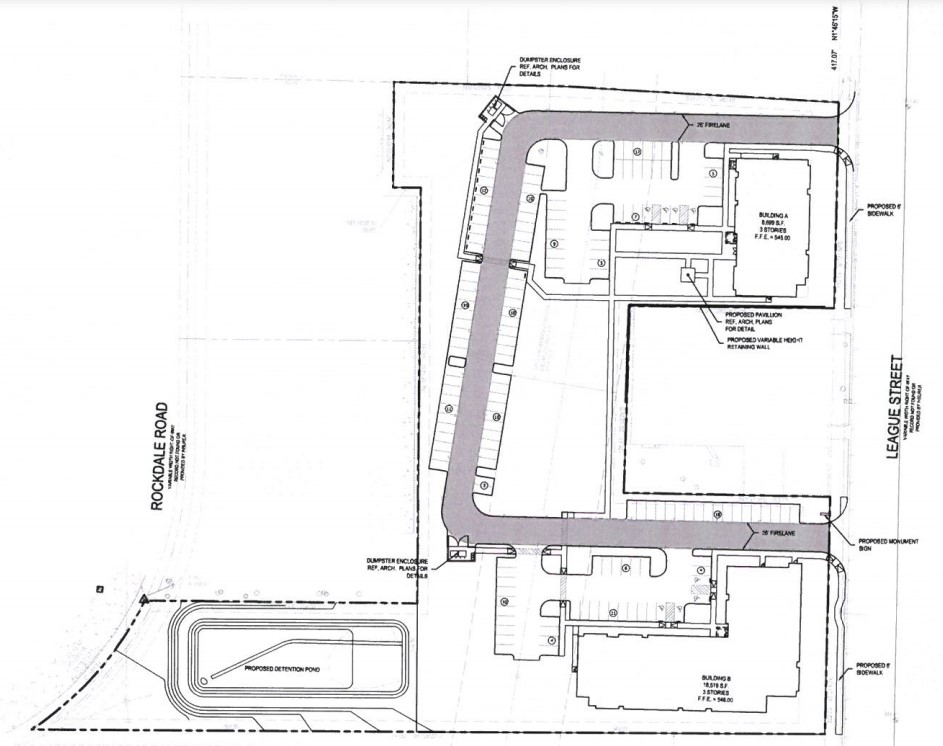 The sewer along League Street would be tapped for the two proposed apartment buildings. The acceptance of a public water main will require a community facilities contract, which will require the approval of Sulphur Springs City Council, the community development director noted.
A public easement dedication is needed to serve the development with water and fire protection. The building would be equipped with sprinkler systems., according to Niewiadomski.
"Because these are three-story buildings, they are going to need booster pumps for each of these apartments for their fire suppression as well. So, working with the city engineer, fire department, utilities department, that's what we're able to come up with," Niewiadomski said.
A 25-foot fire access lane would provide driveway access for the development, which has budgeted more than 150 parking spaces, including 8 ADA compliant spaces, sidewalks internally and 6-foot wide sidewalks in front of the property along League Street. Dumpsters enclosures would be contained on the back side of the property.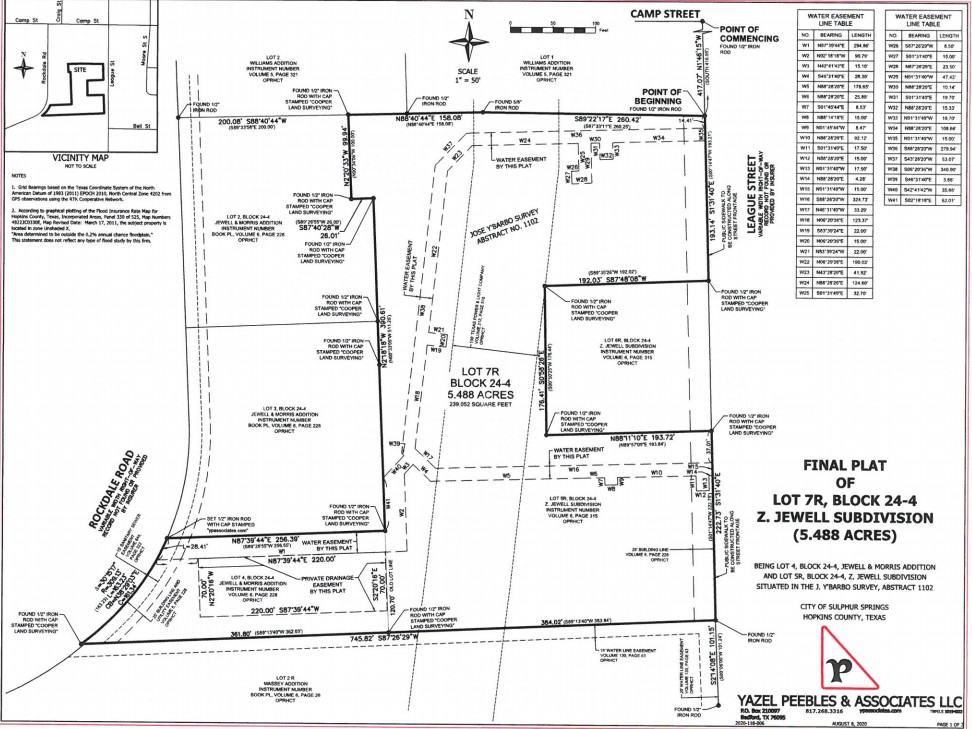 Both apartment structures as proposed will have elevators, Smith noted. Both buildings will be closer to League Street due to a large overhead transmission line that runs through part of the property.
There are no fencing requirements between the planned three-story apartments and a development behind it as the whole area is zoned multifamily, and as of the Jan. 19 P&Z meeting, the developer was not planning to include any fencing around the property.
The final Z. Jewell Subdivision plat request received unanimous approval of the Planning and Zoning Commission at the Jan. 19 Zoom meeting.
Craig Street Setback Variance
Sergio Mendez asked the Sulphur Springs Zoning Board of Adjustments during a Jan. 19 Zoom meeting to consider granting a variance for property located at 222 Craig Street, to construct a new two-story home that will encroach the secondary front yard setback of the property, which is zoned multi-family and has a 25-foot front yard setback, 6-foot side yard and 10-foot rear yard setback. A house was demolished in 1999 on the property due to code enforcement violations. The lot is 55 feet wide by 220 feet deep.
Mendez requested the variance to encroach the front yard setback along Wilson Street, a old narrow right-of-way, pretty much an alley used to connect Craig Street and League Street.
A 15-foot setback line would be run from the Wilson Street right-of-way. The lot is on a corner lot, but Wilson Street for the most part become abandoned since the area was developed in the 1940s; it functions as a driveway to 300 Craig Street, the property directly south on the other side of Wilson. The house Mendez proposed building would be constructed with "roughly the same setback as the adjacent property to the south at 300 Craig Street," Niewiadomski told the ZBA.
Setback are designed to provide a barrier or delineation between properties to prevent activities from infringing on neighbors. It also provides greenspace for lawns and trees that help filter storm water runoff, provides fire separation between structures and access to sunlight and air, prevents land overcrowding and establishes an "eaesthetic character" in districts, the community development director explained.
There typically isn't any parking in the right-of-way. To do away with Wright Street right-of-way would require an official action of the City Council, and would have to follow a specific process to officially abandon it.
The ZBA granted the request for the variance for construction of a new home at 222 Craig Street as proposed, with the structure planned as a two-story building to accommodate the narrow end lot where the property is located.
Niewiadomski also noted that the ZBA lost one member. Jay Julian resigned the post as he is unable to serve in that position as well as in his elected Place 1 City Council seat. The ZBA seat will need to be filled in the future.