Texas Department of State Health Services' Jan. 1 COVID-19 dashboards showed 22 new COVID-19 cases for Hopkins County and 118 additional people got the first dose of the vaccine on Dec. 31.
COVID-19 Case Counts
The DSHS Jan. 1 COVID-19 Texas Case Counts dashboard showed the number of Hopkins County residents with confirmed cases of COVID-19 since March grew by 1 case on Jan. 1to 1,123.
Another 21 probable cases were also reported on New Year's Day, increasing the overall total to 1,138 probable cases.
That's 2,261 total COVID-19 cases reported for Hopkins County as of Jan. 1, 2021, of those, 2,053 have recovered from the virus. That's 6.10 percent of the population who has had COVID-19 since March.
Also, one of the 71st fatality assigned to Hopkins County on Dec. 31 had been removed on Jan. 1, 2021. That leaves 70 Hopkins County residents whose deaths have been confirmed by death certificate to have resulted from COVID-19. While only 0.19 percent of the Hopkins County population has died from COVID-19, the fatality rate among those who have had the disease is 3.1 percent. According to Texas Health and Human Services' Dec. 31 nursing facility report, 47 COVID-19 fatalities in Hopkins County were nursing home residents.
As of 2:35 p.m. Jan. 1, 2021, Hopkins County still had 138 residents with active cases of COVID-19.
COVID-19 Vaccines
According to the Jan. 1 COVID-19 Vaccine Data dashboard, 256 of the 400 doses of Moderna COVID-19 vaccination have been administered in Hopkins County. That's 118 additional people who received the first dose of the COVID-19 vaccine in Hopkins County on the last day of 2020.
According to the DSHS data, 100 doses were delivered to Brookshire's Pharmacy, 200 doses to CHRISTUS Trinity Clinic and 100 doses to the hospital.
As of 11:59 p.m. Dec. 31, the first dose of the vaccine had been administered in Hopkins County to 106 people ages 16-49 years of age, 71 females and 34 males; 83 people ages 50-64 years, 56 females and 26 males; 54 people ages 65-79 years of age, 34 women and 20 men; and 13 people age 80 and over, eight women and five men.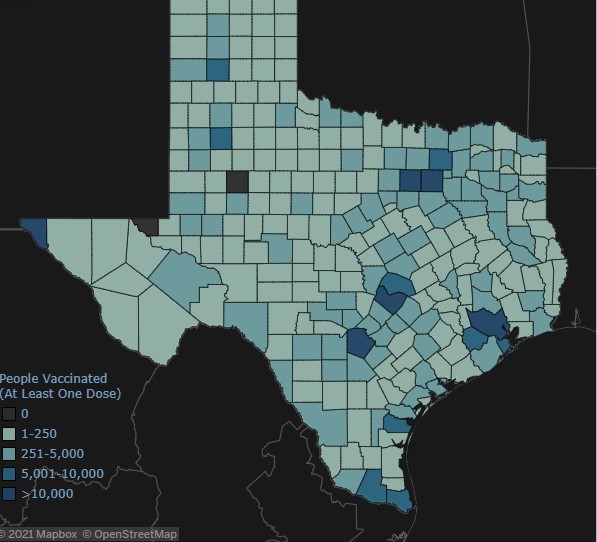 Test And Hospital Data
The DSHS Jan. 1 COVID-19 Test and Hospital Data dashboard showed at total of 14,283 COVID-19 tests had been performed for Hopkins County through Dec. 31, 2020: 11,538 viral tests, 1,582 antibody tests and 1,163 antigen tests.
Jan. 1, 2021 was another record day for COVID-19 hospitalizations in Trauma Service Area F. The count of patients in TSA-F hospitals who have tested positive by molecular test for COVID-19 rose from 191 on Dec. 31, 2020 to 216 on Jan. 1, 2021. COVID-19 patients accounted for 19.03 percent of the total hospital capacity in TSA-F, an increase of 2.1 percent from Thursday.
While Friday is the sixth consecutive day COVID-19 hospitalizations accounted for 15 or more percent of the total hospital capacity, it's only the second consecutive day in which COVID-19 hospitalizations exceeded the 15 percent threshold. The rule by which counties in the TSA have to reduce venue capacity to 50 percent and not perform certain elective surgeries requires the TSA to exceed the 15 percent capacity for seven consecutive days.
The total hospital capacity for a TSA is the number of staffed available and occupied beds. This includes pediatric and adult hospital patients, general and ICU beds, inpatient and outpatient beds, emergency department beds, and telemetry and psychiatric beds, according to the DSHS dashboard.

The total number of staffed hospital beds in TSA-F increased by 15 patients on Jan. 1 to 1,135. There were 717 total hospitalizations, 21 more than on Dec. 31, and the total number of staffed inpatient beds rose from 1,028 on Dec. 31 to 1,043 on Jan. 1, 2021.
That leaves 326 available hospital beds throughout TSA-F on Jan. 1, four less than one day before. The total number of ventilators was also reduced from 72 on Dec. 31 to 66 on Jan. 1. While only five ICU beds were available throughout TSA-F on Friday, that's one more than was available on Thursday.
---