One of four people arrested in April for allegedly killing and burning a man in a truck was sentenced on murder and robbery charges in a plea hearing Monday, Dec. 7, conducted via Zoom conferencing, with assistance from a state licensed court interpreter.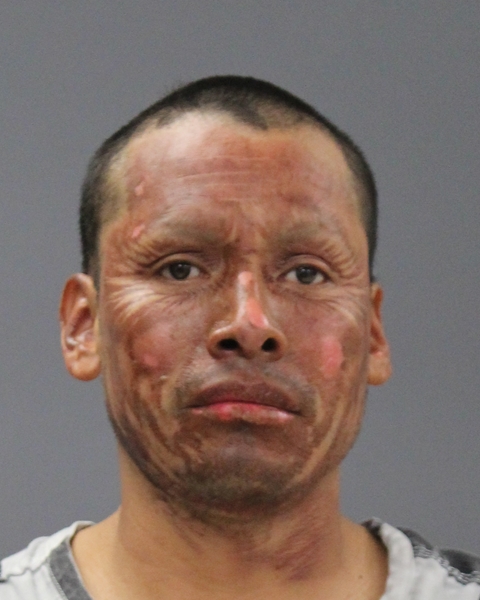 In an agreement reached last week, 31-year-old German Manuel Ibarra plead guilty to both the murder and aggravated robbery of Luis Martin Medina on or about April 10, 2020.
In exchange for the guilty pleas, the District Attorney's Office struck six paragraphs from the capital murder indictment so that it alleges Ibarra caused the death of Luis Martin Medina by stabbing him with a knife, a deadly weapon. First-degree murder is a lesser included offense within the capital murder charge, according to 8th Judicial District Attorney Will Ramsay. Ibarra also waived indictment and plead guilty to an aggravated robbery charge.
Eighth Judicial District Judge Eddie Northcutt upheld the agreement reached through attorneys last week and sentenced German Ibarra to life in prison on the first-degree murder charge and 20 years in prison on the first-degree felony aggravated robbery charge, which is to be served consecutively.
According to current parole rules, that will require Ibarra to serve no less than 30 years in prison before he can become eligible for parole. Then, if Ibarra makes parole after serving the required time on the life sentence, Ibarra will be required to serve the aggravated robbery sentence. The 20-year sentence will require Ibarra to serve a minimum of 10 years in prison before he can again become eligible for parole, Northcutt explained to Ibarra via interpreter during the plea hearing. Ibarra will receive credit for the 242 days he's already served in Hopkins County jail, where he is to remain until he can be transferred to a prison to serve the remainder of his sentences, the judge noted.
"I am very satisfied with this agreement. Once again, strong outcomes such as this are only possible because of the outstanding work of our local law enforcement. The Hopkins County Sheriff's Office did a great job of getting this case closed within a short amount of time. Investigative work like this allows the case to be resolved without the time and tax-payer expense of a trial," said Ramsay.
After the sentencing, the victim's wife gave an impact statement, which was relayed to the court through an interpreter. She told Ibarra that his actions have caused a great deal of damage to her family, especially her children, who she pointed out were present with her when she spoke. She wanted to know what motive he had, why he left her children without a father. She said he could not understand the severity or impact Martin's death has caused her family and children. She asked how his conscience could permit him to do what he did without motive. She said he would face divine judgement and thanked the court for executing judgment in court. The spouse's statement was given in Spanish, with her statements repeated in English to the court by an interpreter.
German Ibarra; Charli Ciera Wadley-Hodges, 24; Jesus Antonio-Hernandez, 40; and Maximino Manuel Ibarra, 29 were booked into Hopkins County jail April 13, 2020 in connection with Medina's murder. German Ibarra, Maximino Ibarra and Antonio-Hernandez have remained in Hopkins County jail since their arrest on the capital murder charge. Wadley-Hodges was released from jail on bond on July 1, 2020, on bond, according to jail reports.
Three three men were charged with capital murder while Wadley-Hodges was indicted for tampering with evidence. Charges against Maximino, Antonio-Hernandez and Wadley-Hodges are still pending in the 8th Judicial District, according to Ramsay.
The three men and woman were accused in April of beating Luis Martin Medina at a Sulphur Springs address on or about April 10, then of burning him in a vehicle. Medina's body was found at 2:20 p.m. Sunday, April 12, by a rural resident in the burned truck on County Road 1186, Hopkins County Sheriff Lewis Tatum alleged following the arrest of the four individuals for capital murder by terror threat or other felony.
The district attorney's office alleges that Luis Medina was stabbed and killed in Sulphur Springs, then German Ibarra took the victim's truck, with the victim inside, and drove out into the county. The truck was burned with the victim's remains inside.
The other family representative told Ibarra, said the victim's wife and family, especially Luis Martin Medina's sons and daughter, "have had to cross a lot of bridges they have never expected to have to come" across. She said it is the family's wish that she keep them informed throughout the legal process related to Medina's death, and she plans to do so.
Following the arrest of Ibarra and the three other defendants on April 13, Hopkins County Sheriff Lewis Tatum said "It is believed at this time that there was a dispute involving rent and payment that led to Medina losing his life. Medina was injured at his residence and eventually taken by parties involved to the County Road 1186 location," Tatum said on April 13.
The trial was conducted via Zoom conferencing, with the judge, district attorney, court reporter and a state licensed Spanish/English interpreter hired due to a language barrier all at different locations than the defendant and his attorneys and their interpreter, who logged in from the county jail. Luis Martin Medina's spouse and another woman also were on the video conference call. The plea hearing was streamed on the 8th Judicial District Court of Texas YouTube channel.
---
The Hopkins County Sheriff's Office is located at 298 Rosemont St., Sulphur Springs, TX 75482. Non-emergency calls can be made to (903) 438-4040.