Monday marked the second consecutive Day Hopkins County has gone without any changes reported in molecular COVID-19 case counts by Texas Department of State Health Services. There also have been no additional recoveries of Hopkins County residents who are lab-confirmed by molecular testing to be COVID-19 positives since Saturday.
That does not mean there are no active COVID-19 cases in Hopkins County; 79 of the 913 Hopkins County residents who have received positive molecular COVID-19 test results and have not recovered from the virus, including 20 cases reported on Saturday.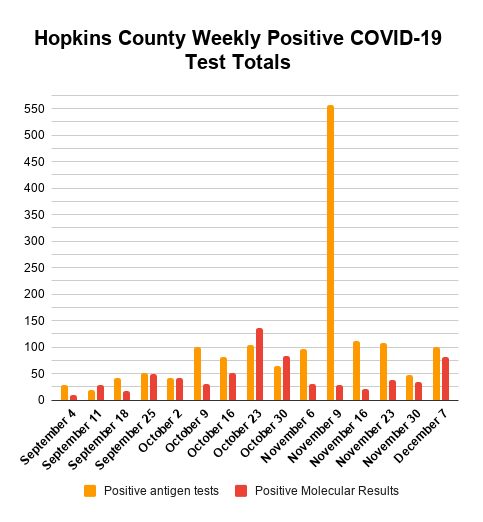 HC/SSEM officials, in the Dec. 7 COVID-19 update, reported 150 of the 923 positive antigen results received by Hopkins County residents since the state began tracking antigen COVID-19 testing results on June 23 were considered Monday to still be "active." The state considers positive antigen cases to be probable COVID-19 cases, thus, they are not currently counted in the daily DSHS case counts updates.
At least 100 positive antigen results were reported to Hopkins County residents in the last week. That doesn't necessarily mean there are 100 additional COVID-19 cases. Some individuals may procure both antigen and molecular tests.
That is 53 more positive antigen results received by Hopkins County residents over the last week than during the 7-day period ending on Monday, Nov. 30. That's also 19 more positive antigen results received over the last week than molecular tests.
On Friday and Saturday, 110 COVID-19 tests were performed at the free testing site. A total of 561 molecular tests were performed at 128-A Jefferson St. last week, and 4,942 oral swab tests conducted since testing was first offered inside the Red Cross building on Sept. 25.
Free testing continues to be offered inside the Red Cross building (former Fidelity Express building) weekdays from 9 a.m. to 6 p.m. in December. Testing is available for anyone, but registration must be completed by an adult age 18 or older in advance online at www.GoGetTested.com to schedule the oral COVID swab.
Those testing should bring the number with the QR code sent sent upon completion of registration along with a photo ID to 128-A Jefferson St. at the designated time. This is not a drive-through location. The COVID-19 test will be performed inside the building.
Hospital Reports
Hopkins County/Sulphur Springs Emergency Management in the Dec. 7 COVID-19 update also reported 23 patients in the COVID Unit at CHRISTUS Mother Frances Hospital-Sulphur Springs on Monday, the same as were reported on Dec. 1 and Dec. 4. On only one day since Nov. 23 has the patient count in the COVID unit been below 20; there were 19 reported on Nov. 25.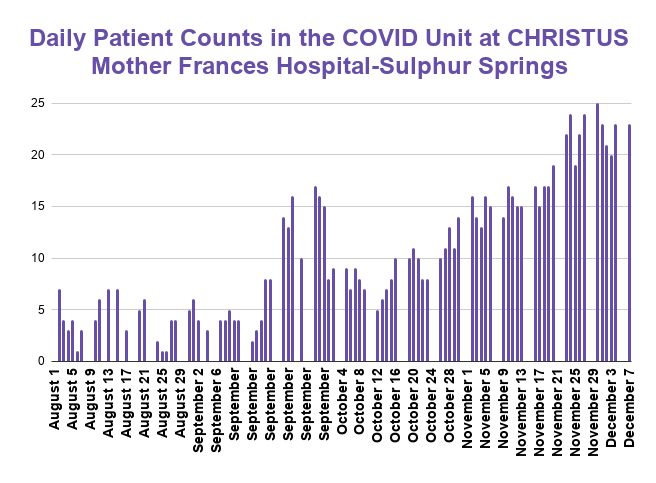 For five consecutive days, from Dec. 1-6, the percent of COVID-19 patients out of the total hospital capacity in Trauma Service Area F continued to decline, from 16.4 percent on Dec. 1 to 16.32 percent Dec. 2, 13.79 percent on Dec. 3, 13.58 percent Dec. 4, 13.57 percent Dec. 5 and 12.66 percent on Dec. 6. That trend ended Monday, with an uptick to 14.1 percent, according to DSHS Hospital reports.
Overall, that's 152 lab-confirmed COVID-19 patients in hospitals in TSA F, which includes most of Northeast Texas, including Hopkins County, according to the Dec. 7 DSHS report. There were 1,078 total staffed hospital beds, 598 total hospitalizations and 987 total staffed inpatient beds on Monday. That made available as of 4 p.m. Monday 398 hospital beds, 4 ICU beds and 63 ventilators.
---