Sulphur Springs High School will be hosting its annual Veterans Day Program. While the veterans celebration will be held on Wednesday, Nov. 11, it will be conducted in a manner that will honor those who served while still taking COVID-19 precautions, SSISD Assistant Superintendent Josh Williams announced Tuesday, Nov. 3.
"To keep you safe, we have decided to celebrate you with, what we are calling, a reverse parade. You will drive through our campus to see and hear a version of our traditional program and be served a to-go lunch," states a letter from SSHS students and staff, and Williams, inviting all Hopkins County Veterans to the SSHS Veterans Day program.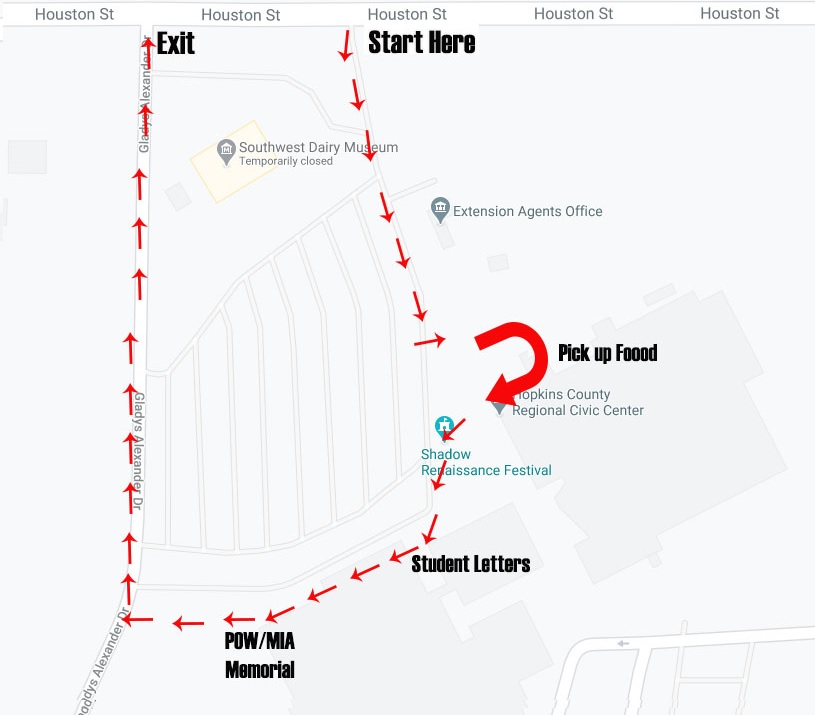 Veterans may drive through the designated route between 11 a.m. and 1 p.m. Nov. 11, at their convenience.
Veterans will be asked to enter the student parking lot between the Extension Office and Dairy Museum, then drive towards the Civic Center, turning left at the gazebo. The veteran will pull up to the gazebo and check in with a student, who will provide or place on the windshield a service tag indicating the branch of service the individual served in or is serving in.
From there, the veteran should follow the driveway around to the Civic Center awning and stop. SSHS Culinary Arts students will serve a boxed lunch to be enjoyed in the safety of the veteran's home.
The veteran will then proceed to the next campus building to listen to service songs sung by choir students. Then, the veteran will drive to the high school awning via the bus lane to receive letters of appreciation from students.
To conclude the SSHS Veterans Day program, those veterans who did not return home will be honored through the POW/MIA table display at the end of the bus lane. From there, the veteran will be directed to exit the high school campus via Gladys Alexander Lane to Houston Street.
Though SSHS will be limiting contact as much as possible to ensure maximum safety during this time, it is the "most sincere hope" of the students and staff involved in hosting the celebration "to honor each of you."
Letters have been sent to veterans for whom SSHS participants have addresses. A postcard will be provided in the letter, which the veteran is asked to complete and returned as soon as possible to ensure the SSHS students have enough lunches and letters for everyone.
"Though this program will not be long, we couldn't let a Veterans Day pass without honoring our Hopkins County Veterans in some way," the letter to Hopkins County states. "We look forward to honoring you and the sacrifices you made for our country."