Local Centenarian Honored With 'This is Your Life' Event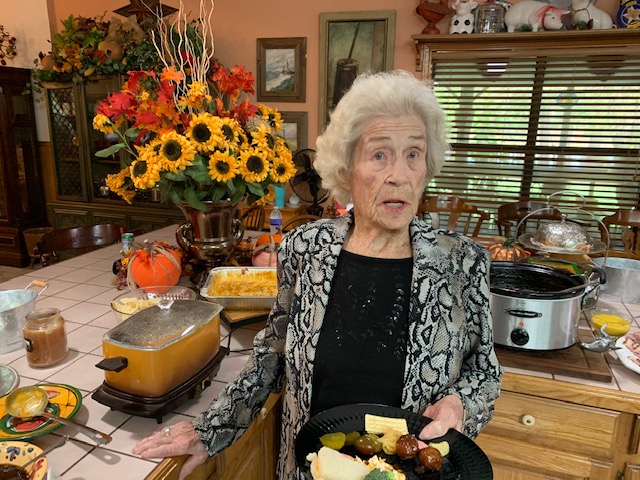 On October 15, 2020, Margie Dale Hathcox joined the other 300,000 persons worldwide who are documented to have lived to be 100 years old. Because life expectancies worldwide are below 100 years, the term Centenarian is invariably associated with longevity. That Margie Dale has longevity as a family trait was brought out by her daughter Valinda Hathcox in a presentation of Margie Dale's life before a gathering of family and friends. That Margie Dale is healthy, physically active and mentally nimble is evident to anyone who meets her. The event was held at her home on Hathcox Farms in northern Wood County on October 17, 2020.
To put some of the features of her life in a nutshell, Margie Dale Parkins Hathcox was born October 15, 1920 in the Liberty Community of Hopkins County. Her parents, Thomas Daniel "T.D." and Dora Bell Nabors Parkins, moved to West Texas briefly, returning to Hopkins County when Margie Dale and her sister were just starting school age. They lived and attended school and church in the Greenview Community. Then the sisters later attended the Liberty School. From an early age, Margie Dale loved to work and help her dad with farm work and in his many business endeavors.
It was at the Liberty elementary school where Margie Dale first met her future husband, Bill Jack Hathcox. Both she and Bill Jack graduated fr0m Sulphur Springs High School, and two weeks after she turned age 18, the couple married. For residents of Sulphur Springs and Hopkins County who know the Hathcox Family, it is known that their interests in local restaurants, agriculture business, and dairy and cattle operations have been successful. Some fondly remember their P & B Restaurant (where CVS is now) and the Big H Drive-In Diner (where Walgreens is now) In 2017, she sold her home property on Mockingbird Lane to Walgreen's for their Sulphur Springs location, and at that time, Margie Dale and Valinda moved back to the farm where they still run the cattle and hay operation. At age 100, Margie Dale enjoys overseeing the farm, interesting conversations with friends and visits from an extended family of grand- and great-grandchildren. Born in the year that women won the vote, Margie Dale is a life-long Democrat and has not felt a need to change, and remains a charter member of the Hopkins County Democratic Women. She freely offered memories, laughter and practical advice to those gathered to celebrate her 100th birthday party.