On Tuesday, Oct. 27, the Lady Cats volleyball team hosted district foe Texas High, sweeping the Lady Tigers 3-0.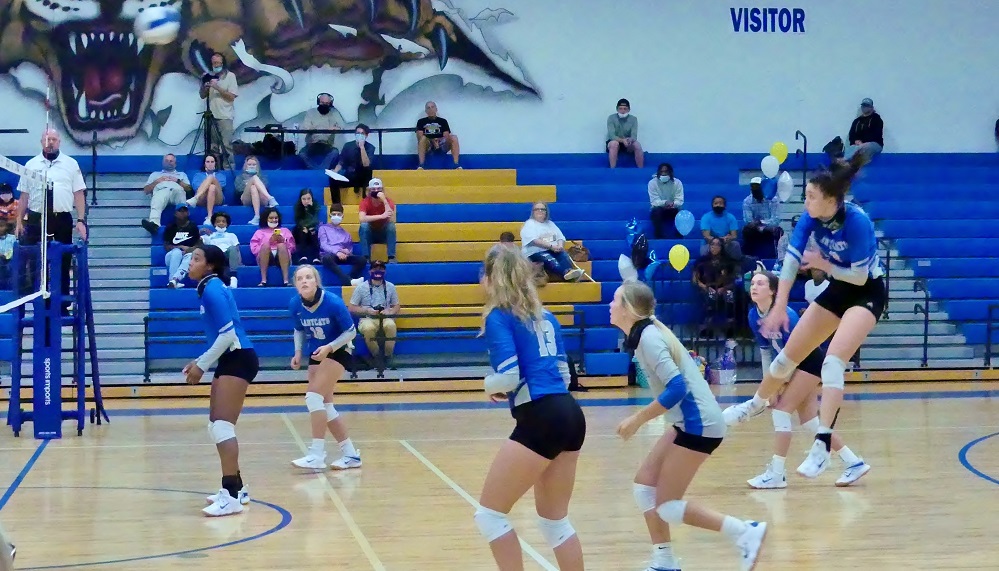 All three sets started competitive, with teams tying at least 3 times in each set. But each and every time, the Lady Tigers (6-2 district, 7-5 overall) would take the lead or tie the score, only for the Lady Cats to pull away in ferocious fashion.
Sets one and two both had a moment where Texas High led 7-8, but from there, it was all Lady Cats, all the time as they dominated early, winning sets one and two 25-14 and 25-15, respectively.
Set three was a back-and-forth affair all game long, with the two district foes tying nine separate times; 1-1, 3-3, 5-5, 7-7, 9-9, 10-10, 12-12, and 13-13. The story ended the same, albeit with a final closer score, as the Lady Cats won the set and the match, 25-20 — sweeping the Lady Tigers, 3-0.
Lady Cats Coach Bailey Dorner said the win feels great, seeing as how the only defeat for her squad in the 1st round of district play was against Texas High in Texarkana.
The loss in question for the Lady Cats occurred on Oct. 2, 2020, in what turned out to be the Lady Cats' district opener, and put the Lady Cats at 3-6 on the season. The Sulphur Springs varsity squad has not lost a game since. Tuesday's victory was the seventh consecutive win for the Lady Cats, and the second straight sweep of a district foe.
With the win as well, the Lady Cats move to 1st place in district play.
Coach Dorner hopes her team can keep the momentum going.
---
Luckily for Coach Dorner and the rest of her squad, the return of Sadie Washburn and Caroline Hurley (DNP), contributed a big morale boost for her squad.
"It was great when [Washburn and Hurley] came in this afternoon," Coach Dorner said, adding that it was just good to see them.
Coach Dorner said Washburn and Hurley are good kids, and that practice, games, — life — aren't the same without them and that the team missed them and were glad to have them back.
Sadie Washburn finished the game with 15 kills and an ace.
Next up, Coach Dorner and her squad travel out to Marshall on Friday, Oct. 30, to take on the Lady Mavs (3-4 district, 5-7 overall) at 4:30 P.M.