While Hopkins County/Sulphur Springs Emergency Management officials reported only 2 new cases and 2 recoveries in their Oct. 22 COVID-19 update, Texas Department of State Health Services reported 3 additional COVID-19 fatalities.
HC/SSEM COVID-19 Reports
Two Hopkins County residents were reported Oct. 22 to have received positive COVID-19 results, HC/SSEM officials reported in the Oct. 22 COVID-19 update. That increases the new case total to 121 (more than the whole month of September) and the monthly total to 224 and the cumulative case total since March to 585.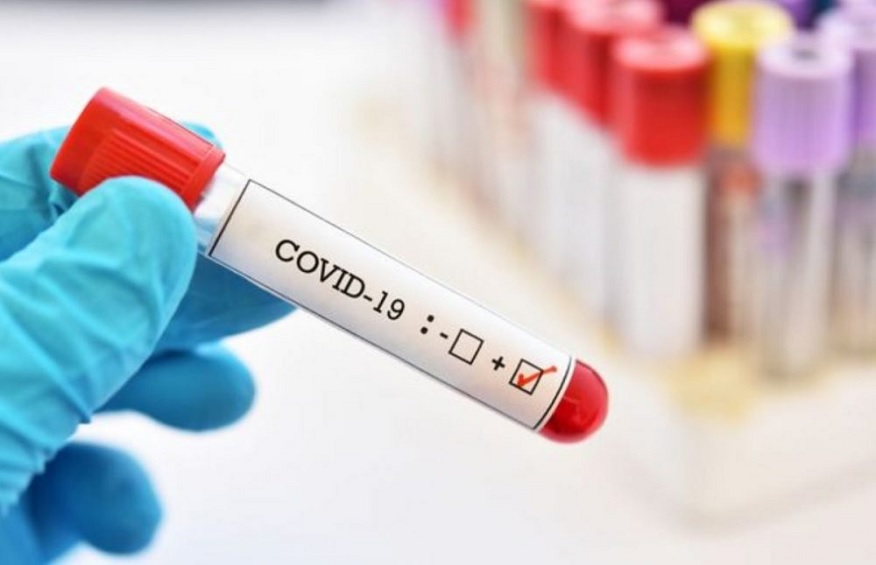 Two additional Hopkins County residents also recovered from COVID-19 on Oct. 22, increasing the weekly total to 64, the monthly total to 133 and the cumulative total since March to 416.
However, because the new case count matched the recoveries, the active case count in Hopkins County Thursday remained 169, according to the Oct. 22 COVID-19 update.
The patient count in the COVID Unit at CHRISTUS Mother Frances Hospital-Sulphur Springs declined by 2 to 8 on Oct. 22, the same as on Oct. 15, Oct. 8 and Oct. 1, according to HC/SSEM reports.
An additional 110 COVID-19 tests were performed on Oct. 21 at the free testing site. That's 437 molecular tests conducted in the last 7 days and 1,502 oral swab tests conducted at the free testing site this month. A total of 1,786 tests have been performed at 128-A Jefferson St. since the free testing site opened on Sept. 25.
Free COVID-19 at the site is scheduled to continue until Oct. 31. Testing is offered from 9 a.m. to 6 p.m. weekdays and from 9 a.m. to 5 p.m. on Saturdays. Symptoms and high-risk exposure are not required for molecular testing. Anyone can be tested, including children provided they are accompanied by a parents or guardian. To register for the oral swab test, go online to GoGetTested.com.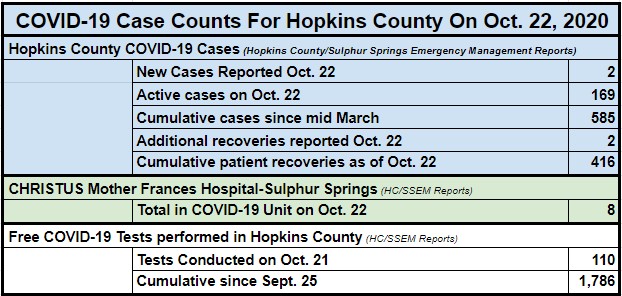 State COVID-19 Reports
DSHS at 4:10 p.m. Oct. 22 on the Case Counts fatalities dashboard reported 26 Hopkins County residents are confirmed based on cause on death certificates as having died from COVID-19. All 26 deaths have been reported since the state began using death certificates to determine deaths. The DSHS reports also show the latest deaths occurred on Oct. 10 and Oct. 13.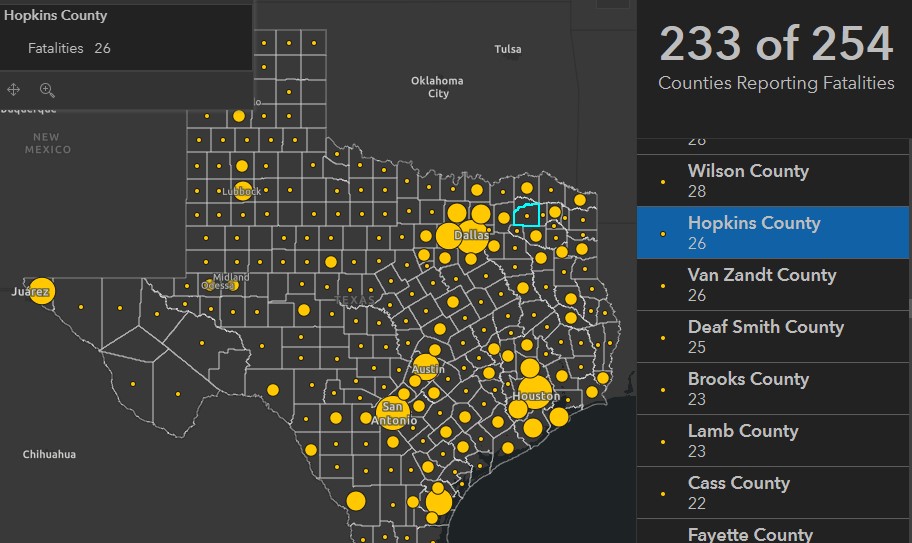 The number of active COVID-19 cases among nursing home staff and residents rose from Oct. 7 to Oct. 8, the latest data available from Texas Health and Human Services.
Two new COVID1-9 cases, 1 resident and 1 employee, were reported for of Carriage House Nursing Home, increasing the active employee case count to 8 and the active resident count to 16, according to HHS.
At Sulphur Springs Health and Rehab, the active employee case count rose from 2 on Oct. 7 to 15 on Oct. 8. There were no active resident cases at SSH&R on Oct. 8, according to the HHS Oct. 22 nursing facility report.
There continued to be 9 active employee cases and 17 active resident cases of COVID-19 at Sunny Springs Nursing & Rehab on Oct. 8, according to the HHS Oct. 22 nursing home report.
According to the Oct. 22 HHS assisted living facility report, Wesley House continued on Oct. 8 to have one active employee case; the employee was first reported on Oct. 30 to have tested positive for COVID-19.
There continued to be no active employee or student cases of COVID-19 on Oct. 21 at the 6 licensed child care centers, school-age programs, and before or after-school programs, according to HHS reports.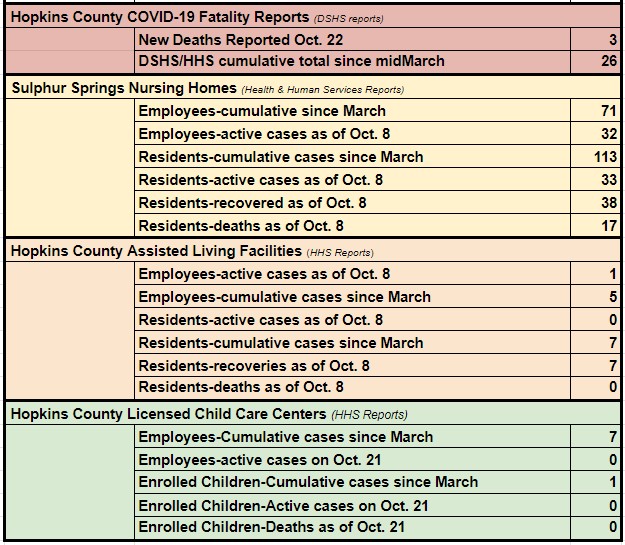 ---