Texas Department of State Health Services on Wednesday reported another Hopkins County resident has died from COVID-19, marking the 15th COVID-19 fatality for Hopkins County since March 15th, 2020.
According to the DSHS data, the Hopkins County residents died Sept. 26. That's 7 Hopkins County COVID-19 deaths reported for September:  2 on Sept. 22 and one each on Sept. 24, Sept. 25, Sept. 26 and Sept. 28 and Sept. 30. September the deadliest month for Hopkins County residents, surpassing the 6 deaths reported in August.
The number of COVID-19 fatalities for recent days could continue to grow as more death certificates are filed for those days, according to DSHS.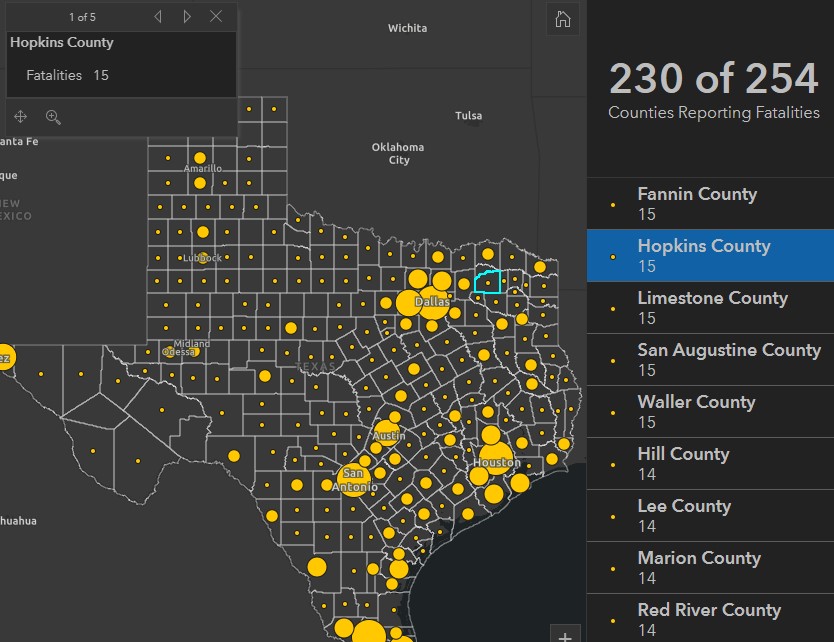 Also on Wednesday, Hopkins County/Sulphur Springs Emergency Management officials reported receiving notification of three now positive COVID-19 cases, which increases the overall active case count to 85 and the cumulative case county since March to 399.
Nine patients were reported to be in the COVID-19 unit at CHRISTUS Mother Frances Hospital Sulphur Springs on Oct. 7, two more than the day before, but the same as on Oct. 2 and Oct. 5.
An additional 75 tests were performed Oct. 6 at the free COVID-19 testing site, located at 128-A Jefferson St.