Texas Department of State Health Services on Saturday, Oct. 24, reported another Hopkins County residents has been confirmed to have died from COVID-19. That is the 27th COVID-19 fatality reported for Hopkins County.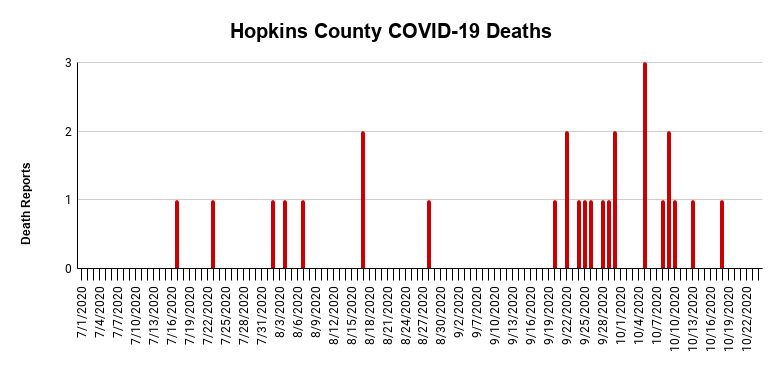 That's 4 new Hopkins County COVID-19 fatalities reported this week. So far, there have been 9 COVID-19 deaths reported to have occurred so far this month; there were 10 COVID deaths reported in September, 6 in August and 2 in July.
The 4 latest deaths are reported to have occurred on Oct. 9, Oct. 10, Oct. 13 an Oct. 18. That's the second COVID-19 death reported for Oct. 9. Additional COVID-19 deaths reported to have occurred this month include 3 death on Oct. 5 and one death on Oct. 8, according to the Oct. 24 DSHS County Trends and Fatalities Over Time By County reports.
All Hopkins County coronavirus fatalities have been reported since July, when the state began using cause of death and county of residence listed on death certificates as the primary cause to determine COVID-19 deaths. Number could increase on different days as death certificates are filed with the state Vital Statistics office and reported to DSHS.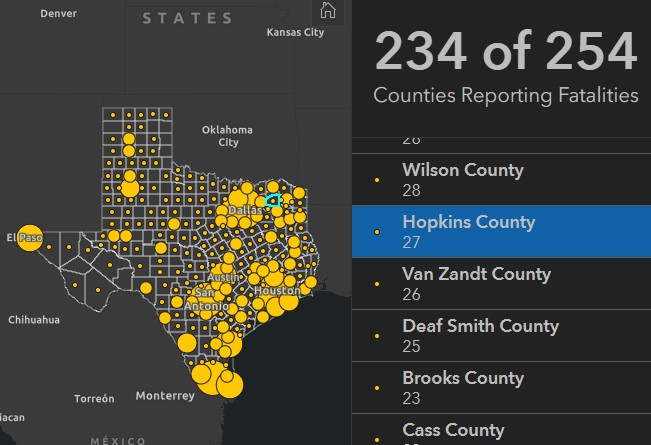 ---