Texas Department of State Health Services on Oct. 10 reported another novel coronavirus 2019 fatality, marking the 19th COVID-19 death reported for Hopkins County.
The death, according to the DSHS County Trends report, occurred on Sept. 20. That's 9 Hopkins County residents who, according to the cause of death on the official death certificate submitted to the state, died during the month of September: two each on Sept. 22 and Sept. 30, and one each on Sept. 30, Sept. 24, Sept. 25, Sept. 26 and Sept. 28.
Six Hopkins county residents were also reported to have died in August: 2 on Aug. 17 and one each on Aug. 2, Aug. 4, Aug. 7 and Aug. 28. Two COVID-19 fatalities were also reported on July, on one July 17 and the other on July 23.
Two COVID-19 deaths have already been reported this month, both on Oct. 5, according to the DSHS reports.
That's a 4.4 percent death rate among Hopkins County residents who have tested positive for COVID-19 since March.
According to DSHS, the number of fatalities for recent days could continue to grow as more death certificates are filed for those days.
Across the state, only 94 new COVID-19 fatalities were reported on Oct. 10, increasing the total number of Texas residents who have died to 16,526, according to DSHS.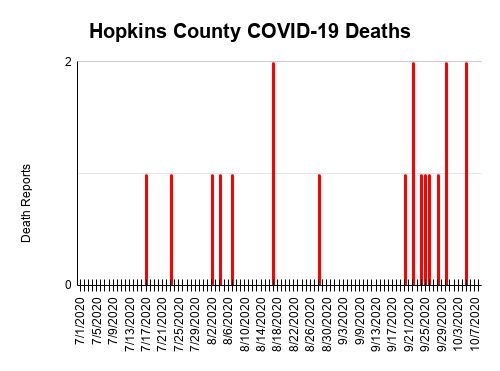 ---