Texas Conference for Employers will be hosting Lunchtime Live, a series of 90-minute sessions on a variety of topics related to employment law, Texas Workforce Commission announced. One two different days each month through the end of the year a lunch session will be offered.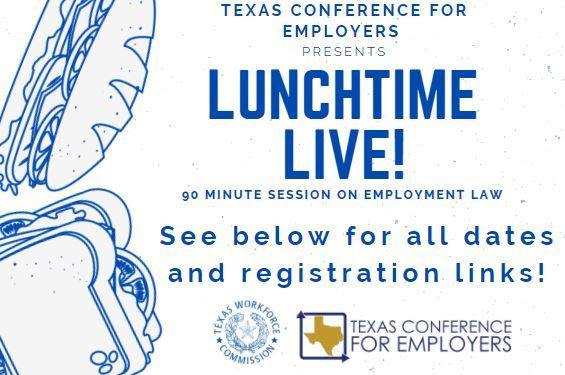 The schedule, topics and registration links include:
October 1: Click here to REGISTER
COVID-19 Paid Leave-Related Laws
Privacy in the Workplace
Unemployment Claims and Employer Chargeback Liability
Payroll Tax 101 discussion
October 15: Click here to REGISTER
Unemployment Claims: General Overview for Employers
Unemployment Taxes: Chargeback and Reimbursing Employers
Best Practices for Maintaining a Safe Workplace
Payroll Tax 101 discussion
November 5: Click here to REGISTER
Policies and Procedures during COVID-19
Allowable Workplace Health Screens & Medical Exams
We Hire Vets' Recognition
Payroll Tax 101 discussion
November 19: Click here to REGISTER
Labor Market Update
TWC's Shared Work Program
Managing Employees Working Remotely
Payroll Tax 101 discussion
December 3: Click here to REGISTER
Workers' Compensation and Covid-19
Civil Rights in the Workplace
Governor's Office of Economic Development
Employer Commissioner Update/Deadline dates for end and beginning of the year
December 17: Click here to REGISTER
Employer Recognitions
2 – 30-minute Keynote speakers
---
Texas Workforce Commission's Office of the Commissioner Representing Employers sponsors the Texas Conference for Employers, a series of employer seminars held each year throughout the state. Employers who attend the seminars learn about state and federal employment laws and the unemployment claim and appeal process. TWC assemble the agency's best speakers to guide employers through ongoing matters of concern to Texas them and to answer any questions they have regarding their business.