Hopkins County Sheriff's Office Saturday afternoon put out request to the community for help for a deputy and his family in their time of need.
"Last night our deputy, Aaron Chaney who was on duty at the time, heard Sulphur Springs respond to a structure fire at his address. Please help us rally and support this family as he continues to serve our community," HCSO posted on the department's Facebook page.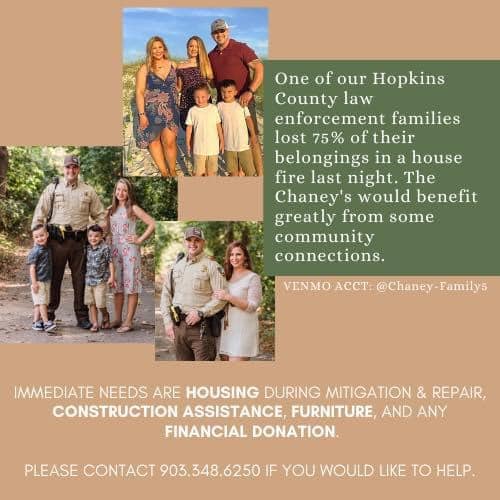 Sulphur Springs and Hopkins County firefighters responded from 8:49 to 11 p.m. Friday, Sept. 25, to a residential blaze.
According to HCSO, in additional to structural damage to their home, the family lost 75 percent of their belonging in the fire.
"They have two boys and one girl! His wife's car is a complete loss," Lyndsey Lavender posted on the GoFundMe account she organized to benefit the Chaneys.
Immediate needs for the family are "housing during mitigation and repair, construction assistance and furniture," according to HCSO. Financial donations are being accepted to assist the Chaney family as well.
"Any and all help will be greatly appreciated from a donation or construction help to simply saying a  prayer for this family!" according to Lavender.
Donations may be made via the "Hopkins county sheriffs Deputy's house burns" GoFundMe page. There's also a VENMO account set up at @Chaney-Family5 or call 903-348-6250.