Hopkins County reimburses the volunteer fire departments for their vehicle insurance and fuel costs, provides workers comp if a member is injured on a call and provides them with monthly stipends. The VFDs are dependent on community donations to pay for upkeep, maintenance, protective gear and equipment, and operations.
Precinct 3 Commissioner Wade Bartley pointed out that the county's 11 volunteer fire departments haven't had the opportunity to conduct fundraisers the way they usually do this year, due to COVID-19.
Several efforts are under way at the county and community levels to help provide volunteer fire departments with the protective gear and equipment needed to safely keep their departments operational, county officials reported during a meeting with most of the county volunteer fire department chiefs.
CARES Act Funding
Hopkins County Fire Chief Andy Endsley at the Sept. 9 chiefs meeting reported the CARES Act funding allocated to Hopkins County has helped provide funding for a lot of tings, including PPE distributed throughout the county, and two ventilators and a testing machine for the hospital. The VFDs will also benefit from it. CARES Act funding will be used to purchase of 49 SCBAs to be distributed as equally as possible to the volunteer fire departments.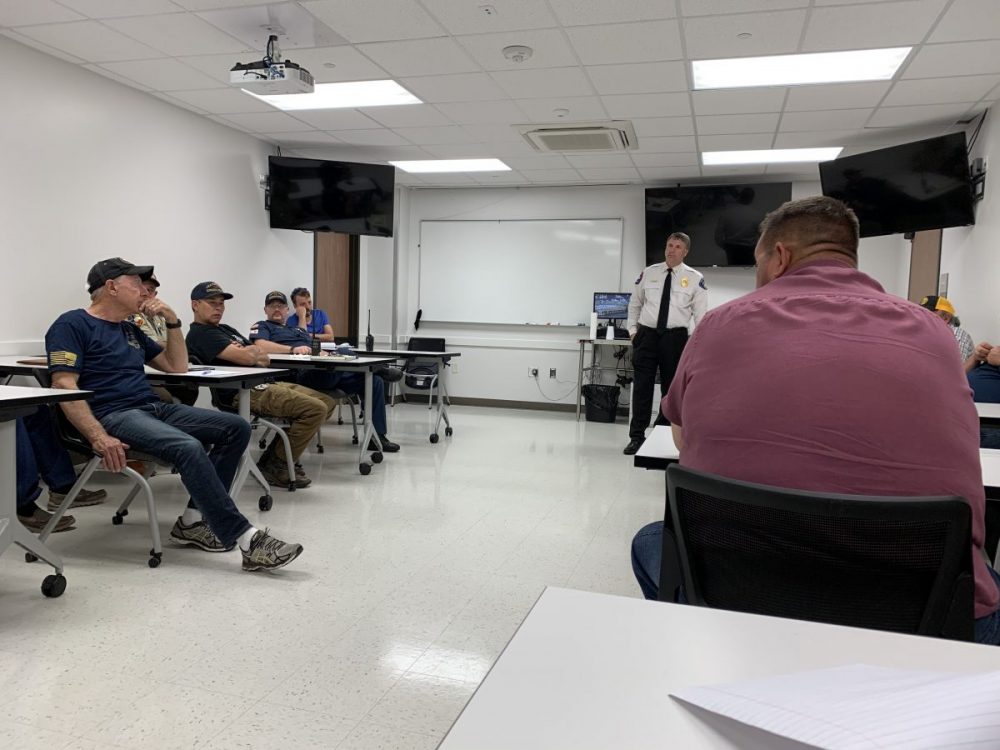 "We are very excited to announce that side of it. We may have more stuff come down the pike. We are still waiting to see how our CARES money holds out. There are several things. Schools get some of the CARES money," Endsley said.
Hopkins County Fire Department has also purchased an extractor and dryer, which is being installed on the TRAX portion of the intermodal facility where the fire staton is located. The extractor will benefit all county fire departments, allowing for the properly cleaning of their gear. The dryer should be able to dry 6-7 sets of gear or hoses.
The area at HCFD where the dryer and extractor will be located are being reconfigured to reduce the risk of cross contamination with additional social distancing between TRAX and the fire department as they enter the building. It should be ready in service in about a week, Endsley said.
Once the dryer and extractor are in place, VFDs can call HCFD to set up a time to bring their gear by and have the duty crew clean it for them. The crew will hen call when it's ready to be picked up.
Refurbished, Used Items
Endsley also report that Hopkins County Fire Department has 22 good air packs left from SCBAs that were taken out of service at HCFD because they were beyond the date the Texas Fire Commission will allow the paid county fire department to use them. HCFD can send them to Texas Forest Service in Lufkin, to be refurbished at a reduced cost. TFS will even pick the packs up and bring them back.
The fee would be $105 per air pack for the VFDs, as opposed to the $1,000 per pack it would cost to send them off elsewhere for repair. There are enough for 2 packs per department. Endsley encourages any VFD that is interested in the used air packs to contact him, and he will designate them for that department.
HCFD also has 11 sets of gear that have aged out per TFC standards, so they can't be used at HCFD, but are "still good gear."
"It passes all the tests. So, I've got those sets. Y'all come see me, if you've got a department that needs some. If you've got plenty and you're not in need, just remember some other departments have none at all," Endsley said.
Internet Service
In another development, Endsley reported Precinct 1 Commissioner Mickey Barker has been working with NextLink to help expand high speed broadband internet service further out into the county. After surveying the county, company officials have reportedly indicated the volunteer fire stations and substations are located in area where the company hopes to expand their service. In exchange for allowing the company to put a tower on the fire department property, the VFD could receive free NextLink internet. The internet tower would be small and freestanding with no guide wires, according to Endsley.

An internet tower would be a valuable service not only to a volunteer fire station, but also to the community, especially during the COVID-19 when so many things are being done virtually, including learning. Since it would make the service available for customers in that area, Endsley pointed out.
"We've got it there at our Como station and it's just as good as our Suddenlink at the house," said Matt Green of the Nextlink tower by the Como VFD station.
"If you're not interested in that, some of your departments may be located where there is fiber optics. I was able to get that into Arbala Fire Department. They had fiber around the corner. I contacted them. They took it right around the corner and provided fiber to Arbala," Barker said.
County officials said the county is almost out of the radios purchase several years ago with grant funding. The commissioners and fire chief said they plan to look into other options for potentially funding more radios to make them available for any new volunteers or to replace other units.
Fundraiser
Commissioner Bartley noted that Jason Tully has started a program to help raise funds for the county's 11 VFDs who are even lower on funding than usual since they weren't able to hold their fundraisers this year.
"Local businessman Jason Tully took this initiative and came up with the program. This is another way our general public steps up to help the volunteer fire departments. I applaud him for that," Bartley said.
"No matter the time of day or situation, we can count on our Volunteer Fire Departments to be there. It is now time for us to step up and show our appreciation," according to a post about the fundraiser on the Tully Insurance Facebook page.
Bartley encourages community residents who are interested in contributing to the VFDs to stop by Tully Insurance on Jefferson Street or contact their local VFD to make a donation. Those donating at Tully Insurance on Jefferson Street in Sulphur Springs can designate which VFD to contribute to or make a general donation to help as needed. Donations may also be made online at https://www.tullyins.com/fundraiser
Outside the Tully Insurance office, a board shows how much has been contributed so far for each department. Donors are also recognized on the company Facebook page.
In addition to taking donations for the VFDs, Tully also encourages community members to consider donating their time to become volunteer firefighters as well. Those interested can contact a VFD or Tully, and he can put them in touch with the department for their area.
---