Hopkins County Hospital District Board of Directors approved the 2021 budget and tax rate as proposed and, following an executive session, approved the hiring of an additional staff member for the hospital district.
Tax Rate
Ron Folwell, hospital district CEO and CFO, recommended no change to the tax rate. Based on the tax formula outlined by the comptroller's office, the hospital district received $5,526,478 in tax revenue last year from a $2.298 billion tax base. The tax rate was 25-cents per $100 property value.
This year's adjusted tax base is expected to be $2.256 billion. Based on the tax formula, the effective rate would be $0.246061 per $100 property valuation, which would generate $5.55 million. The rollback rate, the highest possible rate the district could set the tax rate at without having to hold an election, is $0.265745.
The HCHD Board unanimously agreed for the tax rate to remain 25-cents per $100 property value for the 2020-21 tax year.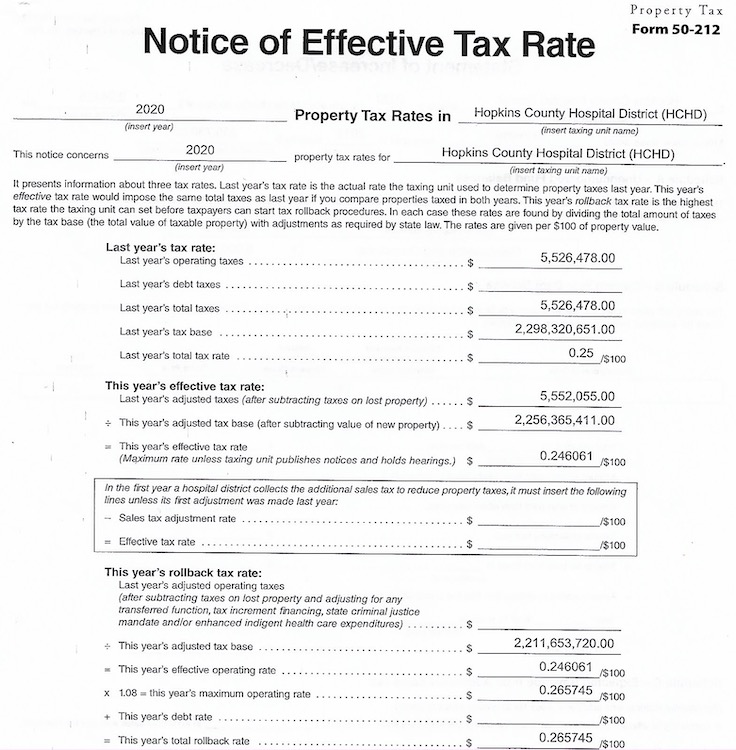 Budget
Also approved as presented was a HCHD/HC EMS 2021 budget. This is includes four pieces, revenues, operating expenses, nursing home operations and non-operating income and expenses.
Overall, in the consolidated 2021 budget HCHD anticipates receiving $5.572 in rent income, $11.88 million in EMS patient revenue from all four counties Hopkins County EMS services, and $361,425 in deployment revenues. Factoring in communications center costs, which does not bring in revenue, a 55 percent contractual allowance and 10 percent bad debt expenses, Hopkins County EMS expects to have $2.795 million in the revenue, Delta County $455,030, Franklin County $567,635 and Rains County EMS $701,800. That's a 2.87 percent revenue increase overall, according to a budget summary provided by Folwell.
Smith noted that one factor that will impact the Franklin County EMS budget is the restructuring of the EMS agreement with Franklin County. The current agreement ends in December, which is the first quarter of the new budget year. The new contract is for 5 years. Smith said financially EMS is performing a lot better in Franklin County than in the previous year.
In January, EMS will be moving into a new station in Franklin County that is currently being constructed on property that backs up to the railroad tracks and shares a parking lot with the sheriff's department. HCHD/EMS has no costs associated with that, Smith noted.
Operating expenditures are expected to be $7.1 million, a 4.16 percent increase.
Nursing home expenses in the consolidated 2021 budget are expected to be $52.8 million, and revenues projected at $54 million.
The non-operating fund within the consolidated 2020 budget incorporates $4.5 million for uncompensated care, $1.5 million in interest expense, $5.9 million in tax revenue, $336,000 in interest income and $120,000 in other income. That would leave $336,458 overall in the non-operating fund.
Included in the capitol budget, according to Smith, are funds needed to replace and upgrade all cardiac monitors over a certain age. This meets FDA guidelines established in 2015 by the Legislature, which requires the obsolete devices to be upgraded and replaced by February 2021, according to Smith.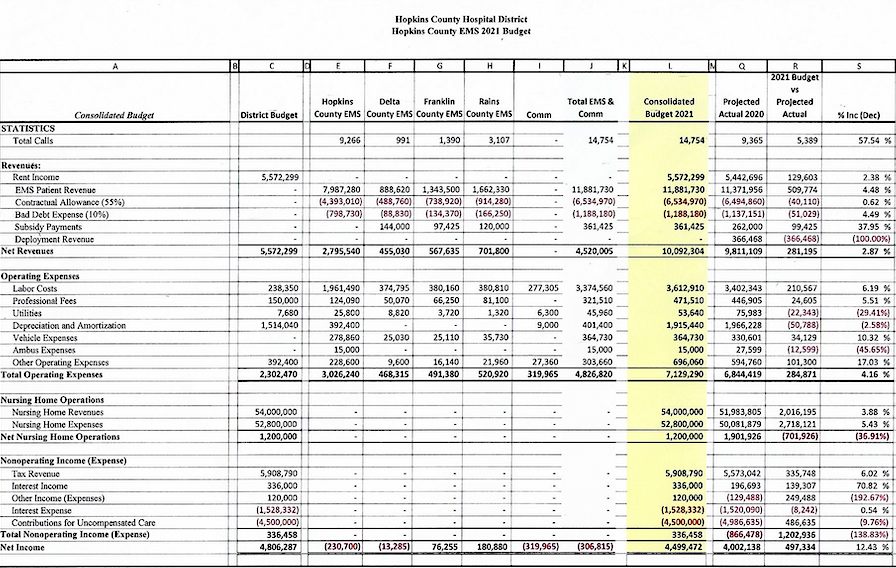 Executive Session
HCHD Board, following a closed session, approved the addition of a controller or accountant to assist Folwell and the two administrative personnel with finances. Promotion and compensation was approved for Heather Smith and Angie Waller as well, according to the HCHD CEO.