Hopkins County Emergency Management officials and the Local Health Authority on Tuesday, Sept. 1, not only reported the daily counts of new COVID-19 cases, but also released information regarding the ages of Hopkins County residents who had tested positive for COVID-19 through Sept. 1, and changes in county case reporting.
Statistical Breakdown of COVID-19 Cases By Age
HCEM and LHA Tuesday released by age the percentages of all lab-confirmed positive COVID-19 case results reported to Hopkins County's LHA from midMarch through Sept. 1.
While 22 percent of all COVID-19 cases in Hopkins County have been in residents over 60 years of age, the next largest group might surprise some; 19 percent are individuals individuals ages 31 to 40.
Next, at 15 percent are Hopkins County residents ages 51-60. Two groups, those ages 21-30 and ages 41-50, each account for 14 percent of the overall 246 COVID-19 cases reported in Hopkins County through Sept. 1.
Another 10 percent of those who tested positive for COVID-19 were ages 11-20. The remaining 6 percent consisted of children age 1-10 years old.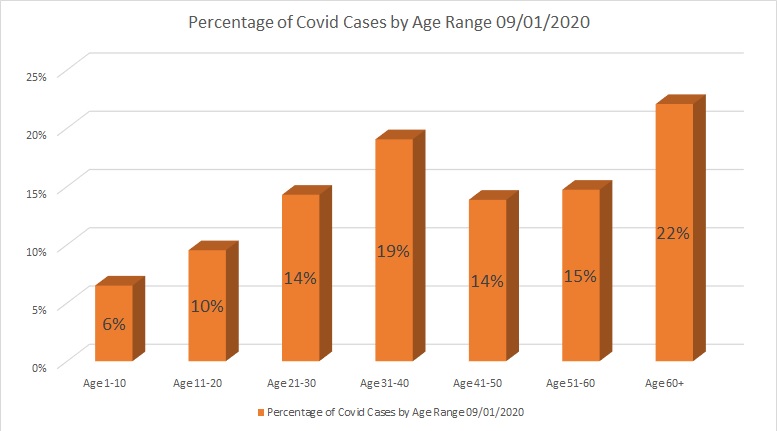 Daily COVID-19 Update
Hopkins County Emergency Management officials reported 3 new cases and 6 recoveries, for a total of 44 active cases, on March Cumulatively since midMarch, HCEM officials have reported a total of 246 lab-confirmed positive COVID-19 cases, including 202 Hopkins County residents who have have recovered from novel coronavirus 2019.
One more patient was reported to be in the COVID-19 unit at CHRISTUS Mother Frances Hospital-Sulphur Springs Sept. 1 than the 5 reported on Aug. 31.
Sulphur Springs Police Chief Jason Ricketson reported 65 additional COVID-19 tests were at Hopkins County Regional Civic Center. That makes a total of 548 oral tests conducted at the Civic Center from Aug. 20, through Aug. 31.

Testing will be offered for one more ay at Hopkins County Regional Civic Center. Testing will continue Wednesday, Sept. 2, from 9 a.m. to 5 p.m. at the Civic Center. No symptoms are required to have a free molecular test conducted. However, those planning to test are requested to register at GoGetTested.com.
The testing is open to anyone, including children. Anyone who needs to find a free testing sight after Wednesday can still go online the website to search by locations, to learn how many slots are still available, the estimated turn around time for test results and the estimated wait time in line at a testing site.
There were no new COVID-19 positive cases reported by Texas Health and Human Services Commission for local nursing home, child care centers or assisted living facilities. There have been no resident cases in nursing homes. Only one assisted living facility had any active cases, 6 active resident cases on Aug. 18, the most current reporting date, according to the HHS report.
A preschool facility was added Aug. 30 to the HHS list of Hopkins County child care centers that are reporting COVID-19 cases to the state. That facility has had one employee test positive for COVID-19 since March but no active cases, according to the data. Child care data is through Aug. 31.
No new deaths were assigned to Hopkins County by Texas Department of State Health Services on Sept. 1, leaving the total COVID-19 fatality count at 7 for Hopkins County.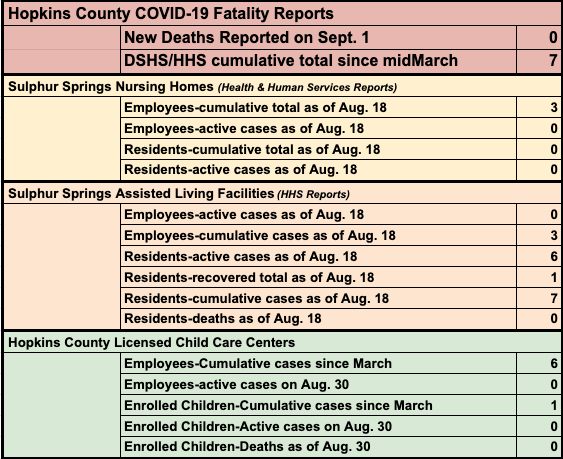 COVID-19 Reporting Changes
The county officials reported planned changes in COVID-19 reporting starting Sept. 2. The county will now only provide updates on local COVID-19 cases counts Monday-Friday.
The LHA plans to partner with as many local health care providers as possible in an effort to provide a weekly report on the number of Hopkins County residents who received positive results on antigen testing as well.
"A lot are going to get antigen tests as opposed to molecular. This will give the public a better idea how many are coming up positive," LHA Nurse Brynn Smith said.
Monthly Death Report For Hopkins County
Hopkins County Judge Robert Newsom also gave his monthly report on death totals in the county, according to data from Hopkins County Clerk's office.
Newsom reported that there have been a total of 230 deaths in Hopkins County, from all causes, from Jan. 1-Aug. 31, 2020. That's 30 fewer than in 2018 and 38 fewer than in 2019.
"This is encouraging information for Hopkins County. We are doing really well overall. We have challenges but are doing well overall," Newsom reported.