Hopkins County Judge Robert Newsom reported they'd been notified of 3 new lab-confirmed positive COVID-19 cases at 5 p.m. Aug. 31.
For the first time in 2 weeks, the Hopkins County Emergency Management officials were able Monday to report recoveries; 3 Hopkins County residents were reported to have recovered from COVID-19 as of Monday, Aug. 31, 2020, which leaves 47 active cases.
That makes 91 total new COVID-19 cases and 97 recoveries reported for Hopkins County during the month of August. That's three more new cases and 49 more recoveries reported in August than in July.
The cumulative total of positive COVID-19 cases reported for Hopkins County since midMarch is 243. A total of 196 Hopkins County residents are reported to have recovered from novel coronavirus 2019 since midMarch as well, according to Hopkins County Emergency Management officials.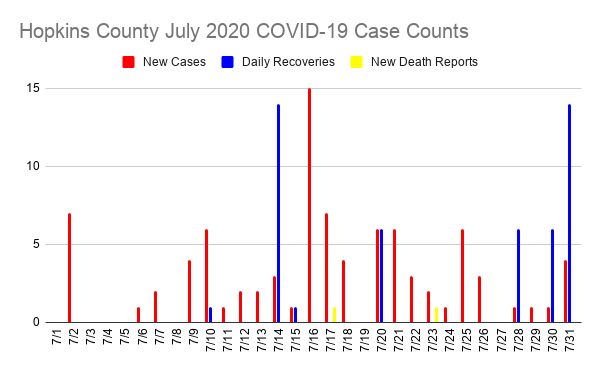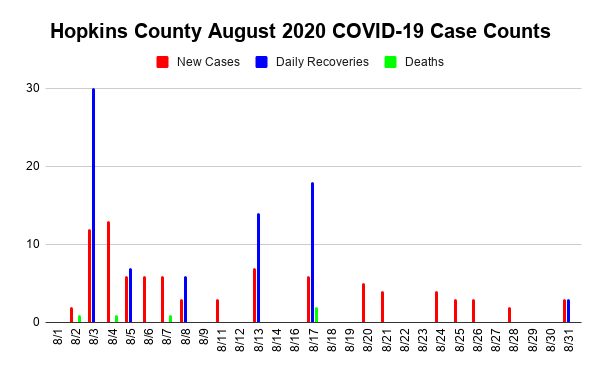 Five patients were also reported to be in the COVID-19 unit at CHRISTUS Mother Frances Hospital – Sulphur Springs on Monday. That's one more in the hospital Aug. 31 than on Aug. 28, but the same as on Aug. 20.
Sulphur Springs Police Chief Jason Ricketson reported a total of 483 COVID-19 tests had been conducted in Sulphur Springs from Aug. 20 through 5 p.m. Aug. 29. Free COVID-19 testing will continue to be offered at Hopkins County Regional Civic Center from 9 a.m. to 5 p.m. Tuesday and Wednesday, Sept. 1-2. Anyone can be tested, even children, provided their parent or guardian is with them. Symptoms are not required for testing. Those who wish to be tested for free are ask to go online to GoGetTested.com to register to take the test, however.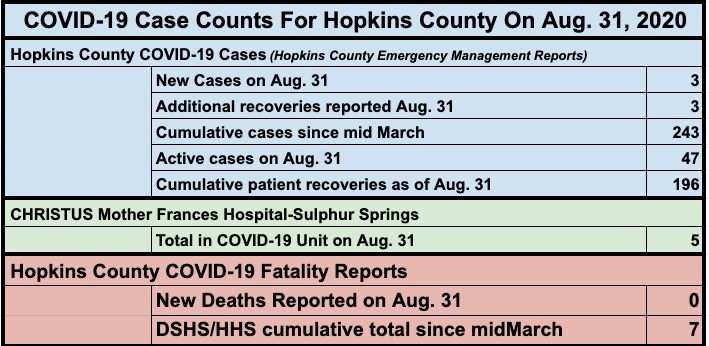 There were no new deaths assigned to Hopkins County as of Aug. 31 on Texas Department of State Health Services' COVID-19 dashboard, so the official total remains at 7 for Hopkins County, including 5 during the month of August.
No changes were reported for COVID-19 case counts at Sulphur Springs nursing facilities and assisted living facilities through Aug. 17, the most recent data available in the Texas Health and Human Services reports.
One local preschool facility, however, was reported on Aug. 30 to have 1 employee who has tested positive for COVID-19; the case is active, according to Texas health and Human Services' report on COVID-19 cases in licensed child care centers, school-age programs, and before or after-school programs.