Free COVID-19 testing is offered at the Hopkins County Regional Civic Center daily from 9 a.m. to 5 p.m. through Saturday, September 19, 2020, according to Hopkins County/Sulphur Springs Emergency Management officials.


Since testing resumed at the Civic Center on Sept. 7, 380 tests have been performed at the Civic Center. The tests are molecular swab tests.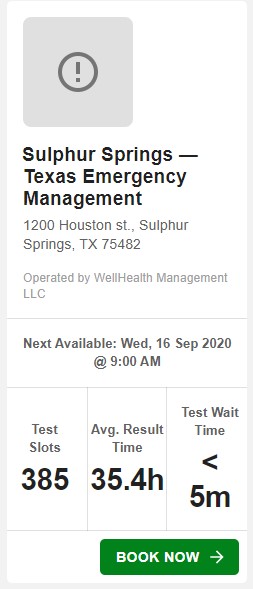 Symptoms or direct exposure are not required for testing. Children can be tested, provided they are accompanied by a parent or guardian. Registration for testing is conducted online at GoGetTested.com. Scroll down to register.
All available free testing sites, including the Civic Center in Sulphur Springs, are listed on the website by location, along with the number of tests available for a given day, along with the estimated wait times in line upon arrival and for return of test results. As of Tuesday afternoon, the average turnaround time from testing to results was about 1 1/2 days (35.4 hours).
The HC/SSEM reported there were no new positive cases of COVID-19 reported for Hopkins County on Sept. 15, so the active case count remains 62. So far this month, there have been 38 new cases.
There also were no additional recoveries reported on Sept. 15, only 23 recoveries reported earlier this month. Overall, 219 of the 281 Hopkins County residents who have had a lab-confirmed test result since mid-March have recovered from COVID-19.
There were three patients in the COVID-19 unit at CHRISTUS Mother Frances Hospital-Sulphur Springs, one more than on Monday, Sept. 14. County officials last week reported CARES Act funding funneled through the county was used for the purchase of two additional ventilators and a testing machine for the hospital.

According to the Sept. 15 Texas Health and Human Services report, two employees at Carriage House Manor continued to have COVID-19 on Sept. 1, the most recent data available. No residents at any of the Sulphur Springs nursing home facilities had tested positive for COVID-19 from March-Sept. 1.
There were no active COVID-19 cases in either employees or residents reported at Sulphur Springs assisted living facilities as of Sept. 1, according to the Sept. 15 HHS report.
No active COVID-19 cases were reported Sept. 14 at Sulphur Springs child care centers, according to the Sept. 15 HHS report.
---