Nearly 1,800 COVID-19 tests have been conducted on Hopkins County residents over the last 144 days, with 184 test results coming back positive and 1,583 negative for novel coronavirus 2019, according to Aug. 6 testing update provided by Hopkins County Hospital District COO/Hopkins County EMS Director Brent Smith.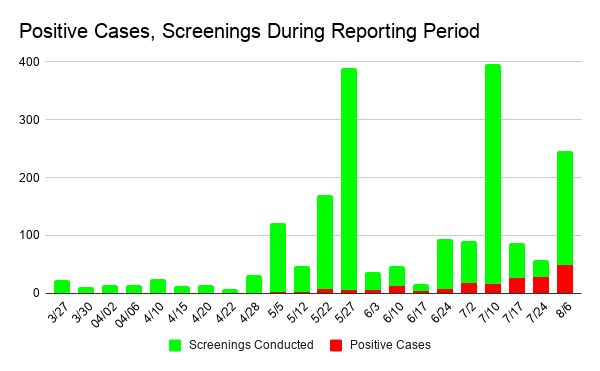 Overall, that's 49 additional Hopkins County residents testing positive for COVID-19 from July 24, when the last testing report was issued, to 8:30 a.m. Aug. 6. From July 25-31, there were 16 new positive cases, closing out July with 89 total new positive COVID-19 cases for Hopkins County residents. So far in August, there have been 32 new COVID-19 cases reported for Hopkins County: one new case on Aug. 2, 12 on Aug. 3, 13 on Aug. 4 and 6 new cases Aug. 5.
While the number of people testing has gone up so have the number of patients tested, those testing positive and patients recovering from COVID-19. An additional 197 COVID-19 tests were conducted on Hopkins County residents between July 24 and Aug. 6, increasing the overall total since March 21 to 1,799 tests conducted. Another 32 test results are still pending, that's 41 fewer pending tests than on July 24.
Another 197 test results for Hopkins County residents came back negative for COVID-19. That's 1,583 of the total 1,799 COVID-19 tests conducted on Hopkins County residents that have come back negative since HCHD/EMS began providing testing reports on March 21.
For only the second time in the 144 days HCHD/EMS has been tracking COVID-19 testing numbers have the number of recoveries outpaces the number of new cases reported. From July 24-Aug. 6, there were 53 recoveries and 49 new cases. The only time that's happened was the reporting period from June 24 to July 2, when 17 new cases and 27 patient recoveries were reported.
During the first 5 days of August, Hopkins County Emergency Management officials reported 37 Hopkins County residents recovering from COVID-19,30 on Aug. 3 and 7 on Aug. 5. From July 24-31, HCEM officials reported 26 recoveries, 6 each on July 28 and 30 and 14 on July 31, closing out the month of July with at total of 48 Hopkins County residents recovering from COVID-19.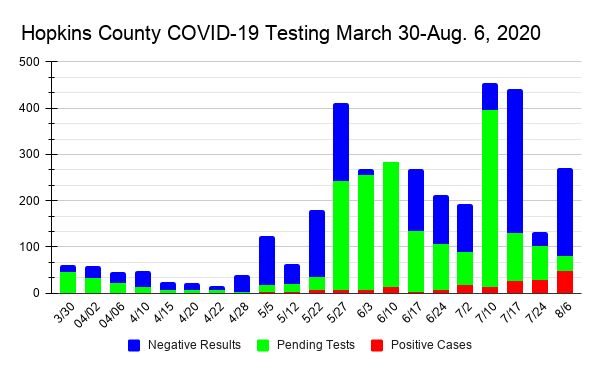 Reported results are estimates sent off by area healthcare providers for definitive testing to either a private lab or DSHS. While several healthcare providers are now conducting rapid antibody testing instead of molecular PCR testing, these reports do not include antibody testing results, which are not recognized by Texas Department of State Health Services, according to Smith.
Smith further noted in his report that "the types of testing and availability is changing rapidly with no means of standard gathering of information and reporting other than to the person who receives the test."
Some private businesses and health facilities have also opted to use private organizations to screen workers. Those numbers also are not reflected in the testing numbers provided by HCHD/EMS either, as they are not required to report the information to the hospital district; that information is only reported to DSHS.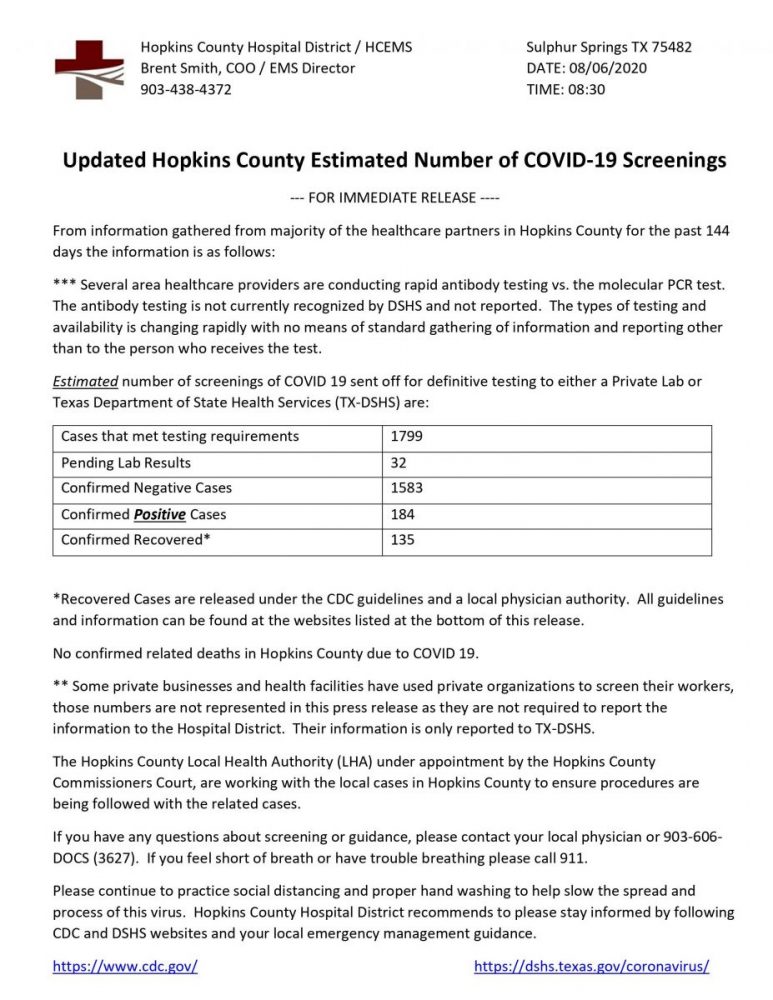 ---