Hopkins County Judge Robert Newsom on Monday announced 12 new positive COVID-19 cases and 30 additional patient recoveries were reported for Hopkins County at 5 p.m. Monday, Aug. 3. In only one other day have more cases been reported for Hopkins County, 15 on July 16.
Four patients were also reported to be in the COVID-19 unit at CHRISTUS Mother Frances Hospital-Sulphur Springs on Aug. 3, three fewer than on Sunday. Two patients had been discharged and one transferred out of the COVID-19 unit by 5 p.m. Aug. 3. There were no patients in the COVID-19 unit that were on ventilators on Aug. 3, Endsley reported.
One of the cases reported previously was determined to have been a duplicate county, according to emergency management officials.
That brings the overall cumulative total to 165 COVID-19 cases since mid March. Of those, 128 Hopkins County residents have recovered, leaving 37 active cases of COVID-19 in Hopkins County on Aug. 3, according to Hopkins County Judge Robert Newsom.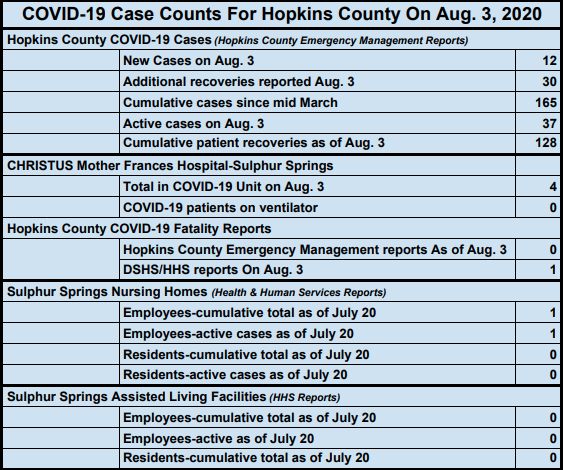 Texas Department of State Health Services and Texas Health and Human Services Commission on the COVID-19 fatality data dashboard at 3:20 p.m. Aug. 3 still showed one COVID-19 fatality for Hopkins County. The DSHS "COVID-19 Total Fatalities by County" spreadsheet shows the fatality to have been assigned to Hopkins County on July 23.
Hopkins County Emergency Management officials on Aug. 3 continue to report that neither local emergency management officials nor regional DSHS officials have received any information regarding any COVID-19 deaths of Hopkins County residents.
DSHS on July 30 reported a manual check revealed an "automation error" Wednesday, which caused 229 fatalities that did not list COVID-19 as the direct cause of death to be counted in the state data. This follows DSHS' shift in the way COVID-19 deaths are determined; death certificate data is now used to count fatalities as of Monday.
The Aug. 1 DSHS/HHS report stated that the cumulative fatality counts for July 27-29 were corrected. No new data was posted Aug. 2 on the DSHS/HHS COVID-19 dashboard "due to a scheduled upgrade to the system that processes electronic lab reports." The Aug. 3 report still shows one fatality, which the state lists as being on July 23.
HHS' COVID-19 page also continues to show only one worker at one Sulphur Springs nursing home facility as having tested positive for COVID-19 as of July 20 that was an active case on July 13 and continued to be an active case on July 20, according to the HHS report. All data in this report is 2 weeks behind so that information self-reported by these facilities can be entered and error-checked.
No nursing home or assisted living facility in Hopkins County has reported having any residents test positive for COVID-19 either in the past or through July 20, according to the HHS reports. Data for nursing homes and assisted living facilities will only be posted Monday-Friday.